Edmundo Ros: Bandleader who brought Latin-American music to London in the Forties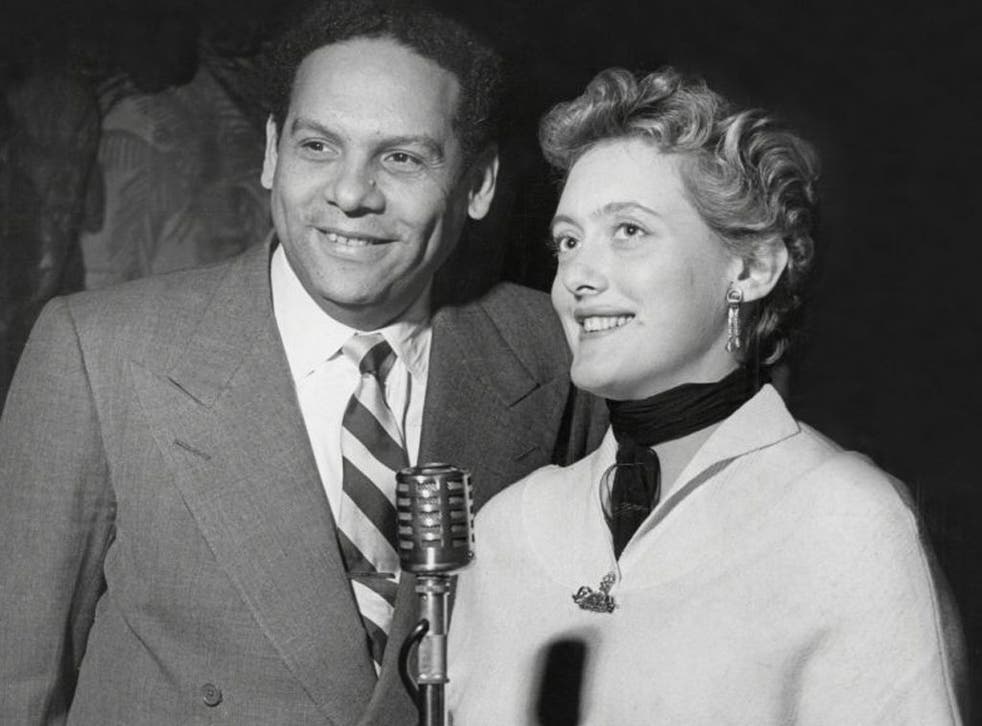 In the 1940s Edmundo Ros, who has died aged 100, introduced UK audiences to Latin-American music and through his initiative, mambos, sambas and rumbas became part of the standard repertoire of dance bands.
His recordings of "A Cuban Love Song" (1941), "Tico-Tico" (1944) and "The Wedding Samba" (1949) were very popular and he released a succession of bestselling dance albums. For 35 years, Ros ran the most successful Latin-American band in the UK.
Edmundo William Ross was born in 1910 in Port of Spain, Trinidad, the eldest of four children to a black Venezuelan mother and a white Scottish father who was a telephone engineer. The family moved to Venezuela in 1924 and following an argument, his godfather recommended placing him in a military academy. Ros told me in 2005, "I was only 14 years old and the army would not have me as such. They wanted to please my godfather, so they put me into the musical side of the army. That is where I started with my music and I stayed there for three years."
Ros became a drummer and also studied the saxophone. He joined the Venezuelan Symphony Orchestra as a timpanist, but yearned to be a conductor. In July 1937 he came to London to study at the Royal Academy of Music, but being an impoverished student he took whatever work was available, most notably playing with a Latin-American band led by Don Marino Barreto.
In 1938 he accompanied Fats Waller on "A-Tisket, A-Tasket" and "Music Maestro Please". "He was a very pleasant man," Ros recalled. "He drank an awful lot, but he enjoyed his music which appealed to me - and I was in good company when I was with him. I was so pleased that when I got the payment from the session I didn't cash the cheque."
In 1940 he was told that if he formed his own band, they could have regular employment at the new Cosmo Club in Wardour Street. Unfortunately, the club was designated as an air-raid shelter, which meant that the public flooded in and refused to pay admission. As a result, they could not afford musicians. Edmundo Ros (as he now spelt his name) secured another venue, the St Regis Hotel in Cork Street, and promoted the rumba and the samba.
Their success there was cut short by a bomb, which fortunately did not explode, and Ros moved to the Coconut Grove at 177 Regent Street. He said, "I had begun to attract people and I got nice people to come and dance these funny rhythms and listen to this funny band, as we had lots of strange instruments. For instance,we used the jawbone of an ass, or in Spanish, la quijada. I had to buy it from a butcher and we got publicity from it. When we played a conga, the jawbone of the ass played the fourth beat in the bar."
In 1942 Carmen Miranda played some successful dates at the London Palladium. The Palladium asked Ros to continue with the Latin-American theme and they included a comedy number with the compere, Tommy Trinder, dressed as Miranda. Throughout 1943, Ros played both the Palladium and the Coconut Grove every night. Then Ros moved to a new society restaurant in Mayfair, the Bagatelle, and was there for 10 years: "I admit I am a snob and Ilike the nicer places. Everyone came to the Bagatelle, including Lord Nuffield and President Roosevelt's son. Even Princess Elizabeth came to the Bagatelle and she learnt to dance with us."
Ros received a higher profile than he anticipated when he was named in a divorce suit involving the wife of a diplomat and he was fined £1,000 for his behaviour. However, it did make him a figure of notoriety and society figures were keen to hear his music and speak to him.
From 1951 the Coconut Grove, which he had bought and renamed the Edmundo Ros Dinner and Supper Club, became one of the most exclusive in London, even refusing admission to King Hussein of Jordan because his friend, the actor Peter O'Toole, was wrongly attired.
Although Ros was based in London, he undertook world tours, playing in Japan and Monte Carlo many times, and became known throughout the UK from his TV and radio appearances. Live TV programmes were broadcast from his club. His band members, dressed in shirts with frills and collars, look ridiculous now, but it was exotic then - and the music was regarded as exciting. The tall, ebullient Ros was a competent vocalist, singing in both English and Spanish and including comedy material like "Her Bathing Suit Never Got Wet" and "Who Shot the Hole In My Sombereo?"
His band, frequently augmented to an orchestra for recording, made numerous albums for Decca, many on the label's pioneering Phase Four stereo series. Compared to the Buena Vista Social Club and their offshoots, Ros's work is neglected today: that is probably because he did not stick to pure Latin-American music but would apply those rhythms to the popular tunes of the day, resulting in such albums as Ros On Broadwayand Hollywood Cha Cha Cha, both dating from 1959, and Hair Goes Latin from 1969. There is even an LP called Japanese Military Marches.
In 1975, following a dispute with the Musicians' Union, Ros disbanded his orchestra and retired to Spain with his second wife, Susan. He shredded his arrangements, but his music was kept alive by reissues. In 1995 he received a fellowship from the Royal Academy of Music and Michael Nyman, another recipient on that day, befriended Ros and made a television documentary about him, I Sold My Cadillac to Diana Dors, in 2000. The same year Ros was awarded the OBE and he recalled, "The dear Queen was out of the country and Prince Charles was distributing the honours. He said, 'Hello, Edmundo, where are you playing now?' I said, 'You must be joking, sir. I retired in 1975."
Ros remained happy to the end: he told me, "I have had a wonderful time and I consider myself as one of the luckiest people ever. From the time I was a boy, everything I have touched has turned to gold." He concluded, "Take care of yourself and give my love to everybody. Tell them to think nicely of Edmundo."
Edmundo William Ross (Edmundo Ros), bandleader and musician: born Port of Spain, Trinidad 7 December 1910; OBE 2001: married 1948 Britt Johansen (divorced 1961; one son, one daughter); 1966 Susan; died Alicante, Spain 21 October 2011.
Join our new commenting forum
Join thought-provoking conversations, follow other Independent readers and see their replies