Edouard Leclerc: Businessman who built a shopping empire
Thursday 20 September 2012 22:32
comments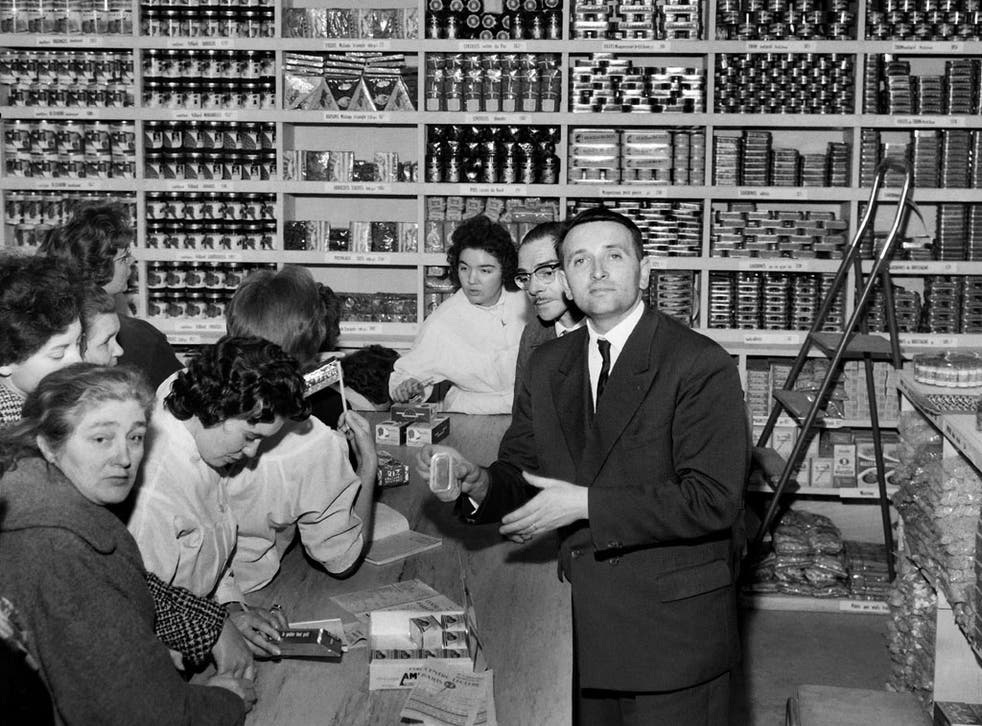 Edouard Leclerc, lauded as an entrepreneurial visionary and a champion of the people, founded one of France's most successful hypermarket chains and the country's biggest food distributor. From the humble beginnings of a small rented warehouse, Leclerc established a chain of outlets across the country, single-handedly changing the landscape of shopping in France – though he was viewed by the French retail industry as a troublemaker.
The E Leclerc chain sells everything from groceries and petrol to clothing and jewellery as well as holidays, all at competitive prices. They are France's second largest booksellers thanks to Leclerc's hand in breaking the monopoly on books during the 1980s. In 2011, the group, founded as a collective of Brittany shopkeepers, had 530 members, 96,000 staff, 556 stores in France with 114 stores across Europe, and another 116 due to open by the end of this year, and sales of €40.6 billion.
Born in Landerneau in Finistère, western Brittany, in 1920, Edouard Leclerc was the sixth child of 15 born to devoutly Catholic parents, Eugene and Marie. He was sent to Neussargues, a seminary in central France, before moving to one at Viry-Châtillon, in the suburbs of Paris. When France fell in May 1940, he returned home. Following the liberation of Normandy, Leclerc was imprisoned for six months, being released in February 1945. He resumed his studies but abandoned his novitiate in 1948, finding work with a freight forwarder at Brest.
In 1949, with Fr5,000, Leclerc opened his first grocery shop, buying directly from factories and selling biscuits, oil and soaps at prices 30 per cent lower than rivals. Other independent grocers were encouraged to put his name on their shops as long as they adopted his methods. During the 1950s, as the "Mouvement E Leclerc" spread, it was criticised for cannibalising other retailers' trade but Leclerc was relentless and took on the corporate establishment, suing manufacturers who refused to sell to him. He even sued his brother repeatedly for using the brand name for personal gain.
In 1956, the first clothing store, Leclerc Vêtements, opened and by 1960 around 60 stores carried the Leclerc brand. In 1965, a year after Carrefour opened their first hypermarket, the founding store at Landerneau became the first Leclerc hypermarket. In 1969, Jean-Pierre Le-Roch broke away to form a rival, Intermarché.
In 1973, Leclerc fought the expansion-restricting "Royer law" which was backed by the French government and oil lobbyists and, in 1979, the movement created the Siplec group in order to be able to sell petrol at lower prices. Finally, in 1985, after 467 lawsuits, a European court decision permitted supermarkets to sell cheaper fuel.
In the 1980s Leclerc played a key role in breaking monopolies on books and health and beauty products and in 1986 revolutionised the jewellery market, taking gold out of its traditional distribution circuit and selling it at a discount in its Manège à Bijoux booths. E Leclerc is now France's No 1 gold retailer. Leclerc joined the fight against pollution and waste and became the first French retailer to introduce reusable bags and limit free bags.
In 2004, in order to preserve the Leclerc brand, the family sold the name to its members for €120m and a year later Leclerc stepped down to allow his son Michel-Edouard to take over. A supporter of Charles de Gaulle, Leclerc criticised many of the General's successors and announced his intention to run for the presidency in 1987, but quickly abandoned the idea.
In retirement, Leclerc's past resurfaced. The reasons for his wartime imprisonment had remained unclear and over the years he pursued a number of defamation cases against business rivals and journalists who accused him of collaborating with the occupying Germans in Landerneau. He always claimed to have been cleared of any offence. However, Leclerc's 2009 appointment as a Chevalier of the Légion d'Honneur sparked renewed protests from the family of a 19-year-old résistant, François Pengam. The family alleged that after being denounced by Leclerc, Pengam was arrested, tortured and shot on 27 May 1944.
According to Leclerc, he visited the German headquarters in Landerneau "fairly frequently," unaware that it housed a specialist counter-resistance Kommando unit, to hand over letters and parcels addressed to brother novices who had been deported to Dachau and Buchenwald. A signed confession after his arrest in September 1944 confirmed this, but also that he admitted "imprudently" giving names, including that of Pengam, which had resulted in arrests, while claiming to have secured the release of others. A court letter showed he had been released without charge in February 1945, after a psychiatric examination declared him not responsible for his actions.
Martin Childs
Edouard Leclerc, businessman: born Landerneau, Brittany 20 November 1926; married 1950 Hélène Diquelou (three children); died Saint-Divy, Brittany 17 September 2012.
Join our new commenting forum
Join thought-provoking conversations, follow other Independent readers and see their replies