Frederik Pohl: Science fiction author famed for the sharp and precise satire of his writing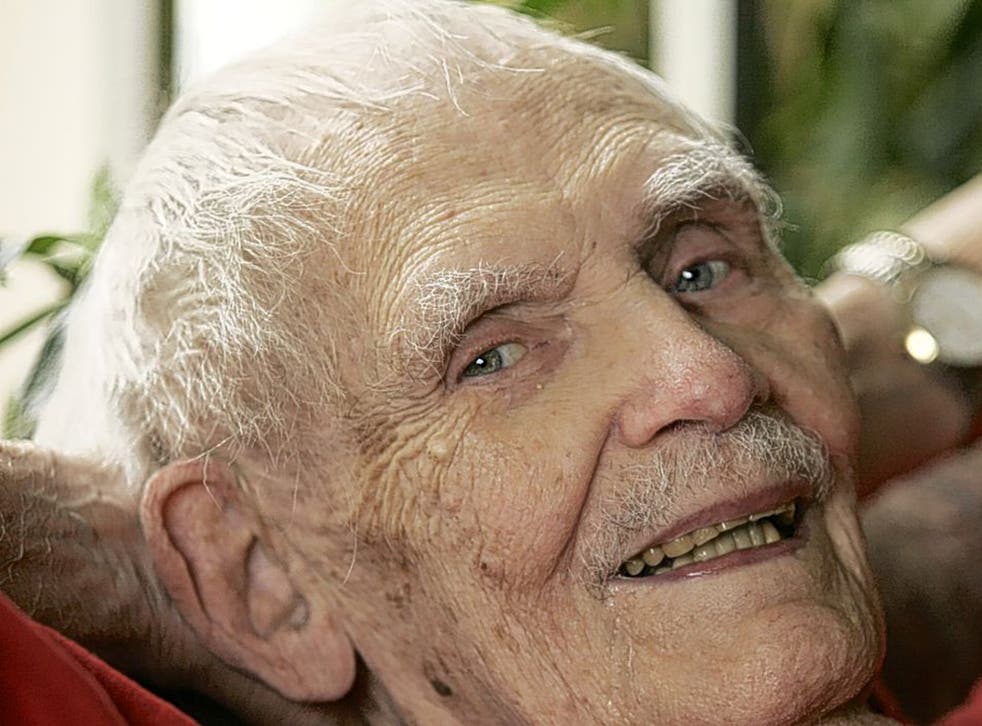 Frederik Pohl was a science-fiction author of extraordinary longevity and accomplishment. In hundreds of stories between 1940 and 2010, and dozens of longer works from 1953, he became the sharpest and most precise satirist in the science-fiction world. Kurt Vonnegut may have created greater myths of the awfulness of America, and Philip K Dick may have had a profounder understanding of the human costs of living in a unreal world; but Pohl – from experience garnered in the field of advertising – knew exactly how to describe the consumerist world that began to come into being after the Second World War. Though his first novel, The Space Merchants (1953), was written with the brilliant CM Kornbluth (a childhood friend who died young), it is clear that the savage description of the New York advertising world is pure Pohl.
Its acerbic flare appealed to Kingsley Amis, who suggested in New Maps of Hell (1960) that it had "claims to being the best science-fiction novel so far". The book has been translated into at least 40 languages, and in 2012 it was included in The Library of America.
Pohl filled every role possible for a professional man of letters, sometimes well, sometimes without much success. He was, at various times, author, editor, fan, agent, anthologist, polemicist, and latterly, blogger.
Pohl was born in 1919 to peripatetic parents, but by his teens had settled in New York, the city of his birth, where the young science-fiction genre had begun to attract its first organised fans. By the age of 19 he was publishing amateur fiction and poetry and had taken some rudimentary steps towards becoming a literary agent.
He also became editor of two magazines, Astonishing Stories and Super Science Stories. Both were inferior to John W Campbell's Astounding, but Campbell had eccentric tastes, and so Pohl was able to publish fine stories by Robert A Heinlein and L Sprague de Camp, as well as New York friends like Isaac Asimov, whom he had met when he joined the Futurians, a moderately left-wing fan club whose membership included Judith Merril. Their marriage in 1948 (his third, her second) began after the Futurians dissolved and was tempestuous; it has been memorialised by all participating parties, though Pohl's memoir The Way the Future Was (1978) was comparatively decorous. They divorced in 1953.
During the Second World War Pohl served in the US Army Air Force, on his release joining an advertising agency, then becoming a fully fledged literary agent, instrumental in persuading Doubleday & Company to institute the first US hardcover science-fiction list. By the early 1950s he was dominant, though financial incompetence bankrupted him.
After a long apprenticeship he began finally to publish fiction under his own name, most of his novels in collaboration, first with Kornbluth, and later with Jack Williamson. Early solo stories included "The Midas Plague" (1954), "The Tunnel under the World" (1955), "The Day the Icicle Works Closed" (1959), and other tales set in the near future on this planet, which Amis described as "comic infernos". During this period he also edited, in the Star Science Fiction Stories sequence, the most significant original-stories anthologies yet to appear in the field. Seven volumes appeared in all; much of the best American short fiction of the 1950s first appeared here.
By 1960, however, Pohl seemed to have lost his creative drive, and turned to magazine editing on a large scale. From 1961-70, as general editor of Galaxy and its stablemates, he was a dominant power in the genre. He became an effective public speaker, appearing frequently on radio.
After several peculiarly disjointed novels, and a time of personal turmoil, he came into full focus. Man Plus (1976), the first novel of his extraordinary later years, is a tale of threatened identity, and depicts the transformation of a man into sentient machine with relentless, assured chill. It seems to sense the future, and won a Nebula. Gateway (1977) began a successful series of novels about the relationship of humanity to a preceding starfaring race, whose legacy of knowledge and riches is conveyed with youthful-seeming exhilaration; the psychological exploration of its unprepossessing hero is both stringent and comical. It won both a Nebula and a Hugo.
From then his career was one of unstoppable productivity. Of the 30 novels to follow Gateway, several stand out. JEM (1979) is a devastating study in utopia; Midas World (1983) links "The Midas Plague" and other stories into a surreal nightmare; The Years of the City (1984) forgivingly dissects his beloved New York; The Day the Martians Came (1988) is a near-future satire, The World at the End of Time (1990) an effortlessly expansive space opera. Some of the later novels perhaps lacked his earlier suave, imperious drive, but all contained delights.
After marrying his fifth wife, Elizabeth Anne Hull, Pohl's last decades were calmly successful. In 2009 he began a new career as an online blogger. He maintained "The Way the Future Blogs" assiduously, contributing hundreds of posts, some of them sharply political, about the futures we are facing today; the last appeared on the day of his death.
His blog also fills in the backstory of his life and career in science fiction and is full of detail about the culture – science fiction in America over the previous 75 years – that he knew inside out. My own strongest 1990s memory of Pohl was seeing him strolling through Florida sunshine, pushing an oxygen tank on wheels. He was a thin tall man whose dignity seemed to increase with age. He was deeply, if distantly, courteous to the hundreds who thought they knew him, perhaps because they'd known his name all their lives. Even into extreme old age, he never stopped earning his fame.
Frederik Pohl, writer, editor and literary agent: born New York 26 November 1919; married 1940 Leslie Perri (divorced 1944), 1945 Dorothy LesTina (divorced 1947), 1948 Judith Merril (divorced 1952; one daughter), 1953 Carol M Ulf Stanton (divorced 1983; one daughter, one son, and one son deceased), 1984 Elizabeth Anne Hull; died Chicago 2 September 2013.
Join our new commenting forum
Join thought-provoking conversations, follow other Independent readers and see their replies