Gilbert Taylor: Cinematographer who worked with Hitchcock, Kubrick, Polanski and Lucas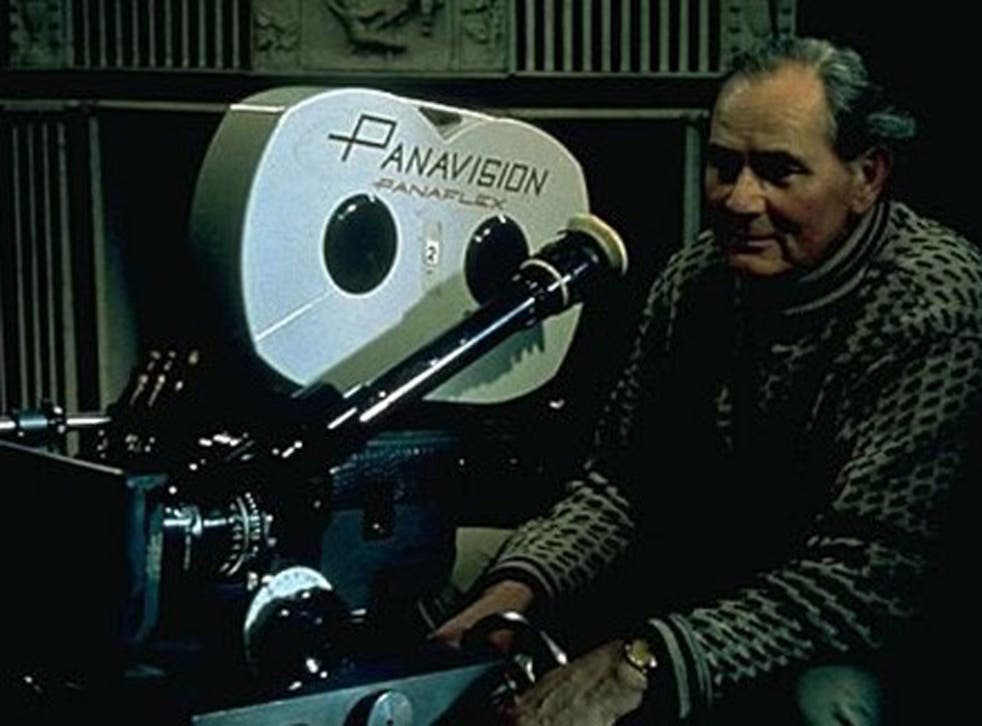 Born before the First World War and behind a camera before the silents had quite had their final say, Gilbert Taylor, who has died at the age of 99, was not only the last surviving link to the early days of British film-making, but also one of our biggest boasts. He achieved wonderful things for Kubrick, Hitchcock, the Boultings and Polanski, laid the ground rules for shooting the Star Wars films, and strove constantly to achieve realism without sacrificing beauty.
Taylor grew up in Bushey Heath, Hertfordshire, and was expected to join the family building firm. But when he was 15 a neighbour offered him a job as a camera assistant to William Shenton, a cinematographer at Gainsborough Studios. It was a colourful pupillage – Shenton was an enthusiastic drinker who often required the youngster to chauffeur him home. Taylor worked on the last two silent films made at Gainsborough before moving to Elstree to assist Freddie Young.
It was at Elstree that Taylor first worked with Alfred Hitchcock, on the peculiar piece of hokum Number Seventeen (1932). For the climactic chase he was tied to the top of a speeding train with a camera. As it got faster he yelled for the emergency cord to be pulled, and when he came to a halt saw that he was only 300 yards from a low bridge.
In 1939 he joined the RAF as an operational cameraman. Churchill requested photographs of the effects of bombing raids on Germany to keep morale up at home, and Taylor's job was to fly over in a Lancaster snatching the footage. Later he took charge of an operational unit that covered war news, capturing on film the liberation of the concentration camps.
Soon after being demobbed he was asked to shoot a dream sequence in deep focus for the Boulting brothers' Fame Is the Spur (1947), an accusatory political drama about a Ramsay MacDonaldesque politician whose radicalism goes soggy when he becomes successful. The Boultings put him on a contract, his first film as director of photography being The Guinea Pig (1948), the story of a Walthamstow lad sent to a public school and a fascinating clarion call to the upper echelons of society in the wake of the war.
To compensate for shortages in good quality film stock, Taylor bounced light off walls, which created some impressive spectacles, especially in a hushed night-time scene in the school grounds as an absconding Richard Attenborough is given pause by a concerned teacher, the pockets of light amid the cloisters and creepers looking like magic lantern displays.
He became obsessed with the effects of generous exposures and reflected light, and the realistic look it could give films worked well in tough but humane dramas such as J Lee Thompson's anti-hanging piece Yield to the Night (1956). Richard Lester's A Hard Day's Night (1964), the adorable first burst of Beatlemania on the big screen, showed that documentary realism didn't have to be gloomy, Taylor using multiple cameras fitted with zooms to capture the happy phenomenon with football-match spontaneity.
On Dr Strangelove (1964), he had himself and Stanley Kubrick dressed in army uniforms and shooting combat footage by rabbit-crawling through the undergrowth. On Repulsion (1965) Roman Polanski recalled of Taylor that "he never consulted a light meter. He possessed such an unerring eye that his exposures were invariably perfect." He worked again with Polanski on Cul-de-Sac (1966) and Macbeth (1971), the latter a refreshingly mud-splattered and butcherly telling of the tale, all fetid hags and sorcerous music, Taylor ruthlessly stripping the drizzly, godless landscapes of colour, distraction and hope.
Hitchcock's Frenzy (1972) was a love letter to a changing London as well as a rather pervy thriller, and Taylor's location work was by turns romantic and sinister. The film's most famous shot, which took a day to achieve, has the camera follow the killer and his next victim up a flight of stairs, and then reverse back down them and out across the busy street. The staircase was a studio set, so the challenge was to seamlessly match it to the street footage, which was managed by having an extra carrying a sack of potatoes walk past the doorway at the changeover point.
He won a British Society of Cinematographers award for his moody work on The Omen (1976), putting a silk stocking over a lens at his wife's suggestion to create a dreamlike effect, but it is probably Star Wars (1977) that he will be most remembered for. The tense Death Star sequences were initially a much darker affair, but Taylor chopped holes in the walls to stream light on to the sets, giving them a perpetual, supernal quality. He modelled the gung-ho climax on The Dam Busters (1955), for which he had worked on the special effects.
Even after retiring from films in 1994 he carried on making commercials. His career is crammed with highlights, but apart from working in Hollywood, the only thing he didn't do was write an autobiography. It's a great shame. He brilliantly brought so many other people's stories to us, but surely had plenty of his own to tell too.
Simon Farquhar
Gilbert Taylor, cinematographer: born Bushey, Hertfordshire 21 April 1914; married firstly (marriage dissolved; one son, one daughter), 1967 Dee (one son, one daughter); died Isle of Wight 23 August 2013.
Join our new commenting forum
Join thought-provoking conversations, follow other Independent readers and see their replies