Herb Jeffries: Leading man in a string of all-black cowboy films who also sang with the Duke Ellington Orchestra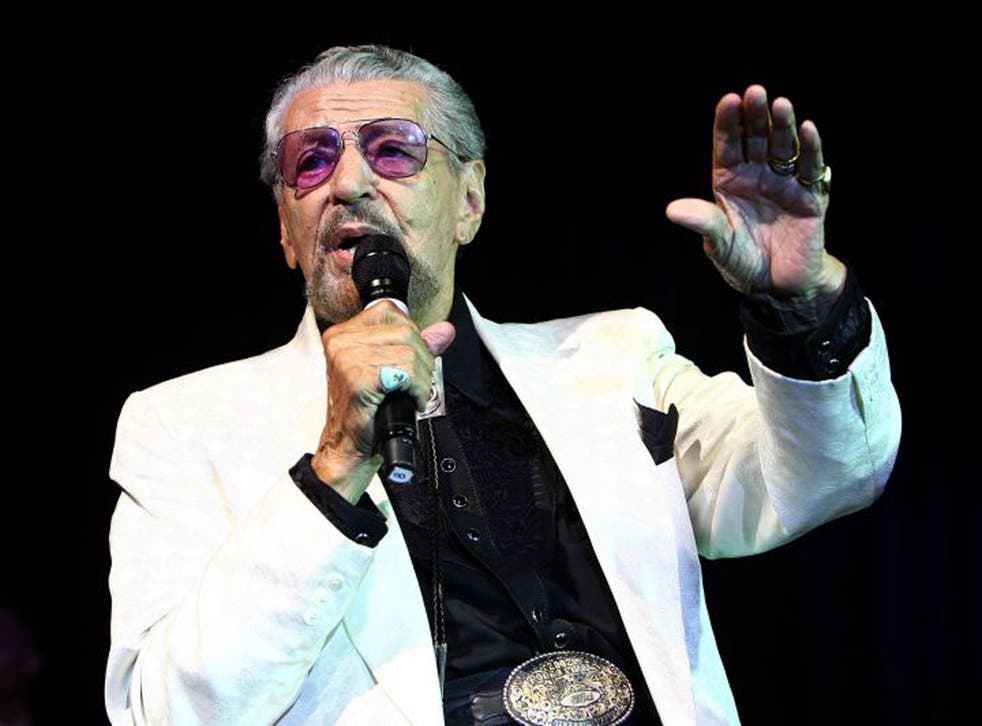 Mel Brooks' wacky Blazing Saddles (1974) makes great play of a black sheriff as if there had never been a black actor in a western before. Sammy Davis Jr would make similar jokes when he did six-gun tricks in his cabaret act. There had, however, been several black actors in westerns, most famously Herb Jeffries in The Bronze Buckaroo (1938). Jeffries' career shows that he was as widely gifted as Davis, but not with the same level of recognition.
It is not known for certain when Herb Jeffries was born or who his father was – but as he celebrated his 100th birthday on 24 September last year, it would be churlish not to go along with that. His mother was Irish and his father was probably African-American, although he changed his story from time to time and sometimes acknowledged a stepfather of mixed race. With his light skin and blue eyes, he could have passed for white, but he considered life more interesting as a black guy – and, as he remarked, "How else could I have sung with the Duke Ellington orchestra?" From time to time, he would darken his skin cosmetically so that he would not look out of place on a bandstand.
This extraordinary man was raised in Detroit as Herbert Jeffrey, and in his teens he developed a fine voice, initially singing in higher registers. He started with Erskine Tate and his Vendome Orchestra and then moved to Chicago at Louis Armstrong's suggestion. In 1933 he sang with Earl Hines and his Orchestra at the Chicago World's Fair. His first record was "Just to Be in Carolina" with Hines in 1934.
Hollywood westerns were low-budget productions – and African-American westerns even more so, as they didn't have mass appeal, largely playing in black cinemas. Jeffries' first western was Harlem on the Prairie in 1937 and he followed it with The Bronze Buckaroo, and others which featured his character, Bob Blake, and his horse, Stardusk. He performed his own stunts and he sang western songs like Gene Autry and Roy Rogers. The plot included a ventriloquist who could con cowboys into purchasing talking mules. As he was billed by mistake as "Herb Jeffries", he stayed with that spelling of his name.
At one movie house, there was live music between the screenings of his film, supplied by Duke Ellington and his Orchestra. Jeffries also made live appearances and Ellington was impressed by his impersonation of Bing Crosby; he encouraged Jeffries to take his singing seriously as he had a rich baritone – and he offered him a job with his orchestra.
Jeffries joined Ellington in 1940 and can be heard on the million-selling "Flamingo", on which he sounded like Billy Eckstine. The alto-sax solo was played by Johnny Hodges and the arrangement was by Billy Strayhorn.
While touring with Ellington, Jeffries watched Juan Tizol write "Perdido" on a train. They sang it together for Duke Ellington and it was another very successful record. Jeffries and Dorothy Dandridge toured with Ellington's "sun-tanned revue", Jump for Joy, and the show packed a political message against racial stereotyping. Jeffries sang the title song and it was hoped that the show would travel to Broadway, but the expenses proved too great. Jeffries left Ellington in 1942 and was replaced by Al Hibbler.
In 1945 Jeffries sang with Joe Liggins' Honeydrippers – and it was around this time that he started performing and investing in night clubs. He had his own orchestra for a time and he appeared with many other performers in the films Disc Jockey (1951) and Calypso Joe (1957).
In 1953 he copied Frankie Laine's dramatic style with "The Devil Is a Woman". It did well in the US, but failed miserably in the UK as it was banned by the BBC. The head of religious broadcasting objected to its sentiments and a scholarly member of the vetting committee noted that the melody had been taken from Rimsky-Korsakov, thus damning the record on two counts.
The Las Vegas stripper Tempest Storm – who had previously beguiled Elvis Presley in 1957 – became Jeffries' second wife in May 1959. Jeffries came with her to London in 1961 where she appeared at Paul Raymond's Revuebar, albeit billed as "Elvis Presley's girlfriend". Raymond's customers expected his girls to go from fully clothed to naked in 60 seconds, but Tempest Storm had a slow act, only removing her gloves in the first minute. Raymond told her to speed up as this was not the way things were done in London. In 1967 Jeffries wrote and produced the film Mundo Depravados for Storm.
Jeffries made a fine album of standards, Say It Isn't So, in 1957, and he recorded tribute albums to Bing Crosby, Duke Ellington and Nat "King" Cole. He often appeared in guest roles in TV series, including The Virginian, Hawaii Five-O and I Dream of Jeannie.
In 1995 he recorded a mixture of jazz and country, The Bronze Buckaroo Rides Again, for Warners. He revived "I'm a Happy Cowboy", which he had first sung in 1938, and the album included guest appearances from Michael Martin Murphey and the Mills Brothers.
Jeffries gave many performances for charity, and he performed with a big band as late as 2010. At the time it was noted that he was the last surviving member of Duke Ellington's orchestra from 1940.
Spencer Leigh
Herb Jeffries, singer and actor: born Detroit 24 September 1913; married five times (five children); died West Hills, California 25 May 2014.
Join our new commenting forum
Join thought-provoking conversations, follow other Independent readers and see their replies