Jack Ashley: Deaf MP who campaigned tirelessly for the rights of disabled people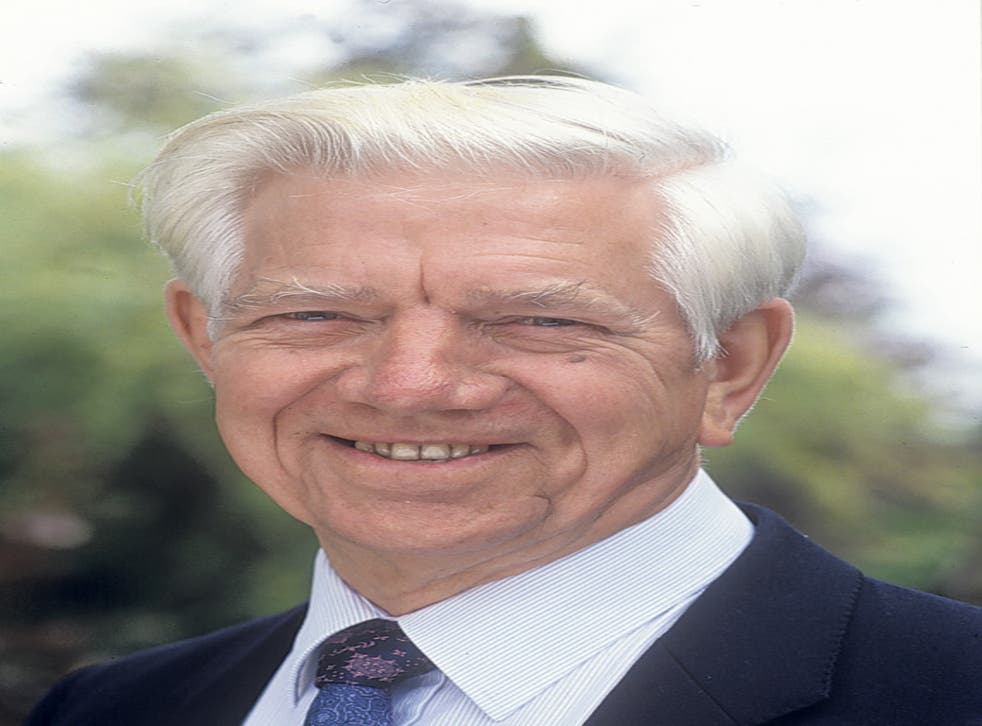 Few – very few – politicians achieve the status that Jack Ashley did. Ashley, who has died aged 89, became a beacon for the disabled, and both in the Commons and the Lords he was the most significant British politician of the last 40 years not to have held ministerial office.
Jack Ashley was a rising star of the Labour Party, on the motorway to rapid promotion in Harold Wilson's government when catastrophe struck. After a simple operation for a perforated eardrum, through the mistake of medical staff, he became totally deaf, unable to hear his own voice. His immediate inclination was to conclude that he could not continue as an MP; he wrote to the chairman of the Stoke South constituency party telling him of his desire to resign the seat. Ashley thought it inevitable; others took a different view. His constituency party said, "Don't"; so did the Prime Minister, Harold Wilson; and Parliamentary friends were also of that view.
In the certain expectation that his devoted and supremely capable wife, Pauline, would come up trumps, we said: "Look Jack, there are hundreds of thousands of deaf people and seriously disabled constituents in this country, not least in the Potteries and your own city of Stoke-on-Trent, where many men and women suffer from one form or another of industrial disease. You can use your affliction to make them feel represented."
He succumbed – eventually. And for the next three and a half decades Jack – and Pauline, ever by his side interpreting – were hugely effective. His roll-call of battle honours began with the campaign criticising the drug companies over the Thalidomide tragedy: there followed campaigns to help those in the armed forces who were suffering from bullying, and those caught up in nuclear testing; hospital and prison authorities were made responsible for their filthy kitchens; and grand judges and legal luminaries brought to task over their lack of feeling for battered wives. Ashley was driven to right wrongs. He never did anything trivial. His causes were well-chosen and vital to desperate people.
He told us that his childhood was one of poverty and happiness. His father, who worked in the chemical industry, died when Jack was five, and thoughout his life he concerned himself with those, like his father, who had come into contact with dangerous substances during their work. His mother was left to bring up three children in the 1930s yet the bond between him and his mother's brother and sister, and the warm community spirit of neighbours and friends living cheek-by-jowl, resulted in the atmosphere of a happy family.
He left St Patrick's Elementary School, Widnes, on the Friday he reached the age of 14 and on the Monday began work as a labourer in the steelworks. "Work on the furnaces was hard and the management were tough," he recalled to me. "When I was 22 and I clashed with them, I organised a union and became the chief shop steward."
He became a member of the national executive of the Chemical Workers' Union and was taken under the wing of the late and great Bob Edwards, the union's general secretary, a Black Country MP and a considerable figure in the international trade union movement. Realising Ashley's potential, Edwards encouraged him as soon as he came down from university to stand in the 1951 general election in Finchley. He won a creditable 20,520 votes against Sir John Crowder.
It was Edwards who had persuaded Ashley to go to Ruskin College, Oxford, where he won a scholarship on the basis of his efforts to improve conditions in industrial Cheshire and for his work as a councillor in pressing for repairs to homes. "In my own home we needed bowls to catch water from a leaking roof," he told me, "and there were holes in the walls."
Ashley described himself as a tiresomely aggressive councillor who demanded instant solutions from harassed council officials to housing and other problems. Having done well at Ruskin, he won a place at Caius College, Cambridge to study economics. This was to be a crucial formative period.
His supervisors were Stanley Dennison and Peter Bauer. Dennison, the most worldly of the galaxy of economics stars in Cambridge, had been chief economic assistant in the War Cabinet Secretariat and a member of the review body on remuneration of doctors and dentists, and had wide experience of chairing wages councils. Bauer fostered Ashley's interest in the economic development of under-developed countries and was an expert on the rubber industry and the cocoa trade with West Africa.
Ashley found time to make the wide circle of friends necessary to become President of the Cambridge Union. He was chosen as a member of a debating tour of American universities, an experience which lead him to chime with Michael Stewart, who was later Foreign Secretary and chose Ashley as his Parliamentary Private Secretary.
But something more important to his future happened in his last term. He met Pauline Crispin, then a first-year undergraduate at Girton College, and they were married within six months. I have never seen a friend more distressed than Ashley was when Pauline died suddenly in 2002. She was a saint.
On leaving Cambridge, Ashley became a BBC Radio producer for five years and then in 1957, after a year as a Commonwealth Fund Fellow, a senior television producer. He was part of a team that worked at various moments on the programmes Gallery, Monitor, and Panorama, besides being given wide scope to work on his own programmes.
But his real ambitions lay in politics and he was chosen by the Stoke South constituency Labour party to follow the veteran engineer pattern-maker Ellis Smith, who had held the seat since 1935. In the 1966 election Ashley won by 27,380 votes to FW Thornton's 14,769 for the Conservatives and SJ Lomas's 2,262 for the Communists. He was soon chosen to go on the first rung of the ministerial ladder, as PPS to Michael Stewart, then Secretary of State for Economic Affairs, later Foreign Secretary.
I was not the only one who thought that Ashley could be a possible leader of the Labour Party in 15 years. All this was derailed by the eardrum operation that went wrong. At first he found it difficult to be in a silent chamber. For seven years he somehow survived by learning lip-reading and studying the scribbled notes of Parliamentary colleagues. He would knit his brow at my bad handwriting. Fortunately Palantype arrived, with speech displayed in a phonetic code on a screen.
In 1979, very imaginatively and quite rightly, Jim Callaghan made him a Privy Councillor, which meant that he could be called at an early stage in parliamentary debates. It might have been more use to him if Harold Wilson had done this four years earlier, when the Queen made Ashley a Companion of Honour.
When he lost his hearing he realised that he could not become a minister so set out to campaign on issues he cared about. His first great battle, over Thalidomide, attracted huge public attention partly because he was skilful in harnessing the interests of major newspapers, in this case the Sunday Times. With the help of the Conservative MP, John Astor, Ashley founded an All-Party Disablement Group. It met for the first time in July 1969 and did what had never been done before on a major scale – inviting disabled people to come to the corridors of power.
The Group's first major challenge was to support Alf Morris, MP for Manchester Wythenshawe, who had been drawn first in the ballot for Private Members Bills and had suggested a Chronically Sick and Disabled Persons Bill. As Richard Crossman's PPS at the time, I knew better than anyone else the huge pressures that Crossman and officials of the Department of Health put on Morris to accept a more innocuous bill. The exception was the Chief Medical Officer, the formidable Sir George Godber, who had increasing sympathy with what Morris was trying to achieve. He told me that any support in putting spine into those sympathetic to Morris's Bill would be
welcome. I know at first hand the critical importance of Ashley and Astor's All-Party Group in sustaining the indefatigable Morris in sticking to what he had proposed rather than giving in, as most other backbench MPs would certainly have done.
Although the 1969 Bill has been criticised as inadequate, in the context of the 1970s it was a landmark for disabled people. Over the past 35 years the Ashley Astor Group has come to be seen as one of the most influential groups in Parliament, forever focusing its efforts on winning comprehensive civil rights for disabled people. Ashley challenged the government to produce its long-awaited Vaccine Damage Payment Scheme. With great skill he highlighted the case of Rosemary Fox, the mother of a vaccine-damaged child. David Ennals, Secretary of State, side-stepped the issue by insisting on awaiting the Report of a Royal Commission.
Ashley, adept at cajoling senior ministers, pressured Jim Callaghan to make the decisive intervention, which quickly led to the establishment of the Vaccine Damage Payment Scheme. Ashley saw that the underlying question was whether the secrecy that surrounds the production and marketing of drugs could be tackled under the Medicines Act of 1968. There was a feeling that secrecy was "enshrined" in the Act but Ashley gave it the interpretation that the Medicines Act allowed "plenty of scope"for allowing greater openness.
Ashley's campaign for the deaf is legendary. But he had an interesting view: "Any attempt to unravel the misunderstanding of disabled people is always welcome. When I lost my hearing and became totally deaf, someone said: 'Jack Ashley's not really deaf, he just can't hear'. It seemed to be a ridiculous comment but I later discovered that born-deaf people, who may be without speech, and who rely entirely on sign language, are a distinctive community. They are proud of their history, heritage, and that comment indicated, rightly, that I was not one of them. That is clear in retrospect but it shows how easily misunderstandings can arise."
Ashley was a stalwart of the Royal Association for Disability and Rehabilitation. Against the Falklands War, because of his understanding of the plight of maimed people, he made a friend of Simon Weston, who was so badly burnt on the Sir Galahad. Ashley admired Weston's sensitivity, great sense of humour, love of sport, pride in Wales and the philosophical attitude he displayed. Ashley would say quite often that he was uplifted as a result of conversations with those who were overcoming their suffering.
Ashley was not in the accepted jargon a "do-gooder". On the contrary, he was extremely hard-headed. In 2004 he looked back on the performance of many local councils in helping the deaf and blind and considered that while there has been a little improvement the guidance given by central government had failed to cope with the problems. The imposition of clear legal duties on local authorities was the only real way in which to achieve improvement. Governments had to think again to create such duties for the most deprived disabled people.
In 2000 he introduced a Deaf Blind Persons Bill in the House of Lords. He had learnt from his early experience in factories and with employers that turning the other cheek doesn't achieve very much. Part of his armoury in combating obdurate ministers was ribaldry and ridicule – done with humour and without malice. Ashley was at home in the House of Lords and is one of comparatively few former MPs who have learnt to be effective in the Lords.
I think he always had the tinge of regret that he so eloquently expressed when he left the Commons: "It is the companionship I shall miss most – it has always been so, in factory, army and the university; yet relationships in the House have been different from any of these. In no other place can one simultaneously express friendship, hostility, humour, loyalty, kindness, intrigue, fury and boredom – sometimes all in the same day."
He saw the most effective antidote to pomposity as the loss of power. Few sights equal the incredulity and dismay of the over mighty when they are transformed overnight from government to opposition. He told me that he found it delicious to see the abject retreat of a defeated minister. Backbenchers campaigning for months, even years, on an issue recognised the syndrome all too well. When they had been ministers they had thought the changes he had proposed in relation to causes close to his heart, such as the protection of battered women, were impractical, out of the question, undesirable, ill-considered, impossible, and most deadly of all, unduly expensive. Accepting defeat after a successful campaign, or when thrown into opposition, the ex-minister would find the policies of the All Party Disablement Group necessary, reasonable, generous and "something I have sought all along".
Ashley was concerned that there were many people too proud to apply for benefits regardless of their hardship, this showed the need for diplomacy in handling such delicate issues. Campaigns were needed to win more concessions from governments of the day – but many disabled people find the idea of charity to be anathema, and this was part of the reason why the development of full civil rights and an integrated society were the real way forward for Britain's millions of disabled people.
In 2001 Jack and Pauline celebrated a joyous golden wedding. Alas, two years later, Pauline died of a stroke. Ashley was bereft. But with the astonishing courage he had displayed throughout his life, and supported by three talented and prominent daughters, and his son-in-law, the BBC presenter and former Editor of The Independent editor Andrew Marr, he continued to campaign relentlessly for his causes, in and out of the Lords.
Jack Ashley, labourer, crane driver and politician: born Widnes 6 December 1922; producer, BBC Radio 1951-1957, senior television producer 1957-1966; MP (Stoke On Trent South) 1966-1992; CH 1975; cr Lord Ashley of Stoke 1992; married 1951 Pauline Crispin (died 2003; three daughters); died 20 April 2012.
Join our new commenting forum
Join thought-provoking conversations, follow other Independent readers and see their replies