Jim Hall: Jazz guitarist whose subtly powerful style led Pat Metheny to acclaim him as 'the father of modern guitar playing'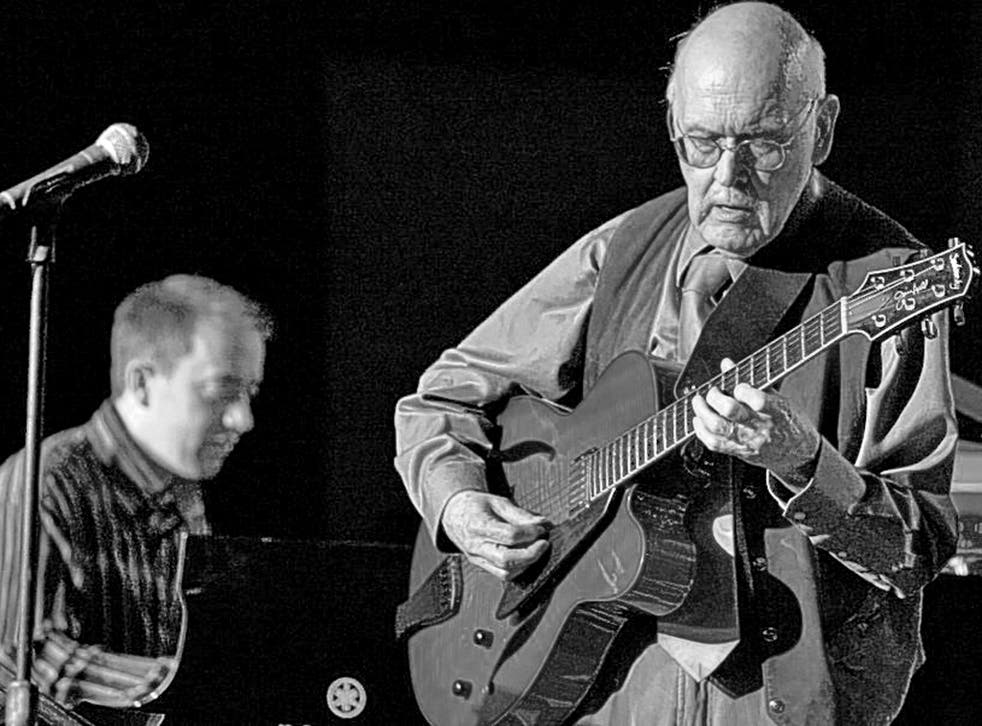 It seems banal to say of an artist that he was a nice person with a great sense of humour. But every comment about Jim Hall, following his death at 83, has emphasised his personal qualities. The veteran bassist Bill Crow described Hall as "A dear friend, a great musician, and one of the best laughers I've ever known. Early in the days of knowing him, he laughed so hard at something [Bob] Brookmeyer and I were saying that he dislocated his left shoulder." Not the best outcome for a guitarist.
Hall's musical humour was subtle, and its reactive nature was easy to miss unless you were familiar with players such as Bill Evans, Gerry Mulligan and, indeed, Bob Brookmeyer. Each of them manipulated melodies in logical yet surprising ways, and when they working alongside Hall his quirky but commanding phraseology suited them admirably. Observing his powerfully understated collaborations, it was possible to savour the individuality of Hall's own playing.
Brought up in Cleveland, he was given a guitar for Christmas at the age of 10 and was impressed by hearing Charlie Christian on a Benny Goodman record. Proficient enough to play in local groups in his teens, he also learned the double bass, which influenced his backing ability on the guitar. At Cleveland Institute of Music he studied composition and piano, since even classical guitar was not a course option. Moving to Los Angeles in 1955, Hall made an immediate impact as a founder member of Chico Hamilton's chamber-jazz quintet, for which he also wrote arrangements.
He next joined Jimmy Giuffre, whose 1956 trio combined his saxophone or clarinet with just guitar and bass, a line-up made more unusual by dropping the bass in favour of Brookmeyer's valve-trombone. That trio's version of "The Train and the River" formed the memorable opening sequence of the film Jazz On A Summer's Day (1960), and Hall's loping accompaniment to two wind instruments revealed his sensitivity and reliability.
Having moved to New York he recorded frequently as a sideman, including a couple of albums with Mulligan, and toured Europe with Jazz At The Philharmonic, backing Ella Fitzgerald's Berlin performance of "Mack The Knife". Given his muted tone and quiet demeanour, it was a surprise when Hall was recruited by the saxophonist Sonny Rollins in 1961. "I started getting these mysterious notes in my mailbox," he recounted. "I realised what I had gotten into when I accepted a job [with Rollins] – it was sort of like being knighted."
The group lasted only months before Rollins changed direction, but in 1962, Hall and pianist Bill Evans recorded the remarkable duo album Undercurrent, mostly consisting of sophisticated reveries. However, its brisk adaptation of "My Funny Valentine" featured an exemplary Hall solo, as well as his stimulating accompaniment of the piano. Further tours to Europe were undertaken, firstly with a quartet led by trumpeter Art Farmer in 1964, and then in 1967 appearing both with a selection of other guitarists (recorded at the Berlin Jazz Festival) and as a soloist at Ronnie Scott's. From 1965, coinciding with marriage to his psychotherapist wife Jane, Hall spent most weeks of the year in the house band of the television talk-show host Merv Griffin.
By contrast with the other influential guitarist to emerge from this period, the overtly joyous Wes Montgomery, Hall conveyed an introverted, intellectual approach that nevertheless exuded emotionality to anyone tuned in. One of his most popular albums of the 1970s, Concierto, with its Chet Baker contribution and its rather sterile studio backing, hooked many aspiring guitarists. Pat Metheny went so far as to name Hall "the father of modern guitar playing", and others of his generation such as John Scofield and Bill Frisell have voiced their appreciation. After playing on one track of Hall's 1998 production By Arrangement, Metheny commissioned a whole album of live and studio duets the following year, which reached second place on the Billboard jazz chart. Hall himself set up a two-CD record with Frisell, Hemispheres – The Art of Listening.
Though his best work relied entirely on improvisation, in 2003 he said, "I like to make some kind of composition happen while I'm playing. That involves motive development… I also love melodies." As long ago as 1990 Hall was honoured with a whole evening at New York's JVC Jazz Festival, during which he revived his 1953 student exercise "Thesis" for guitar and string quartet. He also used a string quartet at his winner's concert for the 1998 JazzPar Prize in Copenhagen, which included his arrangement of Jimi Hendrix's "Purple Haze", played entirely in Hall style. Among other honours, he was made an NEA Jazz Master in 2004 and a Chevalier de l'Ordre des Arts et des Lettres in 2006.
His daughter Devra Hall Levy, who functioned as his manager in recent times, notes that "He was a forward thinking player who was always pushing the musical boundaries, not only as a player, but also as composer." He clearly retained his sense of humour too; asked why he had never "sold out" to more commercial music, he replied, "No one ever asked me to."
James Stanley Hall, guitarist and composer: born Buffalo, New York 4 December 1930; married 1965 Jane Yuckman (one daughter); died Manhattan 10 December 2013.
Join our new commenting forum
Join thought-provoking conversations, follow other Independent readers and see their replies