Joan Rivers: Entertainer whose huge comic talent was fuelled above all by anger
She was a force of nature who spoke her mind with a glorious disregard for taste or diplomacy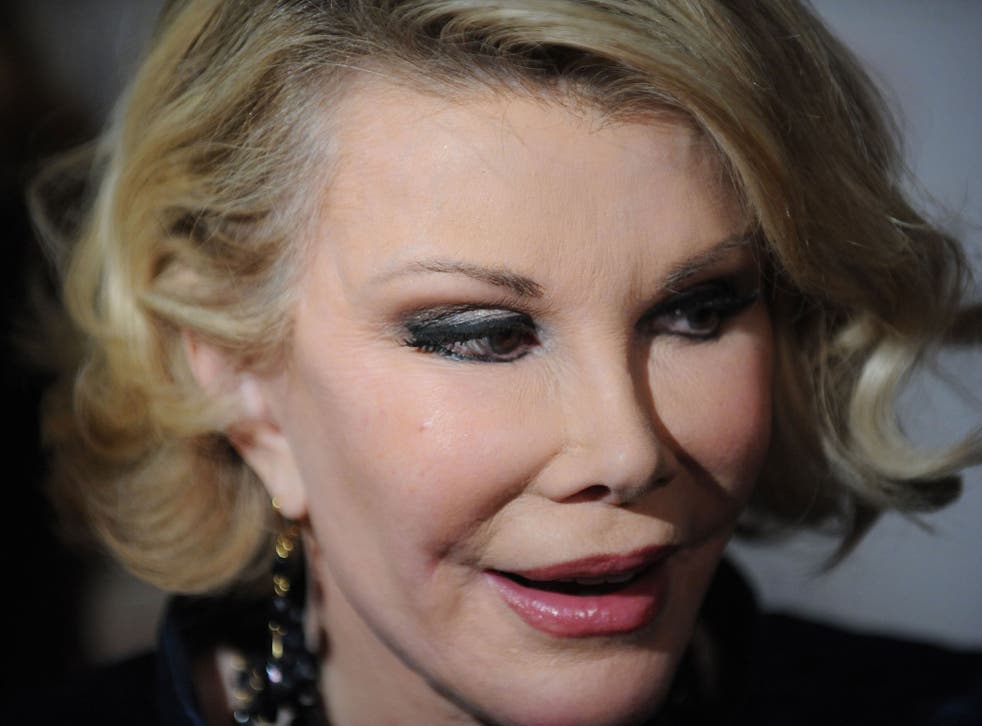 Joan Rivers may not have floated everybody's boat. She was a force of nature who spoke her mind with a glorious disregard for taste or diplomacy. Everything about her screamed of showbiz: she doused stars in theatrical adoration as much as she splattered them with insults, gleefully pricking the pomposity of celebrity and lampooning the lunacy of Tinseltown while at the same time revelling in it.
Some of the sacred cows she slaughtered, egotistical movie stars gliding up the red carpet in ill-advised garb, were soft targets. But the public could be less forgiving of her iconoclastic humour when it hit out at subjects weightier than the glitterati. Jokes about 9/11, the Holocaust and the Gaza conflict made America angry, but Rivers rarely made excuses for herself. "Comedy is just to make people laugh," was her philosophy. "I believe in humour to make life funnier. Life is very tough, and if you can make a joke to make it easier and funnier, do it, that's all."
Joan Alexandra Molinsky was born in 1933 in Brooklyn, the daughter of Russian-Jewish immigrants. She was educated at Connecticut College, then studied English Literature and Anthropology at Barnard College. She started performing via the college's dramatic society and after graduating in 1954 tried to find work as an actress while working by turns as a tour guide and an advertising copywriter.
She became a buyer for Bond Clothing Stores, at that time the most successful men's outfitters in New York. She fell in love with the owner's son but the marriage lasted only six months, annulled on the grounds that he didn't want children but had failed to inform her of this. (Thirty years later he sent a message to her, simply saying, "tell Joan I'm proud").
Too greedy a performer to be an actress, footloose again she began performing stand-up comedy in the coffee houses of Greenwich Village alongside other hopefuls such as Bill Cosby and Richard Pryor. After seven gruelling years, during which she was repeatedly told she was too brash, too wild and too unladylike, on Cosby's recommendation she got a break performing on The Tonight Show, at that time hosted by Jack Paar.
Career in pictures Joan Rivers

Show all 15
Three weeks before this appearance her agent (whose surname she swiped to give her a catchier handle) told her, "everybody's seen you, it ain't gonna happen." But despite Paar disliking her (he claimed he "didn't believe a word she said" and scored a line through her name), she went down well with audiences, and as a result won regular work as a gag-writer and performer on Candid Camera. (Years later she would infuriate host Allen Funt by doing a hatchet-job on him in her book Enter Talking).
America was waking up to her, although she made no attempt to clean up her act: famously Jack Lemmon walked out of a show in disgust after she brazenly admitted she was having an affair with a married man. "You didn't do that in those days!" she recalled.
In 1965 two men changed her life. She returned to The Tonight Show when new host Johnny Carson took over, and he told her on air: "you're gonna be a star". She quit Candid Camera, an unimpressed Funt telling her, "you'll be sorry, Jill." She was also hired by the producer Edgar Rosenberg, at Carson's suggestion, to help him rewrite a screenplay. She married him four days later. Carson carefully mentored her, and she became a regular on the talk-show circuit, as well as hosting one of her own, with Carson as her first guest.
She dabbled in acting again here and there, but was kept busier with television, appearing on shows hosted by Dick Cavett, Sammy Davis, Jr and David Frost, releasing Grammy-nominated albums and best-selling books, and writing minor films, including The Girl Most Likely To… (1973) starring Stockard Channing, about a girl who undergoes plastic surgery and, armed with a new beauty, takes revenge on all those who ever called her ugly (Rivers herself becoming a plastic surgery addict in later years), and Rabbit Test (1978), a dud which she also directed. She was a crowd in herself, and the clutter of a movie clearly obstructed her directness.
She regularly referred to Carson as a father-figure and "the man who handed me my career", and she became his regular guest host in 1983. But three years later the relationship collapsed when the newly formed Fox network hired Rivers to host a late-night talk show that started half an hour earlier than Carson's. He never spoke to her again.
The Late Show Starring Joan Rivers started well despite the sour publicity, but when ratings droppedFox fired Rivers' husband, who was the producer, and then, after she fought back angrily, fired her too. Rosenberg had already suffered a heart attack two years earlier and had been blighted by depression ever since, something she believed had been induced by the medication he had been prescribed. Several months after being fired he took his own life.
She threw herself into her work, hosting a new daytime talk show, scooping an Emmy and earning herself both a star on the Hollywood Walk of Fame and a Tony nomination for her performance on Broadway in Sally Marr… and her Escorts, which she co-wrote. It was an apposite tribute to Lenny Bruce's mother, an outrageous female comic from a time when America would only accept such material from a man, and who had therefore handed it all to her son.
Rivers' colossal workload only increased as the years went on, and as she grew old, disgracefully but ever more glamorously, despite too many appearances on reality shows and a scruffy flim career, there were some triumphant moments from the old firecracker, such as when Brigitte Nielsen stormed off when interviewed on the Channel 5 show The Joan Rivers Position (2004-06). When a furious argument broke out on Radio 4's Midweek programme in 2005, Rivers managied to get Darcus Howe to admit he was wrong after he had hastily accused her of racism. The documentary Joan Rivers: A Piece of Work (2010) was a valuably frank portrait of her that is now an appropriately unsentimental and inspiring epitaph.
She subscribed to the belief that comedians were clowns crying on the inside and claimed that deep down she was a sensitive soul (as recently as July she was offended enough to storm out of a live interview on CNN), but also argued that, "I would never make fun of a civilian sitting in the audience. It's not fair. They don't have the comeback. They don't have the F-you money. But celebrities are open game".
And they certainly were. She was scattergun but often hit a bullseye: she devilishly described Nicole Kidman, in a red dress with a pale face, as resembling a ketchup bottle, and said that "you don't need big boobs to be feminine - look at Liberace". But above all it was anger that fuelled her comedy: she strove to laugh at what troubled her, often quoting the old adage, "if you make someone laugh, you give them a little holiday."
She was once asked, "Don't you want to be loved just for yourself?" She replied: "I just want to be loved. Who cares what for?"
Joan Alexandra Molinsky (Joan Rivers), comedian, actress, writer, producer, director and presenter: born Brooklyn 8 June 1933; married 1955 James Sanger (marriage dissolved), 1967 Edgar Rosenberg (died 1987; one daughter); died 4 September 2014.
Join our new commenting forum
Join thought-provoking conversations, follow other Independent readers and see their replies