Joe Kubert: Prolific comic-book artist whose work captured the chaotic, dirty business of war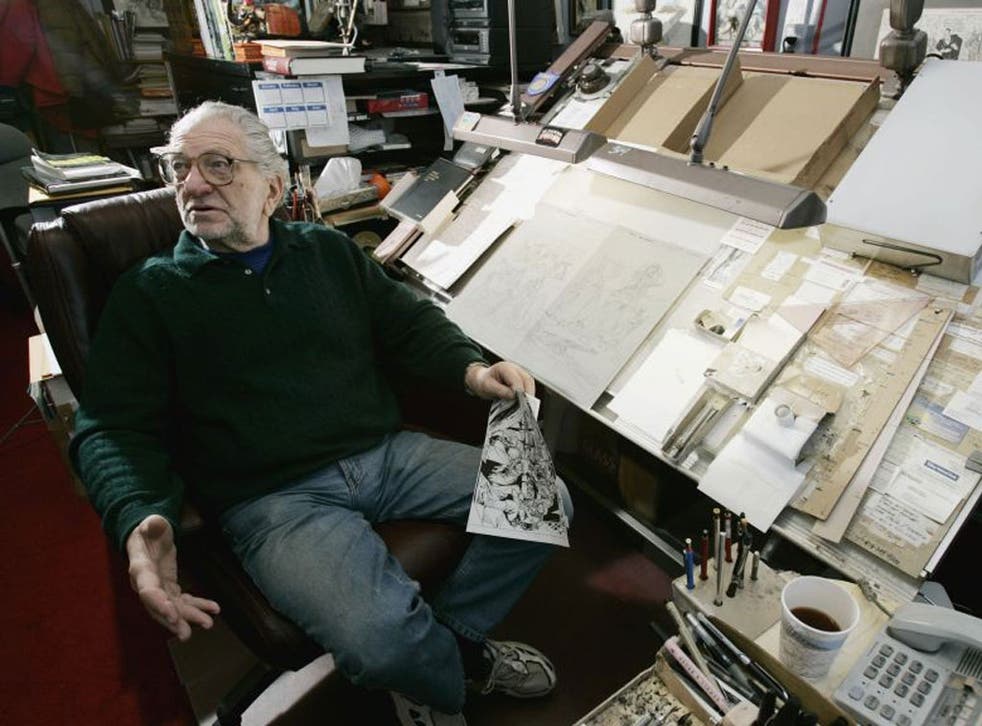 It was the gritty strength of his drawing, simple and emotional, with an unfinished feel, that made Joe Kubert, who has died aged 85, the outstanding comic-book war artist.
No one captured better the chaotic nature of heroism, nor the dirty business of battle, and no one was more committed to using his medium to display war's horror and futility. It was a genre he returned to constantly throughout a working career that lasted more than seven decades, during which he applied his talents to every facet of the industry, as artist, writer, editor, executive. He was also a noted teacher; his Kubert School trained dozens of successful artists, not least his own sons Adam and Andy.
Kubert was born Yosaif on 18 September 1926 in Yzeran, a shtetl obliterated during the Second World War, in what was Jezierzany, Poland and is now Ozeryany, Ukraine. His family arrived at Ellis Island when he was two months old, and settled in Brooklyn, where his father was a kosher butcher. Obsessed with newspaper comic strips, particularly Hal Foster's Tarzan, Kubert taught himself at a drawing board bought by his parents, and by the age of 13 (in his retellings it was sometimes as young as 11!) was working after school for MLJ Studios, which became Archie Comics.
It became easier once he began at Manhattan's High School of Music and Art, and he worked in Harry A Chesler's busy studio. His first solo effort was Volton, the Human Generator, for Catman Comics, when he was 16, and soon he was drawing the Blue Beetle for Fox. He was hired by Quality Comics to add colour to their reprints of Will Eisner's daily newspaper strip The Spirit, and began his long association with DC Comics with a 50-page comic, Seven Soldiers of Victory. DC became his main outlet, and in 1945 he drew Hawkman, the superhero with whom he would be most associated, for the first time.
He stopped freelancing to become managing editor of St. John Comics, where in 1953 he helped produce the first 3-D comic book. Issue one of Three Dimension Comics featured Mighty Mouse, and sold over a million copies, despite its high price tag of a quarter (comics usually cost a dime). Kubert went through hundreds of lollipops, using their red and green plastic wrappers as lenses to see the 3-D effects. For the second issue, Kubert and his schoolmate Norman Maurer created Tor, a prehistoric version of Tarzan, who quickly spun off into his own, two-dimensional comic as the 3-D craze faded. Tor would be revived frequently by multiple publishers over the next four decades, though Kubert was never able to sell it as a daily strip to the newspapers.
Resuming his freelance career, Kubert produced stories for the classic EC Comics title Two-Fisted Tales, before returning to DC, on Our Army at War. Back on staff, he drew Viking Prince, Hawkman, and, for GI Combat, two series: The Haunted Tank and the one which became his signature piece, Sgt. Rock. The adventures of Frank Rock and Easy Company in the Second World War transcended schoolboy heroics, recalling the bleaker tones of classic 1950s films like Anthony Mann's Men in War or Sam Fuller's Steel Helmet. In 1965 Kubert achieved his dream of drawing a daily newspaper strip, Tales of the Green Berets, adapted by Robin Moore from his best-selling book. He extended the range of war comics even further with Enemy Ace, written by Robert Kanigher, whose hero is a First World War German pilot.
In 1967 he gave up Green Berets when he became director of publications for DC. He wound up assigning himself the cover art for many titles, where his dynamic style served well, and also gave himself the chance to finally draw Tarzan, in a comic which ran from 1972-75. The rough-hewn character of his art, so different from the classic Foster strip, was perfectly suited to jungle adventures. In 1976, the final year of his tenure as an executive, his increasing interest in his Jewish roots saw him create, again with Kanigher, Ragman, a Jewish hero based in Batman's Gotham City.
In 1976, Kubert, along with his wife, Muriel, started the Kubert School in Dover, New Jersey. Among its most famous alumni are Tim Truman, Rick Veitch and Steve Bissette. He continued to freelance, and his projects varied from strips for the US Army's PS: Preventive Maintenance magazine to a strip of rabbinical tales called The Adventures of Yaakov and Yosef for the Hasidic newspaper Moshiach Times.
His comics career experienced a renaissance in the age of the graphic novel. He created a Jewish gangster, Abraham Stone, for Country Mouse, City Rat (1991) and two sequels, and brought back Tor in 1993. His masterpiece may well be Fax from Sarajevo (1996), based on the faxes he received from the comics agent Ervin Rustemagic, literally trapped within the Yugoslav conflict.
He revisited his family's roots with Yossel (2003) and Jew Gangster (2005), done in uninked pencils which gives them raw power. Kubert collaborated with writer Brian Azarello on a Sgt Rock miniseries, Between Hell and a Hard Place, and wrote and drew The Prophecy (2006) himself. He did another Tor miniseries for DC in 2008, and a new Sgt Rock story with his son Adam the following year. He was collaborating with his other son, Andy, on a Watchmen prequel featuring Nite Owl, when he died in Morristown, New Jersey, on 12 August, of multiple myeloma.
Kubert won virtually every award a comic artist can win, some of them multiple times. Muriel predeceased him in 2008, and he is survived by four sons and a daughter. From 1967 onward, every war comic he drew ended with a banner in the final panel which read: Make War No More.
Joseph Kubert, comic-book artist: born Jezierzany, Poland 18 September 1926; married Muriel (died 2008, four sons, one daughter); died New Jersey 12 August 2012.
Join our new commenting forum
Join thought-provoking conversations, follow other Independent readers and see their replies