Johan Cruyff: One of football's greatest players, whose skill and vision brought a rare and magical quality to the game
Cruyff was the ultimate proponent of the "total football" invented by his countryman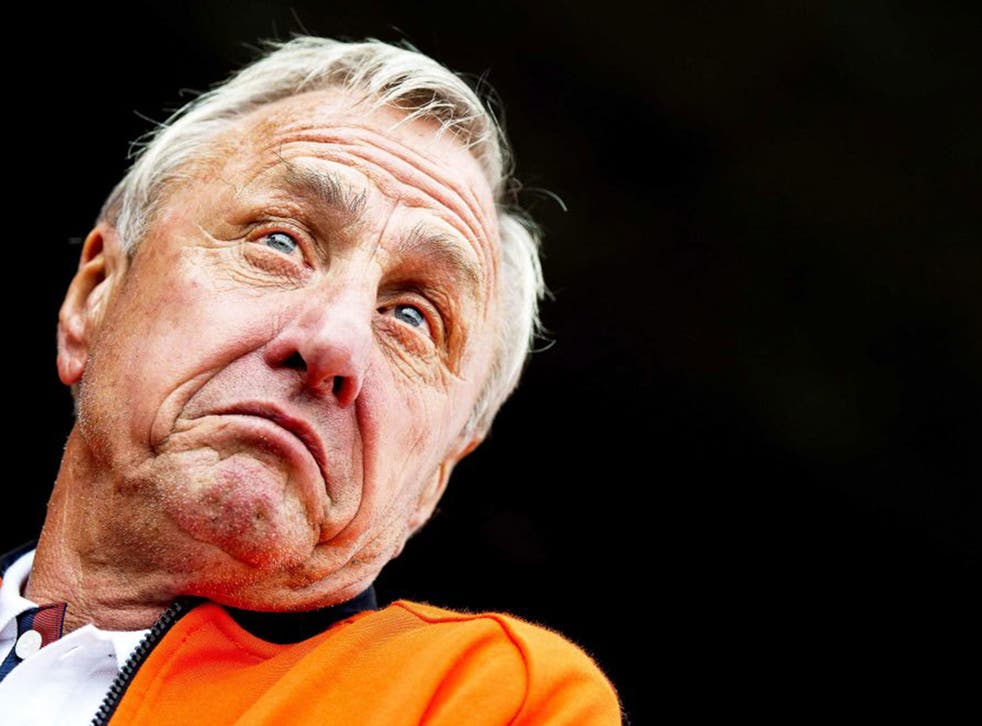 George Best, Bobby Charlton and a few more would have their backers, but Johan Cruyff would be the popular choice among hard-headed observers as the finest European footballer of the 20th century. Some would go even further, putting the lithe, loping Dutchman – the ultimate proponent of the "total football" invented by his countryman, the revered coach Rinus Michels – at the same top table as the South American maestros Alfredo di Stefano, Pele and Diego Maradona.
Though such comparisons, while enjoyable, are essentially meaningless, the right of Cruyff to a place in such gilded company is absolute. As a player with Ajax of Amsterdam, Barcelona and the Netherlands in the 1960s and '70s, he brought to the game a rare and magical quality, a breath of genius. As a coach, too, he shone gloriously with the same two clubs, offering innovation, inspiration and a steady supply of silverware.
Cruyff was one of the most potent maker and taker of goals in the game's history. In action he was a sumptuous sight to behold. An inch under 6ft, lean but whippily resilient enough to soak up the most brutal physical punishment – to which he was subjected frequently by unscrupulous opponents who could find no other way to subdue him – he was blessed with exquisite balance and a destructive variation of pace.
One second he could appear to dawdle aimlessly, the next he had exploded beyond his markers, probably going for goal – he could shoot and score from virtually any angle – or maybe delivering a sadistically teasing cross or incisive through-ball that could reduce any rearguard to ruins.
Notable deaths in 2016

Show all 42
His most vivid attribute, though, was his regal command of a football, of which he was a manipulator supreme, as exemplified by the dazzling manoeuvre to which he gave his name, the Cruyff Turn. All in the twinkling of an eye, he would dummy to pass or shoot, then drag the ball behind his planted foot with the inside of his other boot before swivelling through 180 degrees and sprinting away, leaving his hapless victim for dead.
To all that dexterity the multi-talented Dutchman added acute vision, positional intelligence and imperious authority, making him a natural general on the pitch. Though nominally a central striker, in fact he roamed freely to all areas, orchestrating as well as executing, possessing the priceless knack of getting the best out of most team-mates, always an obvious candidate for management.
Born close to the De Meer stadium in Amsterdam, then the home of Ajax, Cruyff was obsessed with football from early boyhood and joined as a youth player at the age of 12 after his mother, a cleaner at the club, had sung his praises at work.
Precociously gifted and illustrating his dedication by working with astonishing single-mindedness to improve his weaker left foot, he carried himself with a certain arrogance which did not always endear himself to his peers. Occasionally young opponents would attempt to kick him out of contention, but invariably he reacted assertively, sometimes fuelling their fury by teasing them with his brilliance.
Cruyff made his senior entrance for Ajax in 1964, confirming his pre-eminence in 1965-66 with 25 goals in 23 outings as he prospered under Michels and collected the first of his eight Dutch championship medals in two spells with his home town club. Britons became widely aware of the Dutchman during the following season in which, as well as making his full international entrance, and dazzling as Ajax completed a domestic double, the 19-year-old Cruyff touched sublime heights in the 7-3 aggregate evisceration of Liverpool in the European Cup.
In the first leg he was like an untouchable ghost in the Amsterdam fog, scoring once and generally creating mayhem as Bill Shankly's Reds were embarrassed 5-1. Afterwards his harassed would-be marker, the giant centre-half Ron Yeats, admitted ruefully: "I just couldn't get near him. His first touch and running off the ball were magnificent, it was like chasing a shadow. He had everything."
However, everything didn't go Cruyff's way that season, as he was dismissed for retaliation during his second game for the Netherlands and suspended from international football for a year. His temperament could be volatile, and he faced constant provocation from opponents seeking to goad him into costly indiscretions. It was a potential flaw which might have hindered his ascent to greatness, but he didn't allow that to happen.
The trophies piled up. Dutch titles and knock-out wins became commonplace, and after the disappointment of losing the 1969 European Cup final to Milan after he had scored in every round, he was central to three consecutive triumphs in that marquee competition, which saw Panathinaikos beaten at Wembley in 1971, Internazionale (with Cruyff scoring twice) in Rotterdam in 1972 and Juventus in Belgrade in 1973.
Not surprisingly, broader horizons beckoned for the man voted European Footballer of the Year in 1971 and '73. In the summer of 1973, having scored some 250 times in slightly more than 300 appearances for Ajax, he joined Barcelona for a world record fee of £922,300, linking up once more with his old mentor, Michels.
Now in his pomp at 26, he faced colossal expectations – and met them in his first Spanish season, inspiring Barcelona to lift their first championship since 1960, along the way thrashing despised rivals Real Madrid 5-0 on their own Bernabeu turf. Amid wild Catalan euphoria, he retained his individual European crown for 1974, but although he continued to excel, the only other major club honour during his Nou Camp tenure was the Copa del Rey of 1978.
Internationally, though, he reached new heights as Player of the 1974 World Cup, performing in lordly mode and scoring against Argentina (twice) and Brazil on the way to the final against West Germany. Come the big day he began brilliantly, embarking on a penetrating run and earning a penalty – converted by the superb midfielder Johan Neeskens – before the Germans had even touched the ball. Thereafter the Dutch dominated for 25 minutes, but back bounced Franz Beckenbauer and company to win 2-1. Cruyff was booked for arguing with English referee Jack Taylor, and most neutrals were left to lament the fact that the most attractive team in the world had lost.
Thereafter Cruyff took his cap collection to 48 (with 33 goals) before retiring from the international scene in 1977. It was rumoured at the time that his retirement was a protest against the military junta in Argentina, where the 1978 finals tournament was to be held, but in 2008 he said that he and his family had been the subjects of a kidnap attempt in Barcelona a year before the tournament. "To play a World Cup you have to be 200 per cent OK," he said. "There are moments when there are other values in life."
He left Barcelona a year later to continue his club career with Los Angeles Aztecs, Washington Diplomats and the Spanish second-tier side Levante before renewing his vows with Ajax in November 1980, initially as technical advisor.
Duly he returned to the side, helping to win the League titles of 1981-82 and 1982-83. Then, angered at not being offered a new contract, he joined fierce adversaries Feyenoord in 1983, linking potently with his sparkling young countryman, Ruud Gullit, to inspire a League and Cup double.
Having been voted Dutch Footballer of the Year for the fifth time, Cruyff laid aside his boots in 1984 to take his forceful personality into the coaching arena, retracing the steps of his playing days to serve first Ajax and then Barcelona. He proved to be as innovative off the field as he had been on it, focusing passionately on skills and techniques, introducing fresh routines and specialising in one-on-one work to eradicate individual weaknesses.
Having rejoined Ajax in the summer of 1985, he narrowly lost that season's Dutch title to PSV Eindhoven, compensating with triumph in the Dutch Cup. The 1986-87 campaign proved even more fruitful, as the domestic trophy was retained and, producing fluent attacking play based on three men at the back behind a defensive midfielder, he led his charges to European Cup-Winners' Cup glory, defeating Locomotiv Leipzig 1-0 in the Athens final.
Even more success followed when Cruyff took over as Barcelona coach in May 1988. He brought in the likes of Ronald Koeman, Hristo Stoichkov, Pep Guardiola, Romario and Gheorghe Hagi and won four successive League titles between 1991 and 1994. Then there was Cup-Winners' Cup victory when Sampdoria were defeated in 1989, the Spanish Cup was lifted in 1990 and, best of all, Sampdoria were beaten again in the 1992 European Cup final at Wembley.
To set against that, Alex Ferguson's Manchester United overcame Barca in the 1991 Cup-Winners' Cup final in Rotterdam, and Cruyff's team suffered another unexpected setback when they were cuffed 4-0 by Milan in the renamed Champions League final of 1994.
Also that year Cruyff, ever the strong-minded perfectionist, sometimes difficult and demanding, had been in secret talks to take over as Netherlands coach, but a deal was not agreed. There followed two seasons at the Nou Camp with no major silverware; Cruyff fell out with chairman Josep Nuñez and in 1996 he was replaced by Bobby Robson.
Thereafter there were rumours of returns to high office, but he did not coach again until 2009, when he took charge of Catalonia, later advising Ajax and then Chivas de Guadalajara of Mexico. His son Jordi played, among other clubs, for Barcelona and Manchester United.
A heavy smoker before a heart bypass operation in 1991, Cruyff subsequently became an ardent campaigner against cigarettes. He was diagnosed with lung cancer in October 2015.
Hendrik Johannes Cruijff (Johan Cruyff), footballer and coach: born Amsterdam 25 April 1947; played for Ajax 1964-73 and 1981-83, Barcelona 1973-78, Los Angeles Aztecs 1979-80, Washington Diplomats 1980-81, Levante 1981, Feyenoord 1983-84; capped 48 times by the Netherlands 1966-77; coached Ajax 1985-88, Barcelona 1988-96, Catalonia 2009-10; married 1968 Danny Coster (two daughters, one son); died Barcelona 24 March 2016.
Join our new commenting forum
Join thought-provoking conversations, follow other Independent readers and see their replies