Juan Gelman: Poet whose search for his 'disappeared' granddaughter made him a symbol of human rights in Argentina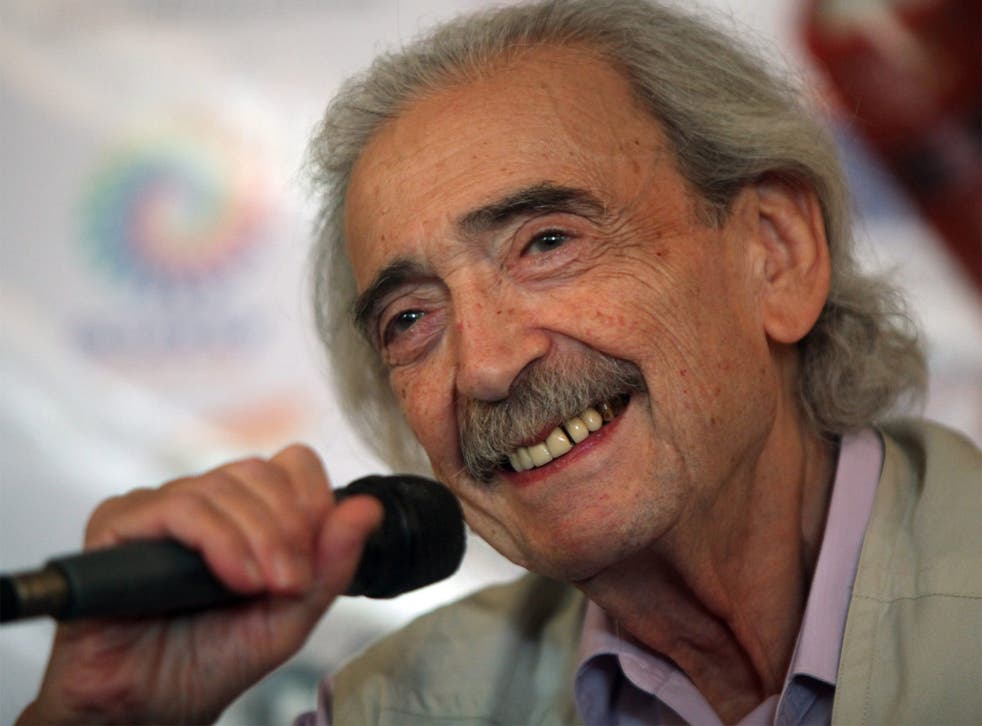 Juan Gelman is best-known for two reasons: his poetry, which was among the greatest produced in Latin America in the last century, and his 23-year search for his granddaughter, whose parents – Gelman's son and daughter-in-law – were imprisoned and killed during Argentina's 1976-83 military dictatorship. That ultimately successful quest for his granddaughter, Macarena, made Gelman a crucial symbol for the human rights movement in South America, but his poetry also leaves a huge legacy in his native Argentina and beyond.
Born in Buenos Aires in 1930 to Jewish Ukrainian emigrants – his father took part in the 1905 Russian Revolution – Gelman fell in love with poetry at the age of seven on hearing his brother Boris recite verses by Pushkin in Russian, even though he could not speak the language. His first verses were as a love-struck nine-year-old: "she was called Ana", he would later recall. He passed off and sent her poems by another author as his own, then wrote his own. Neither tactic conquered Ana, but his vocation was found.
His mother initially opposed Gelman's plan to become a poet, but combined with journalism – first for the Communist Party magazine Orientacion and later for the Chinese stage news agency Xinhao, the influential magazine Crisis and as news editor of the newspaper Noticias – it was a decision that proved to be the right one. From 1956 onwards he published more than 20 books of poetry, translated into 14 languages, winning the Cervantes Prize, the most prestigious literary award for work in Spanish, in 2007, along with the Juan Rulfo, Pablo Neruda and Queen Sofia poetry prizes. As for his journalism's relation to his poetry, he said, "they're like good neighbours who live on different floors in the same block of flats."
The titles of his works are deceptively straightforward: El juego en que andamos [The game which we play], Violin y otras cuestiones [The violin and other questions, his first publication], Los poemas de Sydney West [The Poems of Sydney West], his personal favourite – "maybe because I'm not sure if I wrote it," he once joked. Hoy [Today], his final publication, was a prose analysis of the death of his son.
His exile from Argentina after 1976, his journalism and a fine sense of ironic humour were other elements that inspired or underpinned his work, as did his Jewish ancestry – he wrote some 90 poems in the Sephardic Ladino language. One of his last, unpublished poems, Verdad es [It is true], dealt directly with his fast approaching death: "Every day, I am growing closer to my skeleton, he is beginning to appear – and rightly so." His life was anything but simple, as a campaigning journalist and left-wing activist, from 1955 when he joined the Communist Party to when he joined the Fuerzas Armadas Revolucionarias guerrilla movement in 1967 and then another group, the Montoneros, after they and the FAR joined forces.
By March 1976, when Isabel Peron was deposed by a military coup, some 5,000 of the Montoneros were in jail. Gelman narrowly avoided arrest that July, but in his absence the police arrested his daughter Nora Eva, his son Marcelo and pregnant daughter-in-law Maria – 20 and 18 respectively at the time – and took them to a clandestine detention centre.
Nora Eva was released after three days, but the other two were not so lucky. Repeatedly tortured over four months, Marcelo was the first to die, shot in the head and his remains dumped in an oil drum filled with cement and thrown in a river. Maria gave birth, and lived for another two months before she was also killed – Gelman suspected in a barracks in Uruguay as part of the Operation Condor agreement between South American military dictatorships for wiping out left-wing "subversive" activity. Her child Macarena, meanwhile, was handed over to foster parents, a Uruguayan police chief and his wife, and a new birth certificate created for her bearing their name.
After tracking down the remains of his son in 1990, Gelman began a search for Macarena and in 1999 she was located. In 2000 he and his granddaughter were reunited, and in 2005 a Uruguayan judge granted Macarena the right to regain her real parents' surnames. "In this way," as Gelman said at the time, "my son and my daughter-in-law continue in her and in some way, we all continue."
A decade previously, in 1988, the arrest warrant against Gelman issued by an Argentinian judge for his involvement with the Montoneros – who had themselves issued a "death sentence" against Gelman after he split with them – had finally been declared invalid. In 1989, following a campaign supported by Graham Greene and Gabriel Garcia Marquez, he received an official pardon. He continued to live in his adopted country of Mexico, where he wrote his column for an Argentinian newspaper, Pagina 12. "He had poetry tattooed on his bones" was the paper's description of him yesterday.
"He was a poet who wrote in a minor key, attentive to the gaps and absences in the world," Doctor Geoffrey Kantaris, a Fellow in Spanish at St Catharine's College, Cambridge University, told The Independent. "These gaps and absences took on a powerful political and ethical dimension in the aftermath of the dictatorship, during which he lost close friends as well as his son and daughter in law. In some ways he became the poet of lost memories, walking on the precarious ground between painful memory and painful forgetting.
"He was politically committed and a journalist as well as a poet, but he didn't consider poetry to be a medium that bears any relationship with pamphleteering. For him poetry was caught between the untranslatability of things and experiences – their uniqueness and specificity – and the common core of humanity that cuts across national, religious and political divides."
In one of his last interviews, with the Spanish paper El Pais, Gelman uttered dire warnings of "the development of a whole system to shred our very own spirit: the worst thing that can happen to the human being is a kind of docile acceptance: of terrorism, of genocide through hunger, of the lack of education in the world." He added, "Something will change, but I won't be alive to see it."
Juan Gelman: poet, journalist and activist: born Buenos Aires 3 May 1930; married 1959 Berta Schubaroff (divorced 1969, died 1976; one son deceased, one daughter), 1988 Mara la Madrid; died Mexico City 14 January 2014.
Join our new commenting forum
Join thought-provoking conversations, follow other Independent readers and see their replies