Juanita Moore: Co-star of 'Imitation of Life' whose touching, understated performance heralded a breakthrough for black actresses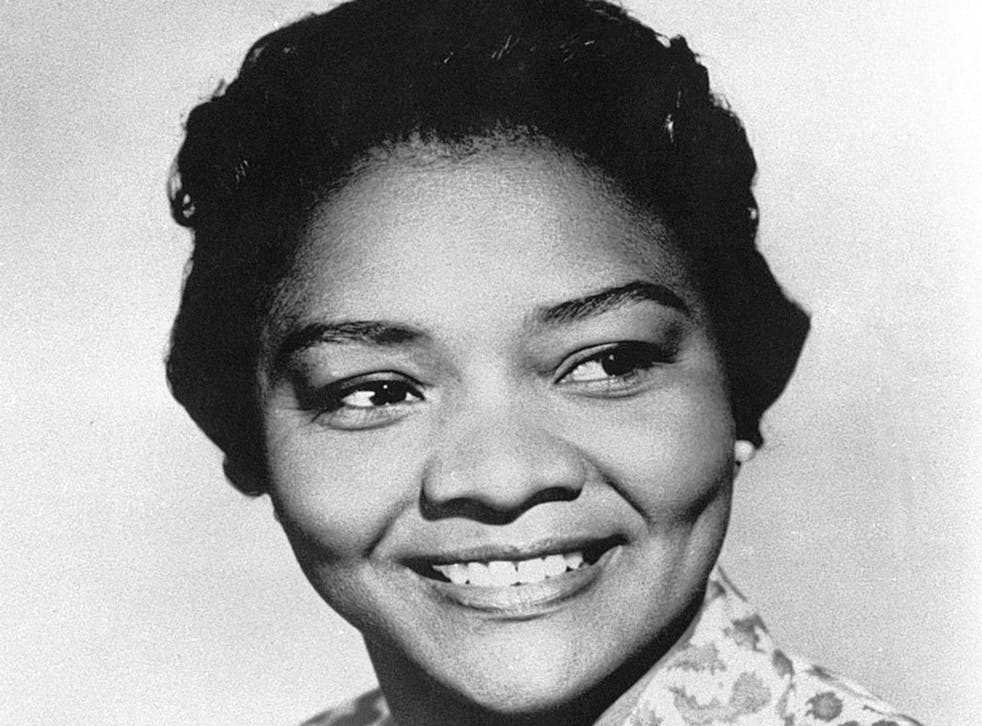 The 1950s was a transitional decade for black actresses in Hollywood. Though good roles were scarce, in 1952 the death of Hattie McDaniel, Hollywood's favourite Mammy, coincided with Ethel Waters' bravura performance in Fred Zinnemann's offbeat drama The Member of the Wedding. However, though Waters' top-billed role was acclaimed by the critics, it was one of her last. A few years later, when the producer Ross Hunter remade the 1930s melodrama Imitation of Life, he considered Waters for the challenging role of Annie Johnson, Lana Turner's maid and confidante, but by then the actress was considered a has-been. It was the film's director, Douglas Sirk, who recommended Juanita Moore for the role.
Most sources claim that Juanita Moore was born in Los Angeles in 1922, but it is now accepted that 1914 was the actual year of her birth, and Los Angeles was not her birthplace. When her parents, Harrison and Ella Moore, brought her to Los Angeles from Greenwood, Mississippi towards the end of the First World War, Juanita, the youngest of their eight children, was already a toddler. After Jefferson High School she attended Los Angeles City College but soon headed for New York, where she joined the chorus line at Small's Paradise, a popular Harlem nightclub. Her years as a chorus girl lasted from the mid-1930s and throughout most of the 1940s and included early appearances as a dancer with the Creole Chorus in two films, Show Boat (1936) and The Spirit of Youth (1938), starring the heavyweight boxing champion Joe Louis.
During the war she continued to dance in films including Star Spangled Rhythm (1942) and Cabin in the Sky (1943), and she also found work at the Cotton Club in Culver City. While studying at the racially integrated Actor's Lab in Hollywood, Moore made her acting debut in a small role as a nurse in Pinky (1949). The Actor's Lab provided her with a rewarding range of unstereotypical acting roles, but in a succession of unbilled bit parts she played maids or powder room attendants. Nevertheless, she made her presence felt in films like Affair in Trinidad (1952) and The Girl Can't Help It (1957).
The breakthrough came with Universal's Imitation of Life (1959). Ross Hunter spent more of the film's budget on Lana Turner's costumes ($23,645) than Moore's salary ($5,550), but it was the latter who won the audience's sympathy. Many commentators, including the German director Rainer Werner Fassbinder, have observed that the film starts as a film about the white woman and turns into a film about the black woman.
As the troubled Annie, whose light-complexioned daughter rejects her and passes for white, Moore gave a touching and understated performance. She also made a deep impression on generations of filmgoers, as revealed in her latter years when she made personal appearances at revivals. Sirk made the emotionally charged subplot of the film its main focus, and he used the genre to make subtle comments on American racism, as he explained to Jon Halliday in Sirk on Sirk (1971): "Imitation of Life is a picture about the situation of the blacks before the time of the slogan 'Black is Beautiful'. I tried to make it into a picture of social consciousness – not only of a white social consciousness, but of a Negro one, too. Both white and black are leading imitated lives."
In 1959 Imitation of Life was America's fourth highest-grossing film and it earned Moore Oscar and Golden Globe nominations in the Best Supporting Actress categories, but in spite of her success she was unable to find a comparable role thereafter; the otherwise innovative director John Cassavetes didn't even give her a screen credit for her brief appearance in A Child is Waiting (1963). There were other Hollywood films, such as The Singing Nun (1966) and Rosie! (1968), but in those Moore was given little to do. Better opportunities came during the era of blaxploitation with supporting roles in Uptight (1969), Thomasine and Bushrod (1974) and Abby (1974). There was work in television, and on stage with the Ebony Showcase Theatre in Los Angeles, where she also gave acting classes to low-income students. In 1959 Moore travelled to London to play the tough matriarch Lena Younger in Lorraine Hansberry's award-winning play A Raisin in the Sun at the Adelphi Theatre.
Early in 2000, a semi-retired Moore accompanied her grandson, an aspiring actor, to an interview with an agent, but the agent rediscovered her instead, and this meeting led to a role in Walt Disney's The Kid, her final film. Subsequently she happily attended revivals of Imitation of Life, and in 2004 she was reunited with Susan Kohner, who had played her on-screen daughter, at the film's 45th anniversary screening at the Egyptian Theatre in Hollywood. The actresses received a standing ovation from an audience which included Sam Staggs, author of Born to Be Hurt – The Untold Story of Imitation of Life (2009). He described Moore as: "a large, handsome woman... Though soft-spoken in Imitation of Life, tonight you hear the boom in her rich, burnished voice. Her eyes speak almost as loudly, for in them you glimpse, by turns, like figures in an allegory, Hurt, Bitterness, Resignation, and Triumph."
There was an early marriage to the dancer Nyas Berry, of the Berry Brothers, and in 1951 she married Charles Burris, a Los Angeles bus driver. The marriage lasted 50 years until his death.
Juanita Moore, actress: born Greenwood, Mississippi 19 October 1914; married firstly Nyas Berry, 1951 Charles Burris (died 2001); died 1 January 2014.
Join our new commenting forum
Join thought-provoking conversations, follow other Independent readers and see their replies