Kathy Stobart: Saxophonist who played with Humphrey Lyttelton and led her own band at a time when women were a rarity in jazz
Wednesday 09 July 2014 20:13 BST
Comments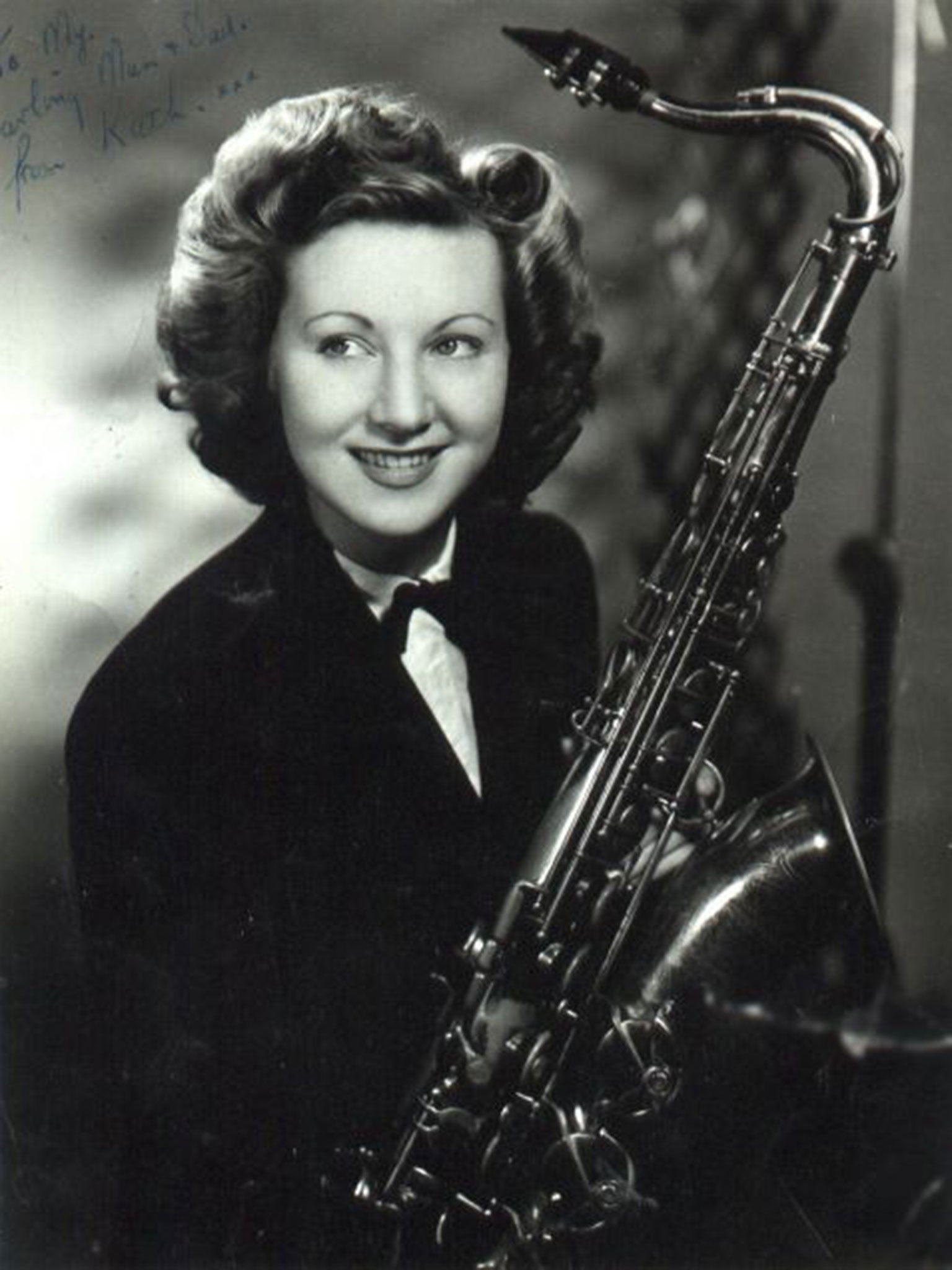 It was, to say the least, unusual in 1957 to find that the new tenor saxophonist in a leading group such as Humphrey Lyttelton's was female. Although she had a young family at the time she was actually doing a favour to Lyttelton, whose previous incumbent had had to take sick leave for three months. Returning as Humph's regular saxophonist from 1969 to 1978, she confirmed the esteem in which Kathy Stobart was held by her colleagues.
The world of popular and dance music had long harboured various all-girl bands, but these were usually seen as mere novelty acts. During the Second World War the dearth of male musicians led to a new appreciation of some female instrumentalists' ability, and bands such as Ivy Benson's continued to thrive after the war. But the pressure in postwar Britain to return to hearth and home deterred all but a handful of determined souls.
Born to a musical family, with a pianist mother and two brothers who played the saxophone, Kathy Stobart followed suit. By the age of 14 she was a member of Don Rico's Ladies' Swing Band and touring nationally, before establishing herself in London in 1942. The wartime entertainment scene guaranteed much work, and among the more informal jazz sessions were ones where she played alongside American servicemen such as the saxophonist Art Pepper and Glenn Miller's clarinettist, Peanuts Hucko. She also made several broadcasts with the British AEF big band.
One of her early London engagements was with the band led by the Canadian pianist Art Thompson, whom she married and played alongside until 1948, including a trip to Canada and the US which saw her sitting in at the famous Eddie Condon club in Greenwich Village. During this time she also played with other London-based bandleaders such as Vic Lewis and Ted Heath, and led groups herself.
Divorcing Thompson, in 1951 she married one of the members of her own band, trumpeter Bert Courtley, and soon retired from playing in order to raise her three sons, two of whom would become semi-professional musicians. After deputising with Lyttelton, though, she played more, and in the 1960s sometimes co-led a group with Courtley. He, however, was chiefly occupied with the Heath band and a busy schedule of studio sessions; sadly, the pressure of this work, and the ready availability of alcohol, contributed to his early death in 1969.
Needing to support the family growing up in Norbury, south London, Stobart began touring again with Lyttelton, but also decided to study the clarinet formally at the Guildhall School of Music and Drama. Players of her generation were usually not expected to take seriously the education of younger musicians but, along with the pianist-trombonist Eddie Harvey, throughout the 1960s and '70s she taught adult classes at the City Literary Institute in Holborn.
As a result she influenced a new generation of players on all instruments, including the vibraphonist Orphy Robinson, and guitarist Deirdre Cartwright, who has written that Kathy "was a great musician and wonderfully droll company." The saxophonist and educator Elisabeth (Issie) Barratt recalls, "She was also an exceptionally kind, as well as hugely inspiring, teacher."
One of the recordings where she was featured with Lyttelton was included in a 1970s American compilation album called Jazz Women: A Feminist Retrospective. Belatedly making LPs under her own name, in the late 1970s she recorded Arbeia (featuring the trumpeter Harry Beckett) and a quintet session celebrating the return visit of Scottish reedman Joe Temperley, then as now living in the US, called Saxploitation.
Her own groups, and another jointly led with vibraphonist Lennie Best, were also heard on BBC broadcasts until 1985, when she moved to Axmouth, Devon, and set up a student band in Exeter. Meanwhile she made guest appearances in New York with saxophonist Zoot Sims and the expatriate English pianist Marian McPartland, and in 1982 she was the obvious performer to headline Britain's first women's jazz festival. Always encouraging to female musicians, she was a guest with Gail Thompson's Gail Force in 1986 and led a group with saxophonist Joan Cunningham in the late 1980s.
Already a senior citizen, Stobart once again worked regularly for Lyttelton throughout the 1990s, although he was by then more selective about his playing engagements. She was a member of his ensemble when they appeared alongside the group Radiohead, before an audience of 42,000 in 2001. Her early experience made her a natural choice to tutor Dame Judi Dench in playing the saxophone for her role in Alan Plater's 2000 television play The Last of the Blonde Bombshells.
Stobart did finally began to take things a little easier in her eighties, and survived a severe stroke three years ago. She continued to take delight in her family and, according to Barratt, when she first visited her, "She was handing her granddaughter the most amazing fairy godmother outfit that she'd made by hand." The many tributes paid to her have all emphasised the warmth of her personality, but also underline the impact of her saxophone playing.
For Barratt she had "Such a strong sound, and lines that ebbed from the lyrical to the gritty at the turn of a phrase. So commanding and agile, [she] responded effortlessly and inventively to whatever was thrown at her… Words can't express my gratitude and love for the confidence and sense of freedom she gave me and so very many of my peers."
BRIAN PRIESTLEY
Florence Kathleen Stobart, musician and bandleader: born South Shields 1 April 1925; married firstly Art Thompson (marriage dissolved), secondly Bert Courtley (died 1969; three sons); died 6 July 2014.
Join our commenting forum
Join thought-provoking conversations, follow other Independent readers and see their replies