Kay Davis: Singer who worked with Duke Ellington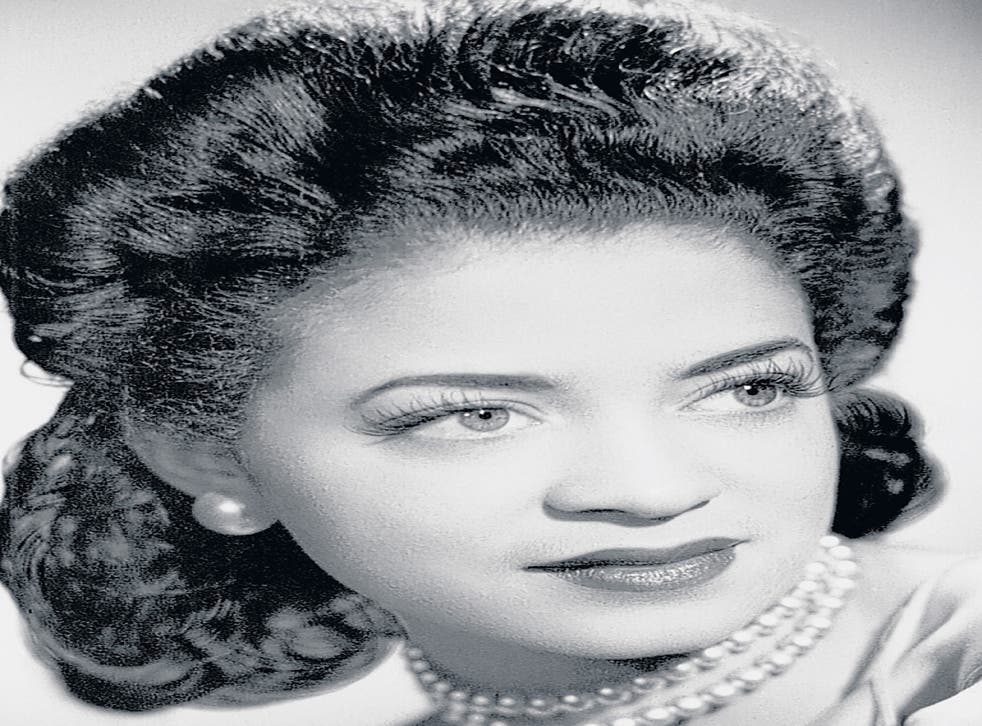 Although she was a classically trained soprano, Kay Davis established her name with the busiest, most famous jazz orchestra of the time, as one of three female singers in the Duke Ellington band. The fact that they were all very talented came first, but Ellington, the great charmer, loved to be in the company of beautiful women.
"I was very lucky to have three such singers as Kay Davis, Joya Sherrill and Marie Ellington all at one time, but there is a sad corollary to be detailed," said Ellington. "All three were pretty, all three married, and all three left me,"
Kay Davis's classical voice wasvery different to the jazz singing ofthe other two women. Ellington used her voice as another instrument and she usually sang without words. Unusually talented and glamorous,Kay Davis perhaps lacked some of the toughness required of a black woman who wanted to tour the country with a band.
"Sometimes we wouldn't be allowed into restaurants in the South and we'd have to go to the back door to be served," she recalled. "The guys in the band and me couldn't stay in hotels there, so we had to stay with friendly black people in the area. I remember getting off the train to play in Macon, Georgia. The police chief came up to us threateningly in the station and Duke's manager explained that this was the Duke Ellington band.
"'I don't care about Duke Ellington any more than any other nigra,' he said. We ran and got back on the train."
Although Evanston, where Kay Davis was born, was further north in Illinois, things were no better. "It seems crazy now," she said later, "but we weren't allowed in restaurants or anything. And we were the only black family in our area, so that focused trouble on us."
She graduated from the local high school and went to Evanston's Northwestern University to study music. The six black students in the school of music weren't allowed to live on the campus. "I lived at home and we used to drool over the residential Willard Hall, which was right across from the music building," Davis said.
In 1942 she sang in an annual university show, a tradition since 1929, which had launched the careers of several Broadway stars. In what was then a daringly radical move she sang a love duet with a white male partner. She graduated with a BA in 1942 and went on to get her MA in 1943. When a friend dared her to, she auditioned for one of Ellington's assistants, and Ellington himself later came to one of her recitals. "He offered me a job and I went home and packed my little trunk."
Ellington immediately began writing sophisticated pieces to feature his new star. They included classics (in the jazz sense) like "Transblucency" and "On a Turquoise Cloud".
One of Davis's finest moments came when the band played at Carnegie Hall on 18 December 1945. Shortly before the concert began, Ellington asked her if she remembered his "Creole Love Call".
"I'd heard it when I was about six, and just about remembered it," she said. He told her that she could sing a wordless counter melody to the band that night. "I was shaking like a leaf and was surprised that it sounded decent," she said modestly. The recording is still available and is a fine example of her combining formal classical voice with jazz improvising. It hasn't dated.
For some days after President Roosevelt's death in April 1945, radio stations played only sombre classical music, but with one exception. Duke Ellington's orchestra played a programme of subdued music during which Kay Davis sang his "A City Called Heaven".
In 1948 the Ellington band came to Europe, but Ministry of Works regulations prevented jazz instrumentalists visiting Britain. Instead Ellington, admitted as a variety act, toured variety halls with Davis, permitted entry as a singer, and trumpeter Ray Nance, who was categorised as a dancer.
Davis was with the Ellington band for six years, and during that time she appeared with them in two films, Symphony in Swing (1949) and Salute to Duke Ellington (1950).
Davis left the band in 1950 to marry Edward Wimp. "I was worn out," she said. "My husband was a wonderful man and I wasn't sorry for my choice." Eventually the couple settled in Florida, where Davis became a trained cordon bleu cook.
Always surprised that people remembered her and called her out of retirement, she came to our Duke Ellington Conference at Oldham in the late 1980s, where she and Ray Nance's widow Gloria proved to be delightful raconteurs and elegant company. That year I was able to present each of them in hour-long radio programmes for the BBC.
Kathryn McDonald (Kay Davis), singer: born Evanston, Illinois 5 December 1920; married 1950 Edward Wimp (one son); died Apopka, Florida 27 January 2012.
Join our new commenting forum
Join thought-provoking conversations, follow other Independent readers and see their replies