Larry Hagman: Actor who will be forever remembered as the villainous JR Ewing in the soap opera 'Dallas'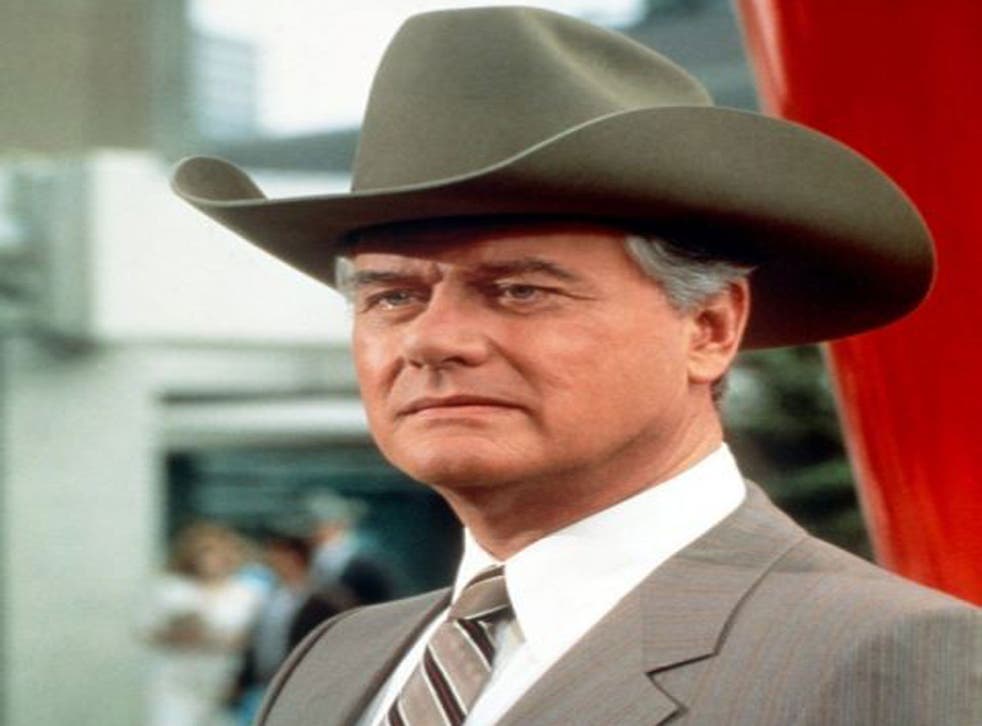 Who shot JR?" was the question on the lips of television viewers worldwide when ruthless JR Ewing, in the American soap opera Dallas, was hit by an assassin's bullet. It was the greatest whodunit in television history, a cliffhanger that closed one series and left fans waiting to find out the answer.
JR made Larry Hagman one of the best-known and highest-paid television stars in the world – earning $1 million a year – after a career of playing character roles in television films and occasional starring parts, including astronaut Tony Nelson in the memorable fantasy series I Dream of Jeannie (1965-70).
Dallas began in 1978 as a five-part mini-series but eventually ran to 356 episodes over 13 years. Robert Foxworth, who went on to star as Chase Gioberti in the American wine-country serial Falcon Crest, had already turned down the role of JR, seeing it as being too nasty.
Initially, Hagman rejected two offers to take it, but he agreed when told that veteran stage actress Barbara Bel Geddes would play his screen mother, Miss Ellie Ewing. Complete with stetson and an evil streak, Hagman made JR one of the greatest villains in television history and Dallas, in the early 1980s, became the most popular programme in the world.
The "Who shot JR?" cliffhanger came at the end of the 1979-80 series, when the oil baron had two bullets pumped into him. Bookmakers took bets and the production company, Lorimar, filmed four different endings so that not even the cast knew the answer. When the new series returned in the autumn of 1980, a global audience of 300 million in 57 countries tuned in to find out that the shots were fired by Kristin Shepard, JR's scorned sister-in-law, and that the Texas oilman had survived. In the United States, the episode was watched by a then record 83 million viewers.
The Dallas saga continued, and in 1988 Hagman became joint executive producer. He also directed some episodes, until the serial finally ended in 1991, as audiences were dwindling. Hagman had also acted in three episodes of the Dallas spin-off Knots Landing (1980, 1981, 1982), as well as a prequel, Dallas: The Early Years (1986). Later, he reprised the role of JR in the television films Dallas: JR Returns (1996) and Dallas: War of the Ewings (1998). This year, in a supporting role, he played JR in a revived series of Dallas, which focuses on the character's son, John Ross (Josh Henderson), a carbon copy of his father.
Hagman was born in Fort Worth, Texas, to 17-year-old Mary Martin, who went on to star in Broadway musicals, and lawyer Benjamin Hageman, who became an influential Texas oil company legal adviser. He was brought up by his maternal grandmother from the age of five after his parents split up. When she died, he lived with his mother and stepfather, then with his father and stepmother, attending 16 different schools.
As a teenager, Hagman worked on one of his uncle's ranches in Texas, before his father found him a short-lived job churning out oil pipeline components. His mother then enrolled him at the exclusive Bard College, in New York, to study drama.
On a winter work-experience course, Hagman went to the Margo Jones Theater in the Round, Dallas, making brief appearances in Romeo and Juliet and as a spear-carrier in other Shakespearean classics. He moved on to Margaret Webster's Shakespeare company in Woodstock, New York, appeared in The Taming of the Shrew at the City Center, New York, and landed work with St John Terrell in operettas such as No, No, Nanette and The Desert Song at the impresario's New Jersey circus, also doubling as assistant stage manager and earning $28 a week.
In 1952, when his mother took her starring role of US Navy nurse Nellie Forbush from the Broadway production of South Pacific to London's West End, Hagman sailed with her and sang in the chorus – along with Sean Connery – for a year. "I was the GI who bought the grass skirt," he recalled.
While in London, Hagman met the Swedish dress designer Maj Alexsson, whom he married in 1954. By then, he had been called up by the American military, enlisted in Britain as a corporal in the US Air Force and produced, directed and acted in forces shows.
When Hagman was demobbed in 1956, he and his wife went to the United States, before briefly running a 1,000-acre ranch in Brazil, then returning to New York, where the actor was soon appearing in off-Broadway productions. Graduating to Broadway, he was in shows such as Comes a Day (1958), God and Kate Murphy (1959), The Nervous Set (1959), The Warm Peninsula (1959-60) and The Beauty Part (1962-63).
Hagman made his television début in an episode of The West Point Story (1957) and was also seen in other popular series, including The Defenders (1964), Marcus Welby, MD (1970, 1975), Love Story (1973), McCloud (1974), Police Woman (1974), Harry O (1975), The Streets of San Francisco (1976), Barnaby Jones (1975) and The Rockford Files (I977).
His most enduring television roles until middle age were in the live daytime serial The Edge of Night (1961-63, as lawyer Ed Gibson) and the sitcoms The Good Life (1971-72, as Albert Miller) and Here We Go Again (1973, as Richard Evans). But it was as Captain Tony Nelson in I Dream of Jeannie that Hagman first became known to a worldwide television audience. He played a Nasa astronaut who found a beautiful blonde genie, played by Barbara Eden, in a bottle after crashing on a desert island. Following him back to Cape Canaveral, she changed his life and made his wishes come true. In the final series, they were married. A decade later came the role of JR Ewing in Dallas.
Hagman made his big-screen début in Ensign Pulver (1964) and followed it in the same year with director Sidney Lumet's Fail-Safe, in which he played a government translator and shared many dramatic scenes with Henry Fonda, as the American President. The actor was particularly memorable in Stardust (1974) as singer David Essex's smooth-talking American agent, Porter Lee Austin, and The Eagle Has Landed (1976) as Colonel Clarence E Pitts, commanding officer of a division of the United States Rangers based in wartime Norfolk, trying to defend a village from a group of German paratroopers planning to kidnap Winston Churchill but ending up having his head blown off by collaborator Jean Marsh.
Later, Hagman played an American major in Superman (1978), a billionaire investment banker in Nixon (1995) and a former Florida state governor in the political drama Primary Colors (1998). On television, he guest-starred in Nip/Tuck (2006, as wealthy venture capitalist Burt Landau), The Simpsons (2006) and Desperate Housewives (2011).
In 1995, Hagman, a heavy drinker and smoker, underwent a liver transplant after being diagnosed with cancer. He became a fervent non-smoker and chaired the American Cancer Society's annual Great American Smokeout for many years. He also did charity work for the country's National Kidney Foundation. Last year, he was diagnosed with throat cancer.
The actor's autobiography, Hello Darlin': Tall (and Absolutely True) Tales About My Life, was published in 2001.
Larry Martin Hageman (Larry Hagman), actor: born Fort Worth, Texas 21 September 1931; married 1954 Maj Alexsson (one son, one daughter); died Dallas, Texas 23 November 2012.
Join our new commenting forum
Join thought-provoking conversations, follow other Independent readers and see their replies