Leila Denmark: Doctor whose work led to the whooping cough vaccine and who worked till 103
Whenever she was asked, 'What makes my baby so bad?' she was likely to reply, 'Go look in the mirror'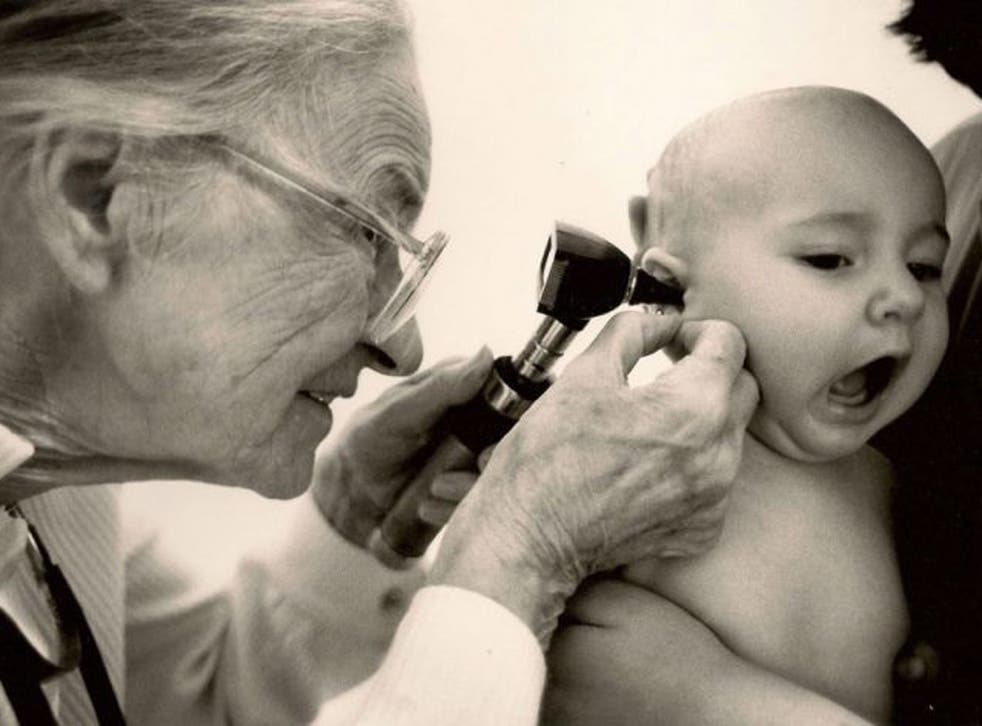 Leila Denmark, the world's fourth-oldest person at 114, overcame deep-rooted prejudice to become one of America's first paediatricians, and the oldest practising medical practitioner until poor eyesight finally forced her retirement at the age of 103. Denmark began her 71-year career treating sick children in 1928, the same year that another pioneer, aviator Amelia Earhart, became the first woman to fly across the Atlantic Ocean, and the year that Alexander Fleming discovered penicillin.
Leila Alice Daughtry was born in February 1898 on a farm in the small town of Portal, Bulloch County, Georgia, about 170 miles south-east of Atlanta, the state capital. The third of 12 children to Elerbee and Alice Cornelia Hendricks Daughtry, she grew up in a farming community, attending high school at an agricultural and mechanical school. From a young age she had a passion to heal, learning to tend to plants and wanting to heal animals.
Initially drawn to teaching, Denmark earned a BA degree from Georgia's Tift College in 1922 and then taught science. However, realising that her ambitions lay in medicine, she pushed aside the prejudices that existed particularly in the South, and enrolled at the Medical College of Georgia in Augusta in 1924. Four years later and the only woman in a class of 52 students, she became the third woman to earn a medical degree from the college.
Three days after graduation, she married her long-term sweetheart, the banker John Eustace Denmark. The couple moved to Atlanta, where she began her internship in the segregated black wards of Grady Hospital. That same year, Denmark became the first resident physician and admitted the first sick baby at the newly founded Henrietta Egleston Hospital for Children (now Children's Healthcare of Atlanta) when it opened later in 1928. In 1930 she began a second internship at Children's Hospital of Philadelphia, before returning home to give birth to her only daughter, Mary Alice.
The following year Denmark established her private practice in paediatrics in her Atlanta home so that she could embody the advice she gave to parents: "Be the one to raise your child". Her emphasis was on good parenting, good nutrition and common sense. She also gave time each week to the Central Presbyterian Church, which opened a charity baby clinic. Throughout her career, her office was always in or near her home and open all hours for those in need of care.
When a whooping cough epidemic swept through Atlanta in 1932, Denmark was spurred on to conduct pioneering research in the diagnosis, treatment and immunisation of the disease that killed so many underprivileged babies. Working with Eli Lilly and researchers at Emory University, Denmark's findings led to the development of the pertussis vaccine and the modern-day DPT vaccination.
During her 70 years as a paediatrician, Denmark preached preventive medicine and old-school parenting techniques. At the mid-point of her career, from ideas formulated over the previous four decades, a book outlining tips for raising healthy children was published in 1971, Every Child Should Have a Chance. It has been reprinted several times.
Unmoved by generations of baby experts advocating "hands-off" parenting, her book extolled a child-rearing philosophy that placed responsibility for a child's health and happiness solely on parents. She later explained, "If we had every mother taking care of their children, we wouldn't need prisons." Denmark also believed strongly that a woman should not leave home to join the workforce, a stance that drew criticism from the media as well as others in the medical community. She suggested that children placed in day care would grow to have little self-discipline or confidence in others.
To keep costs to a minimum in a country that had no free healthcare service, Denmark did not employ a nurse or receptionist and relied on a "sign-in sheet" to bring order to her waiting room. She also rarely charged patients more than $10 for an office consultation, and it was not unusual for her to spend an hour counselling a new mother. Over the years, her Alpharetta farmhouse office was visited by families from all walks of life. Her medical instruments were few and barely changed: a stethoscope, an otoscope, blood pressure cuff, chemicals to test urine and to measure haemoglobin, and, most of all, her inquiring mind.
Denmark gained a reputation for being able to diagnose a child's illness from just looking – and as a no-nonsense doctor who did not mince her words. In an interview, she recalled, "When a mother asks, 'Doctor, what makes my baby so bad?'" she was likely to get the answer, "Go look in the mirror. You get apples off apple trees."
Denmark received many honours and awards, including the Fisher Award (1935) and honorary doctorates from Tift College (1972), with the citation "a devout humanitarian who has invested her life in paediatric services to all families without respect to economic status, race, or national origin"; Mercer University (1991); and Emory University (2000). She was Atlanta's Woman of the Year in 1953 and won the Atlanta Business Chronicle's lifetime achievement award in 1998. In 2002, the Georgia General Assembly commended Denmark "for her stellar medical career".
As she approached her 110th birthday, Denmark credited her longevity to drinking only water, eating no refined sugars and including a protein and vegetable with every meal. She added, "You keep on doing what you do best, as long as you can. I enjoyed every minute of it for more than 70 years. If I could live it over again, I'd do exactly the same thing."
Leila Denmark's husband predeceased her in 1990. She is survived by her daughter.
Leila Daughtry, doctor and author: born Portal, Georgia 1 February 1898; married John Eustace Denmark 1928 (died 1991; one daughter); died Athens, Georgia 1 April 2012.
Join our new commenting forum
Join thought-provoking conversations, follow other Independent readers and see their replies