Lieutenant-Colonel Edwin Ramsey: Soldier who led the last cavalry charge by the US army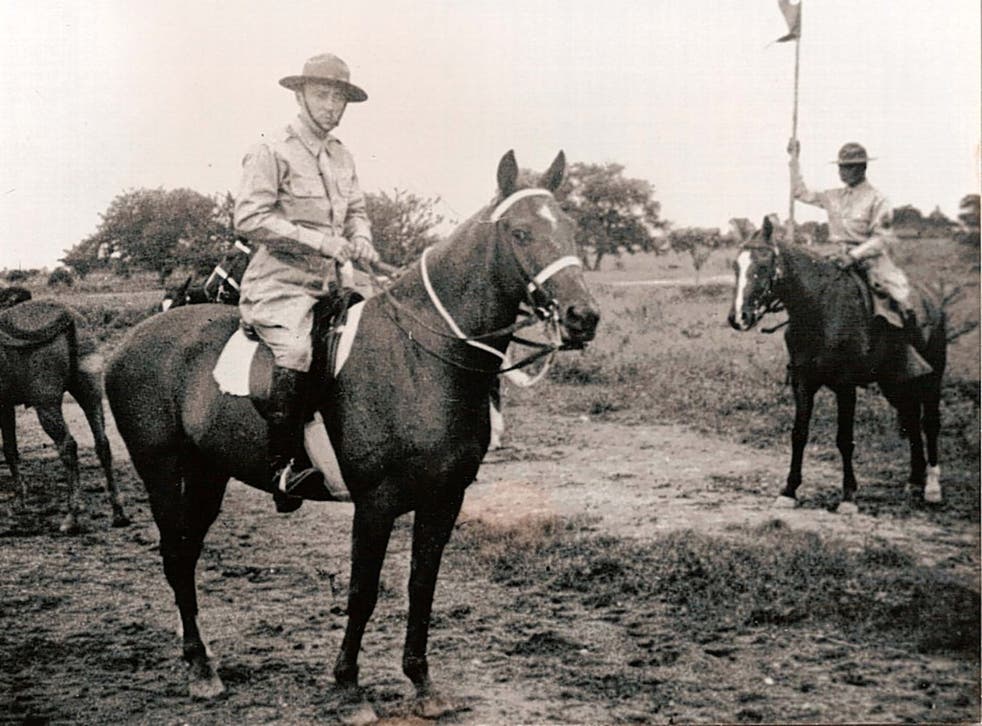 Most of us associate US Cavalry charges with Hollywood or John Wayne but the last American mounted charge was not against American Indians in the "Wild West"; it was in the equally wild Far East during the Second World War, and it was led by First Lieutenant Edwin Ramsey on 16 January 1942. He and the rest of his 27-man platoon (G Troop of 26th US Cavalry), their heads low over their horses' necks and firing their Colt 1911 pistols (the US Cavalry had hung up its traditional sabres a decade earlier), galloped headlong into a far larger force of Japanese infantrymen in the village of Morong on the Bataan peninsula of the Philippines.
Most of Ramsey's platoon were Filipinos he had personally trained and were known as the Philippine Scouts. The surprise charge, with Ramsey on his beloved chestnut gelding Bryn Awryn, scattered the Japanese invaders, even though they were backed by tanks, and helped the allies organise their retreat from the Philippines by stalling the enemy advance. By that time Cavalry units, with their famous motto of "shock, mobility and firepower", were already an anachronism, but Ramsey and his men proved that a small horse-mounted force could still wreak havoc on the enemy.
"Bent nearly prone across the horses' necks, we flung ourselves at the Japanese advance, pistols firing full into their startled faces," he wrote in his memoirs. "A few returned our fire but most fled in confusion. To them we must have seemed a vision from another century, wild-eyed horses pounding headlong; cheering, whooping men firing from the saddles."
Escaping capture during the Japanese advance, Ramsey retreated to the jungle and mountains, building a guerrilla force of Filipinos, eventually totalling 40,000 men. They harassed the enemy for the next three years while most American soldiers and their allies had retreated or been captured, many forced into the infamous Bataan Death March. The Japanese offered a reward of $200,000 for his capture (the equivalent of millions now) and capture meant certain execution.
For three years Ramsey's family assumed he was dead – as did General Douglas MacArthur, US commander of the Pacific, who had been forced to retreat from the Philippines – until Ramsey started getting messages to him from the Central Luzon jungle, via guerrillas, sympathisers and American warships. Ramsey recalled how he smuggled messages through enemy lines: "You take lemon juice and write with it and you don't see it until you put heat under it. Unless you put ... a match under it, you couldn't see it."
On retreating from the Philippines MacArthur had said "I shall return." He did, famously wading ashore in October 1944, and after the Japanese surrender the following year he insisted on personally pinning the Distinguished Service Cross, the Silver Star and the Purple Heart on Ramsey for harassing the enemy for those three years, a major factor in securing an eventual allied victory in the Pacific.
Ramsey, who had seen his weight halve to 6st 9lb in the jungle and had lost around 5,000 of his Filipino guerrillas, was ordered home by MacArthur. He had also had his appendix removed with a pen-knife, with rum as anaesthetic. "Give me a couple of drinks and go ahead and cut it out," he told his pro-guerrilla doctor. He later recalled: "No anaesthetic, a little bit of rum, chewing on the nurse's arm, and cussing. It burst in his hands as he took it out." Ramsey's men had been forced to kill their starving and dying horses and eat their meat, something which haunted the horse-lover Ramsey for the rest of his days.
MacArthur later estimated that Ramsey's guerrilla activity, and the intelligence he gathered, had saved tens of thousands of American and Filipino lives. His operations became a blueprint for modern-day US Special Forces and to this day, to Filipinos of a certain age, the name Ramsey is second only to MacArthur as their most-loved American.
Edwin Price Ramsey was born in Carlyle, Illinois in 1917, but moved to Eldorado, Kansas when he was two and 10 years later to Wichita, Kansas, with his older sister Nadine – who flew US fighters and bombers during the war – and his mother, who ran a dermatology clinic, after his father died. While at school, he worked as a "jerk" in a soda fountain and a waiter in The Palms nightclub in Wichita to help feed his family.
As part of his high school education he went to the Oklahoma Military Academy in Claremore, outside Tulsa, largely because they had a "horse artillery unit" and a serious polo team. As war in Europe loomed he applied for active duty in the Philippines, where the US had major military bases although they were not yet involved in the conflict. "It took about 17 or 18 days, via Hawaii. To begin with, I didn't even know where it was, except that it was a warm country, it was tropical and they had a good polo team there. In fact, we were playing polo when the war broke out [after Pearl Harbour]."
While the Japanese invaded the Philippines and launched air raids, Ramsey recalled having made a bed from boxes of TNT explosives. "If they had hit me, they would have made a very big noise. We took quite a beating and lost about half our officers and men in the very beginning."
After the war Ramsey worked as an executive with Hughes Aircraft Corporation and returned to the Philippines as a private businessman before retiring to California. In 1948, in Manila, he married the daughter of the French ambassador there and they went on to have four children. He remained active in US Veterans' affairs for the rest of his life and recorded his wartime exploits in the 1991 book Lieutenant Ramsey's War.
Edwin Price Ramsey, US cavalry officer and businessman: born Carlyle, Illinois 9 May 1917; married 1948 Madeleine Willoquet (marriage dissolved; four children), 1979 Raquel Ramirez; died Los Angeles 7 March 2013.
Join our new commenting forum
Join thought-provoking conversations, follow other Independent readers and see their replies