Linda Christian: Actress hailed as 'The Anatomical Bomb' whose private life overshadowed her career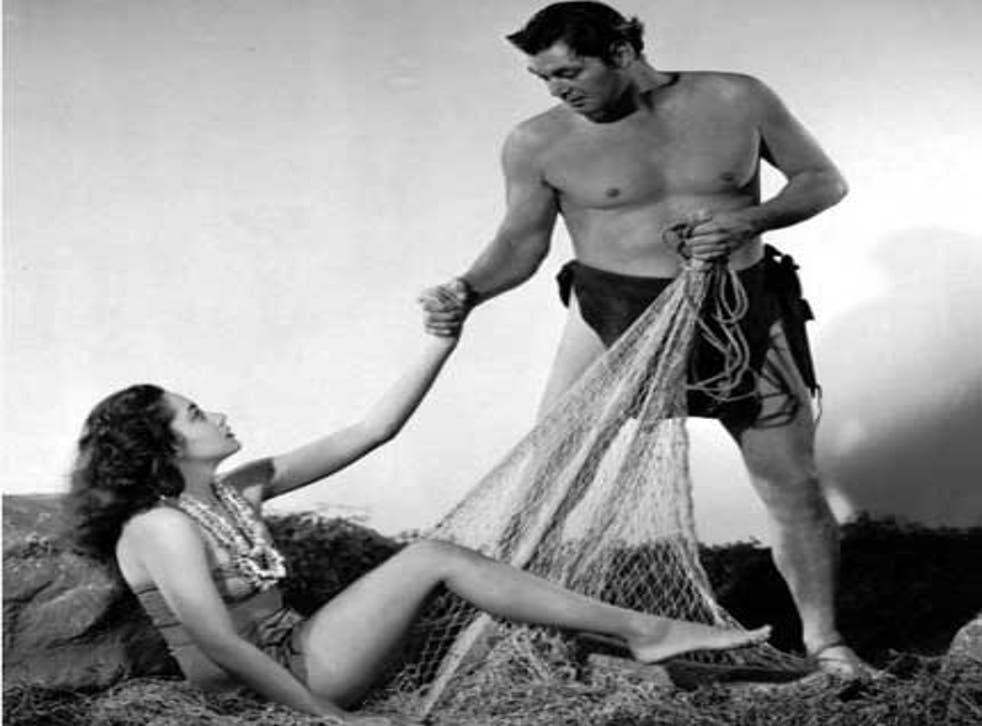 Linda Christian was a minor film actress whose best role was arguably in Tarzan and the Mermaids (1947), but she found fame and notoriety through her marriage to superstar Tyrone Power and her string of highly publicised affairs.
The red-haired beauty was playing small parts when she married Power, and her other lovers included actor Edmund Purdom, whom she briefly married, a racing driver, a bull-fighter and various financiers, politicians and playboys. Life magazine dubbed her "The Anatomical Bomb" and in 1959 her fame had become sufficient to earn her a place among the select group profiled in the encyclopaedic Celebrity Register, which stated, "With a sixth sense for publicity, she has parlayed a small talent for acting into an international reputation as a femme fatale."
The daughter of a Dutch executive for Shell Oil and a Mexican mother,she was born Blanca Rose Welter in Tampico, Mexico, in 1923. Her father's business took the family to many countries, and she grew up in South Africa, the Netherlands, Switzerland, Yugoslavia and Palestine, becoming fluent in six languages ("I'm sexilingual," she said). She started training as a physician in Palestine, but because of the international situation in 1941 she returned to Mexico, where she was romantically involved with several government officials.
She was persuaded to try her luck in Hollywood by Errol Flynn, who met her while he was filming in Acapulco, and she made her screen debut when producer Sam Goldwyn cast her as one of his famed Goldwyn Girls (along with another unknown, Virginia Mayo), in Danny Kaye's first feaature film Up in Arms (1944). She then had small roles as a cigarette girl in Club Havana (1945), the jealous girl-friend of bandleader Xavier Cugat in Holiday in Mexico (1946) and Lana Turner's Maori maid in Green Dolphin Street (1947) before gaining her first substantial part as the alluring leader of an island tribe ruled by an evil High Priest (George Zucco) in Tarzan and the Mermaids (1948), the last film to star Johnny Weissmuller as Tarzan. "It was filmed in Acapulco and it was my first leading role," she said. "Johnny could not have been nicer, and Zucco was surprisingly quiet and reserved."
Lana Turner, the star of Green Dolphin Street, had taken advantage of any break in filming to fly to Mexico, where her lover Tyrone Power was filming, and though Christian insisted that her own subsequent meeting with Power in Rome was purely accidental, it was widely believed that she heard Turner talk of Power's forthcoming movements and deliberately booked into his hotel, where she struck up his acquaintance by asking for his autograph for her younger sister. "It was love at first sight," she recalled. "He proposed to me almost immediately."
Power had been 20th Century-Fox's top male star for many years and the marriage in Rome in 1949 attracted worldwide publicity, with 8,000 fans outside the church and over a thousand riot police called in to handle the chaos when Christian arrived, 22 minutes late, and the barriers broke. Christian professed, however, that the marriage did little for her career. "I was pregnant almost the whole time of our marriage. I lost two boys and a girl, and then I gave birth to two girls."
She was disappointed that she was never cast in a film with Power. "We were supposed to do Mississippi Gambler (1953) together but Universal wanted to use their contract player, Piper Laurie. She is a very good actress, but there was no chemistry between her and Tyrone. It was a business decision and he gave in to them. It could have been a better picture with both of us. We were also offered the parts played by Montgomery Clift and Donna Reed in From Here to Eternity, but Tyrone didn't want to do it."
Christian was pregnant with their second surviving child in 1952 when Power asked her for a divorce. The same year, she had a good supporting role as Mignonette, a seductive au pair girl, in the nostalgic tale of a French-Canadian family in the 1920s, The Happy Time. She then starred opposite Richard Conte as a Persian princess in Slave of Babylon (1953), a low-budget epic about Nebuchadnezzar. "Richard had some amorous ideas, so I brought Tyrone to the set one day and after that Richard settled down."
In 1954 Christian was cast as James Bond's love-interest in a television ersion of Casino Royale. Part of the CBS series Climax!, it starred Barry Nelson as the first James Bond on screen, called "Jimmy" by Christian's character, with Peter Lorre as the villain. Christian could thus claim to be the first Bond girl. In Athena (1954), a musical about a health-conscious family ("It was ahead of its time"), she played the brittle,meat-loving fiancée of Edmund Purdom, and shortly afterwards they embarked on an affair.
Christian finally divorced Power in 1956, but though Purdom divorced his wife, Christian refused to marry him and instead had a widely publicised affair with the playboy Richard Schlesinger, testifying in court when Schlesinger was accused of non-payment for a million dollars worth of jewels that he had given her (she adamantly refused to give them back). The following year, she professed that the married Spanish racing driver, the Marquis Alfonso de Portago, was "the love of my life". She was photographed kissing him for good luck at the 1957 Mille Miglia race just before he crashed his Ferrari, killing himself and 10 spectators. The press labelled the photograph "The Kiss of Death".
Later the same year Christian travelled the world with the Brazilian millionaire, Francisco "Baby" Pignatari. Her occasional films included Thunderstorm (1956), an unusual drama produced by a former actress, Binnie Barnes, in which Christian, having been rescued from drowning by a fisherman (Carlos Thompson), proves a disrupting influence on the fishing village's menfolk, and House of Seven Hawks (1959), which starred Robert Taylor, whom she would later describe as her favourite leading man. "He was so natural, he never seemed to be acting."
She starred in a horror movie about witchcraft, The Devil's Hand (madein 1959 but released in 1962) and was featured in the omnibus film, The VIPs (1963) as Rod Taylor's gold-digginggirlfriend, though she accused thestar, Elizabeth Taylor, of having her best scenes cut. The same year she played a deceitful wife in "An Out For Oscar", an episode of the television series Alfred Hitchcock Presents, written by David Goodis.
In 1962 she finally married Edmund Purdom. "It wasn't much of a marriage. Edmund was so frustrated that Ihad waited so long to marry him. So, our actual time together didn't even last 24 hours. Later, he apologised for what happened and I forgave him."In 1964, while filming the semi-documentary about bullfighting, Francesco Rosi's The Moment of Truth, she fellin love with the matador Luis Dominguez, a former lover of Ava Gardner, and the same year she settled in Spain. "I went for a short visit and wound up staying seven years."
She made several films in Europe, including two with the popular German actor OW Fischer, before retiring, though she reappeared 20 years later in two forgettable Italian thrillers. She published her memoirs, Linda, in 1962, using for the book's dust jacket a portrait that was painted of her by Diego Rivera.
Blanca Rose Welter (Linda Christian), actress: born Tampico, Mexico 13 November 1923; married 1949 Tyrone Power (divorced 1956; two daughters), 1962 Edmund Purdom (divorced 1963); died Palm Springs, California 22 July 2011.
Join our new commenting forum
Join thought-provoking conversations, follow other Independent readers and see their replies