Mary Fedden: Painter hailed late in her career for her landscapes and still lifes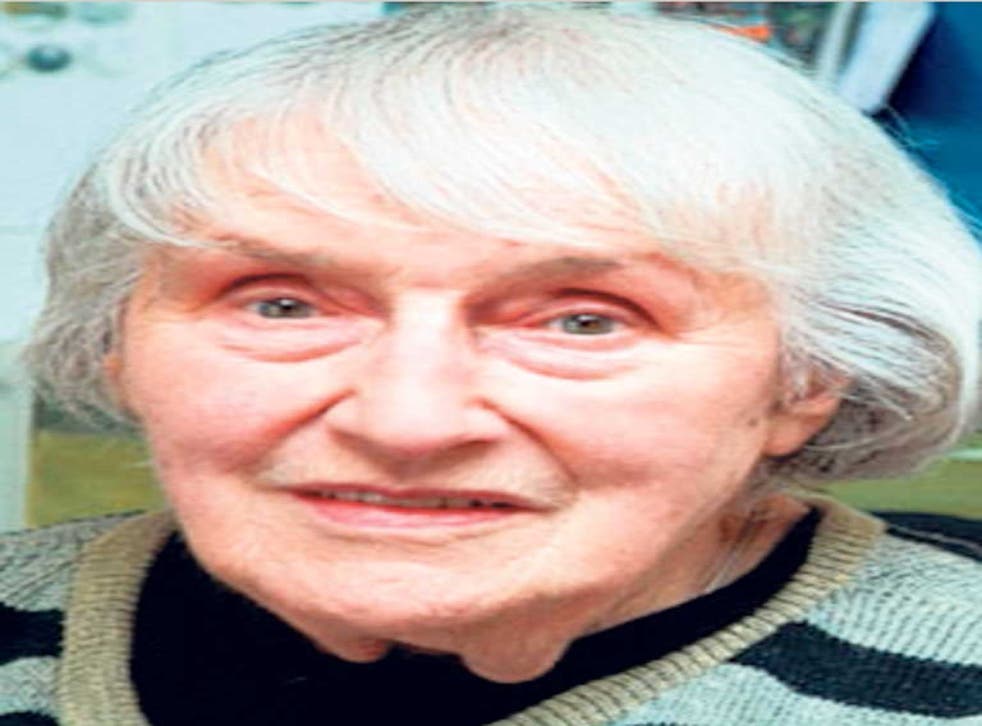 Mary Fedden was an artist whose exquisitely executed paintings often take the form of a hybrid between a still life and a landscape. In these, a group of objects fruit, glasses, bottles, even cats – are depicted in fine detail in front of a striking background scene. These intriguing combinations illustrate the depth of vision, both in a figurative and literal sense, which Fedden portrayed in her work.
The elements of style which she derives from Braque and Matisse, especially, are clear. On the other artists who have inspired her, she said in: "I really float from influence to influence. I found the early Ben Nicholson's fascinating as were the paintings of his wife Winifred", adding, "I also admire the Scottish artist Anne Redpath and the French painter Henri Hayden."
Fedden was born in Bristol in 1915. The passion for art came to her early and was encouraged by her uncle, the painter Arthur Romilly Fedden. "I loved drawing when I was very small. I always did", she said. She left Badminton School, aged 16, to study art at the Slade. From 1932 to 1936 she learnt under Vladimir Polunin, the Russian artist known particularly for his creations with Diagalev for the Russian Ballet.
Prompted no doubt by Polunin, she soon became involved as a stage painter in creating sets for the Sadlers Wells Theatre and for the Arts Theatre in the West End, while also producing wartime propaganda murals. Towards the end of the war she saw service for two years as a driver for the Naafi, travelling in France, the Netherlands and Belgium.
Her first solo exhibition was of a group of flower paintings, shown in the Mansard Gallery at Heal's Department Store in 1947. After selling one these to the editor of Woman, she obtained a three-year commission to do covers for the magazine. She recalled: "I did these paintings quite quickly, sort of eight times a year, and in between, I could get on with my own painting, and started selling fairly well."
Fedden had first met her fellow artist Julian Trevelyan while a student at the Slade and had become acquainted with him and his then wife, Ursula Darwin. When Darwin left him in 1949, Fedden suggested that he might like to take a road trip to Sicily with her. They made the journey as friends and came back as lovers. On their return she moved in to Trevelyan's Chiswick home and studio by the Thames, and they married two years later. Their house on Durham Wharf became a hub of creativity, with friends and neighbours including the artists Ceri Richards and Victor Pasmore and the film-maker Len Lye.
Trevelyan had been part of the surrealist movement in the mid-1930s but had quit the group after just two years, preferring to remain independent. His creative drive and positivity towards painting and etching had a tremendous effect on Fedden's output at this time, while the subjects of her work were always her own. "Each of my paintings is a mixture of things that I'm looking at, and my thoughts and imagination", she commented.
In 1958 Fedden started teaching at the Royal College, as the first female tutor in its Painting School. It was here she taught painting to David Hockney, while Trevelyan taught him etching, as one of the students during a period she called the "years of a very brilliant generation". When her husband contracted a serious viral infection five years later, she decided to stop the formal teaching.
Fedden's work was not limited to canvas or paper. She completed a mural commission for children's television programme during the Festival of Britain (1951), for which Trevelyan also created his painting Blast Furnaces. A further mural by Fedden, for the P&O liner Canberra, followed in 1961. The couple travelled extensively to France, Italy, and Greece and to Malta, where Pasmore had a holiday home, and derived much inspiration from their shared voyages.
Although Trevelyan's work was better known in the 1960s and '70s, her commitment to her own art means that it is her paintings that are now more widely recognised. She was elected a member of the Royal Academy in 1992 and served as president of the Royal West of England Academy (RWA) during 1984-1988. In 1996 the University of Bath gave her an honorary doctorate in recognition of her contribution to British art. An OBE followed a year later. Her most significant retrospective exhibition to date was in 2008 at the Portland Gallery in London, showing 125 works.
Fedden has been the subject of two biographies. In Mary Fedden (1995), Mel Gooding says: "Fedden's painting reflects her personality in its capacious love for the objects of its attention". In Mary Fedden: Enigma and Variations (2007), Christopher Andreae observed: "She paints with unstinting disregard for the tastes and opinions of others and paints fast and often. She paints 'through the bad times' and paints on because continuing to paint is what she chooses and loves to do, and it is what drives her. Stopping is just not part of the plan."
Mary Fedden, artist: born Bristol, 14 August 1915; OBE 1997; married 1951, Julian Trevelyan (died 1988, one stepson); died Chiswick, London 22 June 2012.
Join our new commenting forum
Join thought-provoking conversations, follow other Independent readers and see their replies