Michael Scudamore: Jockey who won the Grand National and Cheltenham Gold Cup and became a trainer and patriarch of a racing dynasty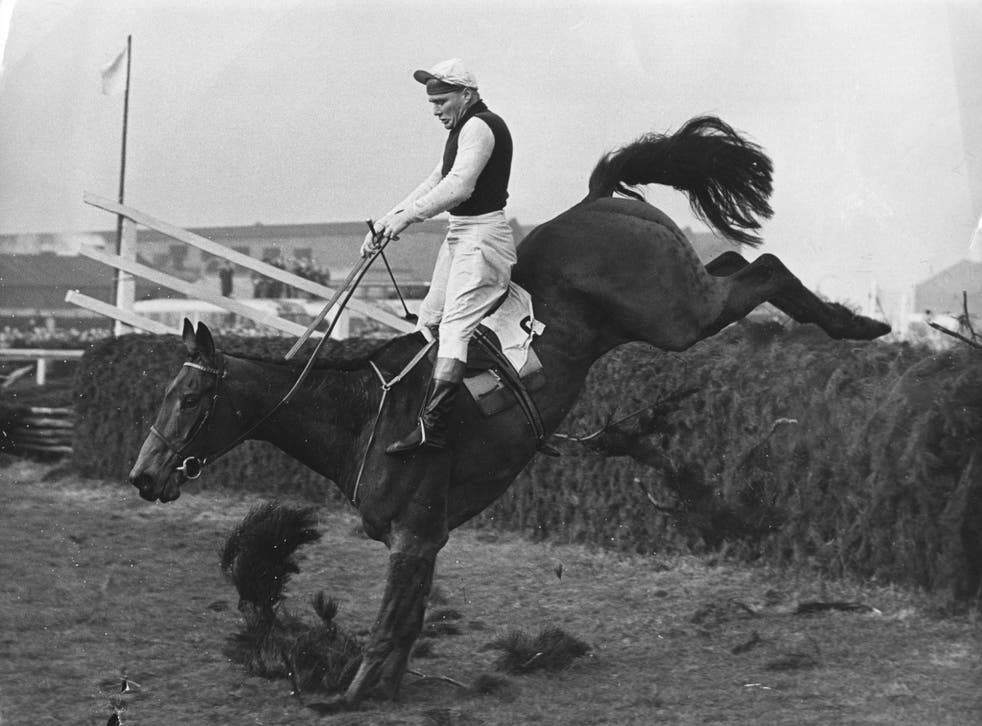 In a sport which places much emphasis on pedigrees and breeding, there could hardly be a more appropriate legacy left by Michael Scudamore, patriarch of a notable racing dynasty. He was not only one of the toughest and most talented jump jockeys of his generation – winner of both the Grand National and Cheltenham Gold Cup - but also, to use the modern vernacular, a top bloke, distinguished by his unfailing kindness and encouragement to those making their way in the game.
His son Peter and grandsons Tom and Michael have carried on the family traditions with considerable pride; no surprise, perhaps, with such a role model. Scudamore was brought up with horses; his father Geoffrey, a farmer, rode as an amateur and trained point-to-pointers. Michael's first ride under rules was when he was 15, though it was nearly two more years before he scored his first victory, on Wild Honey in a minor contest at Chepstow in February 1950.
His third success came three weeks later in a rather better arena, when he won the Gloucestershire Hurdle on 25-1 shot Sir Charles at the Cheltenham Festival for his father's small stable. That was the springboard to a distinguished career, in the course of which he rode for some of the sports leading operators.
Scudamore's background in the hunting field and point-to-points honed him as a horseman before he was a jockey, and he particularly excelled over fences; of his 10 Cheltenham Festival wins, only two were over the smaller obstacles, hurdles, and the best horses he rode were all steeplechasers.
His Gold Cup victory came on Linwell in 1957; he conjured a tremendous leap from the nine-year-old from Ivor Herbert's stable at the second last fence that gave him first run on his chief rival Kerstin and a length's advantage he held to the line. He won a King George VI Chase on the Peter Cazalet-trained Rose Park in 1956; partnered Frank Cundell's extraordinary Crudwell to 14 of his 50 victories, including the last in September 1960; and won a Cotswold Chase on Greektown, trained by Willie Stephenson, at the 1964 Cheltenham Festival.
The classiest animal with which he was associated was Mandarin. During the 1956-57 season he rode and educated the future star of Fulke Walwyn's stable as a novice, a campaign that culminated in a 25-length victory in the Broadway Chase. It is for his exploits in the Grand National, though, that Scudamore is probably best-remembered, for a variety of reasons. He compiled a remarkable sequence of 16 successive rides from 1951 (East A'Calling, brought down at the first in an 11-horse pile-up) to 1966 (Greek Scholar, fell at the second Becher's), a record that stood until last year, when Richard Johnson and Timmy Murphy both notched 17 in a row.
Scudamore finished second in the Aintree showpiece on Legal Joy in 1952, third on Irish Lizard in 1954, and won it on Oxo, a former pointer trained by Willie Stephenson, in 1959. He had to sit tight as eight-year-old Oxo, in the lead, hit the last fence hard, but the race was most notable for the ill-luck endured by the length-and-a-half runner-up Wyndburgh, whose jockey Tim Brookshaw had to ride virtually bareback from Becher's after a stirrup broke.
But fortunate or not, he remains the only member of his family to ride a National winner, despite efforts from succeeding generations. Peter, eight times champion jockey, never came closer than third in 12 attempts and Tom's best finish in 13 rides has been eighth.
Scudamore's was a sporting arena fraught with much more hazard than today's – flimsy helmets that tended to come off, no body protectors, concrete posts delineating courses, bigger and more formidable fences and sometimes rudimentary medical facilities. But he was hard and fit, with a greater work ethic and more measured lifestyle than many of his contemporaries, and kept relatively free of injury until badly damaging his left eye in a fall that ended his career in November 1966. He retired with 496 winners over 18 seasons but was never champion, his best position being second to Fred Winter in 1956-57.
His second career was lower-key; in two stints as a trainer (1967-95, 2003-08) his biggest success came with Bruslee in the 1974 Mackeson (now Paddy Power) Gold Cup. He had one Festival winner, Fortina's Palace in the 1970 Grand Annual Chase but was arguably unlucky not to saddle a National winner. Despite a slipping saddle and being repeatedly hampered, Charles Dickens was a strong-finishing third in 1974, seven lengths and a short-head behind Red Rum and L'Escargot.
Before handing the licence to his namesake at the family stables at Bromsash six years ago, his last significant win was the Haydock National Trial with Heltornic, ridden by his other grandson, Tom. He took equal pleasure from Michael Jr's victory with Monbeg Dude last year in the Welsh Grand National (a race he had won as a jockey on Creeola 56 years previously) and when the brothers teamed up to score with Monbeg Dude, seventh in the latest National, at Cheltenham last December.
Scudamore, who had been suffering from cancer, died just three days after his wife of 57 years, Mary.
SUE MONTGOMERY
Michael John Scudamore, jockey and trainer: born 17 July 1932; married 1957 Mary Duffield (died 2014; one son); died 7 July 2014.
Join our new commenting forum
Join thought-provoking conversations, follow other Independent readers and see their replies