Olivier Metzner: Defence lawyer who became the most respected and feared of his generation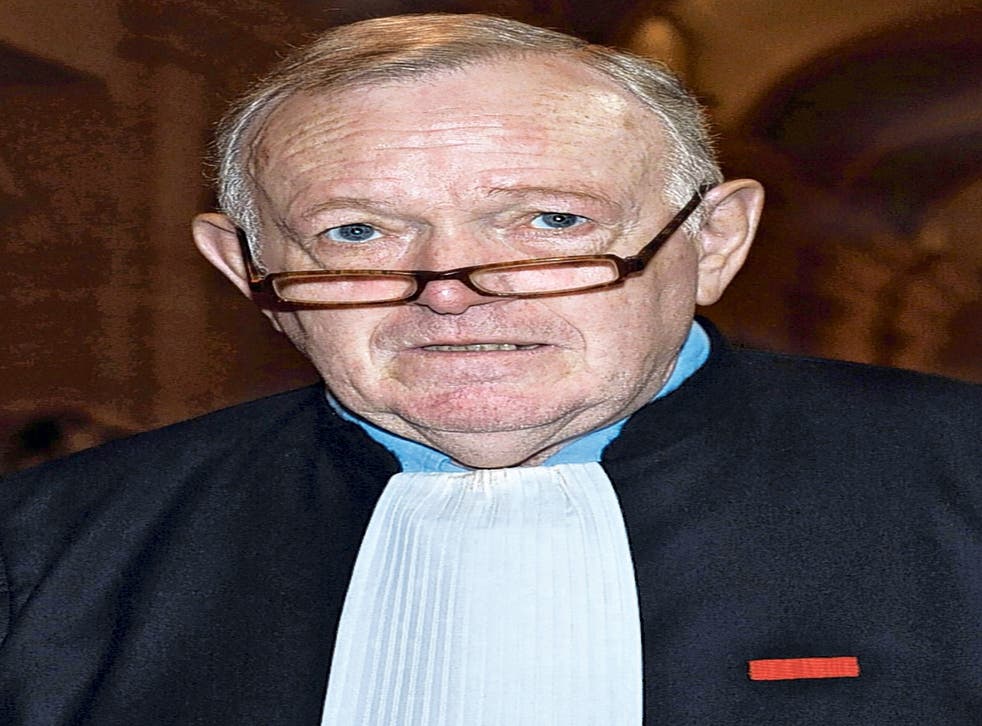 Olivier Metzner was a solitary man who adored, and brilliantly manipulated, publicity. He became the most respected and feared French defence lawyer of his generation, partly because he grasped that trials in the information age take place in the media, not just in the courtroom.
Maître Metzner's lonely death, and presumed suicide, revealed, according to colleagues, the fragile, private personality long concealed by the camera-hogging legal celebrity and defender of celebrities. His body was found floating near his private island in the Gulf of Morbihan in Brittany on Sunday. A letter found in the house on the island suggested that Metzner had taken his own life, and a provisional autopsy confirmed that.
Maître Emmanuel Marsigny, his associate for 19 years, said: "He had the reputation of being a hard man but, in truth, he was extraordinarily sensitive… He was one of the best at defending other people but could not defend himself against himself."
Metzner, the son of a poor, Protestant, farming family in Normandy, became one of the most successful, and most highly paid, lawyers in France. His name was associated with many of the high-profile French legal cases of the last decade. He originally made his reputation by winning the acquittal of criminals by finding tiny flaws in the procedures or legal arguments of prosecution or judges. A poor public speaker himself, he downplayed the standard weapon of French defence lawyers, the florid "plaidoirie" or final, tear-jerking statement to the court. He said this was often an excuse for lazy lawyers to fail to study their briefs.
In 2009 Metzner successfully defended the former Prime Minister, Dominique de Villepin, from accusations that he had spread false reports that his colleague Nicolas Sarkozy was corrupt. In 2010 he unsuccessfully defended the rogue trader, Jérôme Kerviel, accused of losing €4.9 billion for the French bank, Société Générale. Other clients ranged from the former Panamanian dictator, Manuel Noriega, to the French pop star Bertrand Cantat, who was convicted of the manslaughter of his girlfriend, and Continental Airlines, accused of causing the Concorde crash in Paris.
In 2010 it was Metzner who transformed the Bettencourt affair from a quarrel within a dysfunctional family of billionaires to a multi-layered and explosive, political scandal. Metzner was acting for Françoise Bettencourt-Meyers, the daughter of France's wealthiest woman, who claimed that her ageing mother, Liliane Bettencourt, the chief L'Oréal shareholder, was being financially abused by her friends and entourage. To help to prove the allegations, Metzner leaked to the press the tapes of bugged conversations between Bettencourt and her courtiers and advisers.
Part of the tapes also implied that Bettencourt had fiddled her taxes and had illegally funded Nicolas Sarkozy's 2007 presidential campaign. One of France's other big-name lawyers, Georges Kiejman, acting for Bettencourt, accused his rival publicly of inspiring the illegal act of bugging itself. Metzner sued him and lost – another example of the great defender failing to defend himself.
Kiejman once almost came to blows with Metzner in a courtroom, but like the whole of the French legal profession he was greatly shocked by his rival's death. "I assumed, wrongly, that he was a man without any heart or sensitivity," Kiejman said. "The manner of his death suggests that he was a man who also had his fragilities."
Olivier Metzner was born on his parents' farm at Champ-Haut in Orne, lower Normandy in 1949. He revealed in a radio interview in 2010 that he was a poor student who only passed his baccalaureat (the equivalent of A-levels) at the age of 21. He left home while still at school and funded himself by working as a school monitor and sailing instructor. This began a lifelong love of sailing and the sea which ended with his purchase for €2 million in 2010 of the islet of Boëdic in the island-studded Gulf of Morbihan in southern Brittany.
After studying law at the University of Caen he set himself up as a lawyer in Paris in 1975. He made his reputation by spotting legal or procedural errors in prosecution cases and legal judgements and winning the acquittal of a string of professional criminals. This was regarded by French lawyers as "poor form", or almost unethical, but Metzner was unapologetic. "Many lawyers don't work hard enough," he once said. "They think they can do everything at the hearing itself. Asking the right questions is much harder than making speeches."
The other part of Metzner's strategy – which also annoyed his colleagues – was to stage-manage the publicity surrounding a celebrity trial. The laws of sub judice are scarcely applied in France and Metzner was not the first lawyer to attempt to pre-try, or pre-acquit, his clients in the media, but he turned the practise into a fine art.
"I plan it all in advance," he said. "And my orders are obeyed. News agencies put out statements when I tell them to, Newspapers publish stories on the day that I say. Same for radio and TV."
Metzner never married. He rarely took holidays. He spent his weekends at his country home south of Paris, or more recently on his island, studying his legal briefs – which, he said, were "far more interesting than the rare novels that I read".
The private Metzner remained private. A rare glimpse of the hidden man came when he was interviewed by the journalist Denis Robert in 1997. Asked if he found it exhausting to defend the indefensible, he burst into tears and said that he had thrown away his life. He really wanted to be a sailor, he said. Being a lawyer was a miserable existence.
Miserable or not, he continued for another 16 years. When asked about his success, Metzner would tap his head and say: "It's all in here".
So, too, is the explanation for his apparent suicide. In December he announced that he was selling his island in Brittany. He told Le Figaro: "I have another project. I am going back even more to the sea."
Olivier Metzner, lawyer: born Champ-Haut, Orne, France 22 November 1949; died Boëdic Island, Gulf of Morbihan, France 17 March 2013.
Join our new commenting forum
Join thought-provoking conversations, follow other Independent readers and see their replies