Owen Roberts: Journalist who established himself as a pioneer of Welsh-language television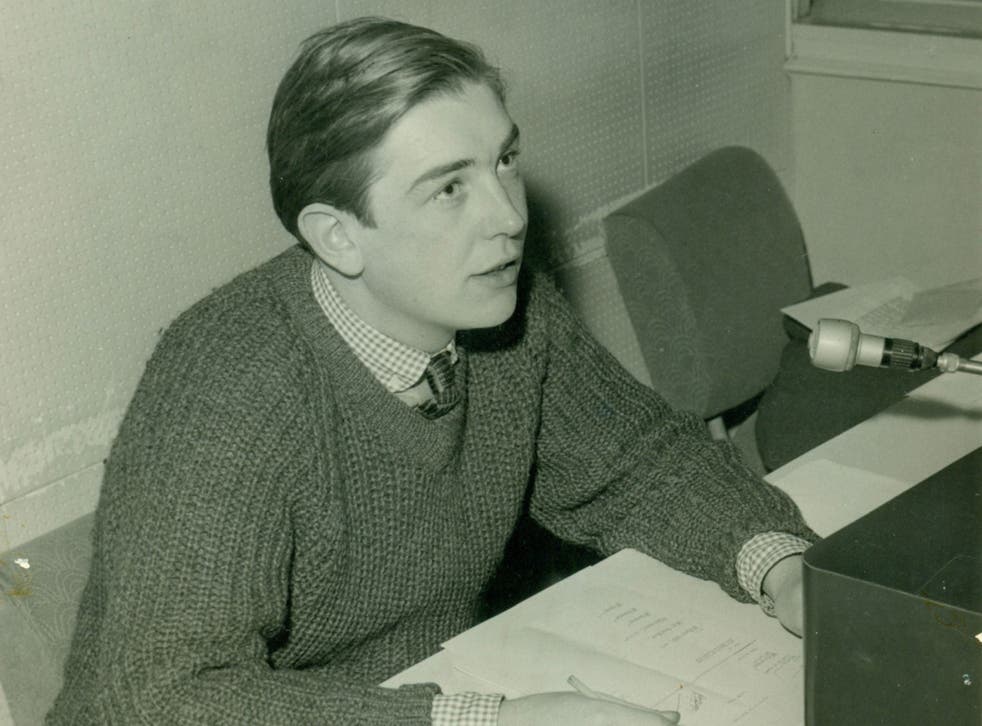 Owen Roberts belonged to a stellar generation of news journalists who won their spurs at a critical moment for broadcasting in his native Wales. The BBC, for long having enjoyed a monopoly in news-gathering, suddenly found it had rivals in Television Wales and the West (TWW), and later Harlech Television (HTV). Both upstarts had begun training younger people and putting out programmes that competed for ratings previously considered the preserve of the BBC.
Roberts joined TWW as a graduate trainee director in 1961, having been recruited by the influential Wyn Roberts (now Lord Roberts of Conwy) who had spotted his potential as a hard-news man with a passion for current affairs, especially in Wales.
He had just come down from Jesus College, Oxford, where he had read Modern History and played an active part in the affairs of the Dafydd ap Gwilym Society, that cradle of so many Welsh-speaking meritocrats who have gone on to make important contributions to the cultural life of their country.
He delighted in speaking Welsh, his first language, in the Junior Common Room at Jesus and made many friends there. The boy from Niwbwrch in Anglesey, where his father was headmaster of the village school, matured into a sophisticated, cultured young patriot who was clearly going to make a name for himself.
Although he had appeared on radio several times since his schooldays at Llangefni Grammar School, he had a lot to learn about daily broadcasting schedules and the harsh realities of the commercial world. But he took readily to news gathering and, in due course, news management, and soon had a reputation as a safe pair of hands in broadcasting circles.
The main news programme broadcast by the BBC at the time was Heddiw ("Today") but it was not long before Y Dydd ("The day") was challenging it in the quality of its journalism and its lively coverage of the whole of Wales. Roberts became the programme's editor in 1964 and, four years later, Head of News at HTV Wales.
His love of history remained a lifelong interest and left its mark on much of his work as a television producer. Among his most memorable early achievements was The Just City, a documentary dealing with the Welshmen who fought on the Republican side in the Spanish Civil War. The news, for him, was an early draft of history which demanded meticulous planning and editorial balance.
In 1972 he moved to BBC Wales as Head of News and Current Affairs and was later appointed Assistant Head of Programmes. The post was not without its pressures and tribulations, caused not least by the young militants of the Welsh Language Society. In the heated clashes between the broadcasting authorities and campaigners for a fourth channel broadcasting in Welsh, Roberts managed to keep his cool and displayed the gentle wit and bonhomie which endeared him to all. Even those who had raised a patrician eyebrow at the appointment of someone "from the other side" were soon won over.
The delicate balance between provision of news programmes in the two languages of Wales was often at the heart of the broadcasters' thinking and policies. "Those involved in Welsh-language programmes," noted the BBC's Annual Report for 1972, "see their world as their oyster." Not so the English-language programme-makers of Wales, who – because significant events in English-speaking Wales were deemed to be the purview of the London media – were obliged to scratch for news in their own backyards. Mrs Jones's cow was a fabulous beast often drawn into the debate on both sides of the linguistic divide.
Most galling of all was that Owen Roberts, or Owen R as he was generally known to colleagues, to distinguish him from several others by the name of Owen, was from time to time called before the Broadcasting Council to listen to complaints that the output for which he was responsible was, in the words of the official historian of broadcasting in Wales, "too preoccupied with traffic accidents, minor industrial disputes and other equally unscintillating matters."
Roberts was still on a rising trajectory as a news manager when, in the mid-1970s, shortly after a car accident, he was diagnosed as having multiple sclerosis. He faced this adversity with exemplary courage and a dignified resolve which won the admiration of all who knew him.
In this he had the support and devotion of his wife, Ann Clwyd, since 1984 the Labour MP for the Cynon Valley and a well-known advocate of human rights for beleaguered minorities such as the Kurds. Her socialism chimed well with his own political views: she has described him as "Welsh to the core and a socialist to the last", though he never went near anything to do with the Labour Party lest his editorial judgement be called into question. In his lifelong commitment to the social good, one of the hallmarks of his programme-making, Owen Roberts was passionate and articulate but never strident.
Owen Dryhurst Roberts, television executive: born Niwbwrch, Anglesey 1 February 1939; married 1963 Ann Clwyd Lewis; died Cardiff 23 October 2012.
Join our new commenting forum
Join thought-provoking conversations, follow other Independent readers and see their replies