Paco de Lucia: Guitarist whose virtuosity and fusions with other musical forms made him arguably flamenco's most influential artist
Wednesday 26 February 2014 20:40
comments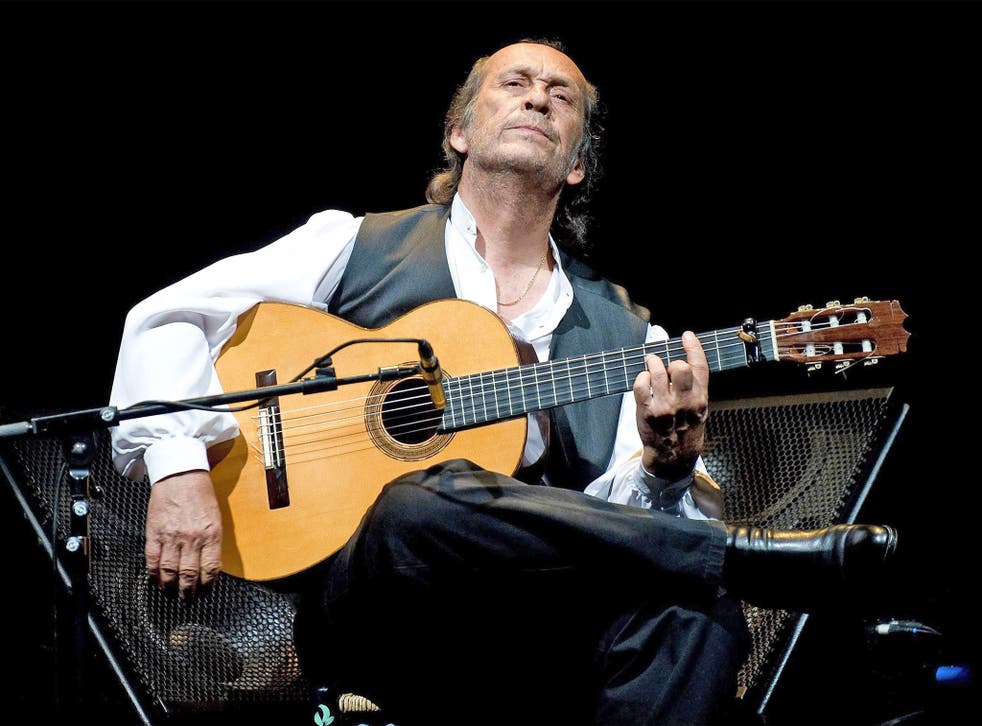 Paco de Lucia was one of the world's best known flamenco guitarists. He helped broaden the music's appeal beyond its traditional audiences with his mesmerising style and through his collaborations with artists from different genres. "He was a monster of the guitar," his friend, the flamenco singer Jose Merce, said. "[With Camaron de la Isla] he has been the father of flamenco."
Born Francisco Sanchez Gomez, de Lucia was raised in the gypsy quarter of Algeciras, near Cadiz in southern Spain, and was immersed in the flamenco traditions from a young age. His musician father, Antonio Sanchez, and his brother Ramon, gave him his first guitar lessons and he started playing at the age of seven. It was around this time that he picked up the nickname Paco de Lucia. Paco is a diminutive of Francisco, while "de Lucia" was a way of distinguishing him from the other Pacos in the La Bajadilla district where he lived, as his mother was Lucia Gomes; he was "Lucia's Paco".
He recorded his first album, Los chiquitos de Algeciras, with another brother, Pepe, when he was 16. The two toured together, but he soon began to make a name for himself with his dextrous and innovative playing style. From an early age he impressed with his hand strength and technique that allowed him to produce the machine-gun-like "picado" riffs so characteristic of flamenco guitar. "I have always found that the more technique you have the easier it is to express yourself," he said in a 2004 interview. "If you lack technique you lose the freedom to create."
Although he played guitar from an early age he said he had a strained relationship with the six strings. "There is a relationship that is between devotion and hate, because it takes a great deal of effort to play flamenco," he said in 2005. "The guitar is an instrument you can never be sure of when you play, you are always at its mercy. It depends on so many things. Your mood, emotional balance at any moment, as to whether you play well, or very badly."
It was when he teamed up with the flamenco singer Camaron de la Isla to make an album in the late 1960s that de Lucia rose to popular prominence, and he was influential in launching what became known as the New Flamenco movement. After Al verte las floras lloran (1969), the duo went on to make nine more albums together.
He also enjoyed great success as a solo artist. His Fuente y Caudal ("Source and Flow") album (1973) spawned one of his biggest hits, "Entre dos Aguas" ("Between Two Waters"), a fine showcase for his technical abilities. His innovative collaborations with jazz, blues and classical musicians moved him into new spheres as he teamed up with guitar virtuosi from other genres, such as Al di Meola, John McLaughlin and Larry Coryell, and toured the world.
One of his most famous recordings was "Friday Night in San Francisco," recorded with McLaughlin and Di Meola in 1981. His own sextet, formed the same year, included bass, drums and saxophone. His other high-profile collaborations included work with the pianist Chick Corea, who joined his sextet for the album Zyryah in 1990. In 1995 de Lucia played with Bryan Adams on the song "Have You Ever Really Loved a Woman".
His infusion of new life into flamenco by introducing influences from other musical forms made him arguably the most influential flamenco artist ever. Although some of this drew criticism from purists, and although de Lucia experimented with many different styles, he never lost sight of where he started. "I am not worried about losing the basic essence of flamenco," he said, "because it has very strong roots and there are purists defending them. Including me. I am a purist at the centre even though I am a revolutionary, at the vanguard, or a creator... I have respect for the essence, the old, what is valid, and memory."
After a silence of nearly five years, 2004's Cositas Buenas ("Good things") won the Latin Grammy award for the best flamenco album. De Lucia's contribution to Spanish music was recognised in 2004 when he was given the prestigious Prince of Asturias Award for Art. The jury hailed his capacity to "transcend frontiers and styles" and to make "music of a universal dimension."
In 2010, Boston's Berklee College of Music made him Doctor Honoris Causa, making him the first Spaniard and the first flamenco artist to receive the international award. Other recipients have included BB King, Quincy Jones, Paul Simon and David Bowie.
In his acceptance speech de Lucia said: "I have been fighting for many years for things like this to happen. When I was young flamenco was only for Andalusians, now it is a sound which has extended all over the world."
De Lucia was playing with his children on the beach near his home in Cancun, Mexico, when he suffered a heart attack, and died on the way to hospital. A local government spokesman in Algeciras, where his was born, said the city would hold two days of official mourning.
MARK ELKINGTON
Francisco Sanchez Gomez (Paco de Lucia), guitarist and composer: born Algeciras, Spain 21 December 1947; married 1977 Casilda Varela (two daughters, one son); died Cancun, Mexico 26 February 2014.
Join our new commenting forum
Join thought-provoking conversations, follow other Independent readers and see their replies