Peter Gethin: Racing driver who held the record forwinning the fastest grand prix
Thursday 08 December 2011 01:00
comments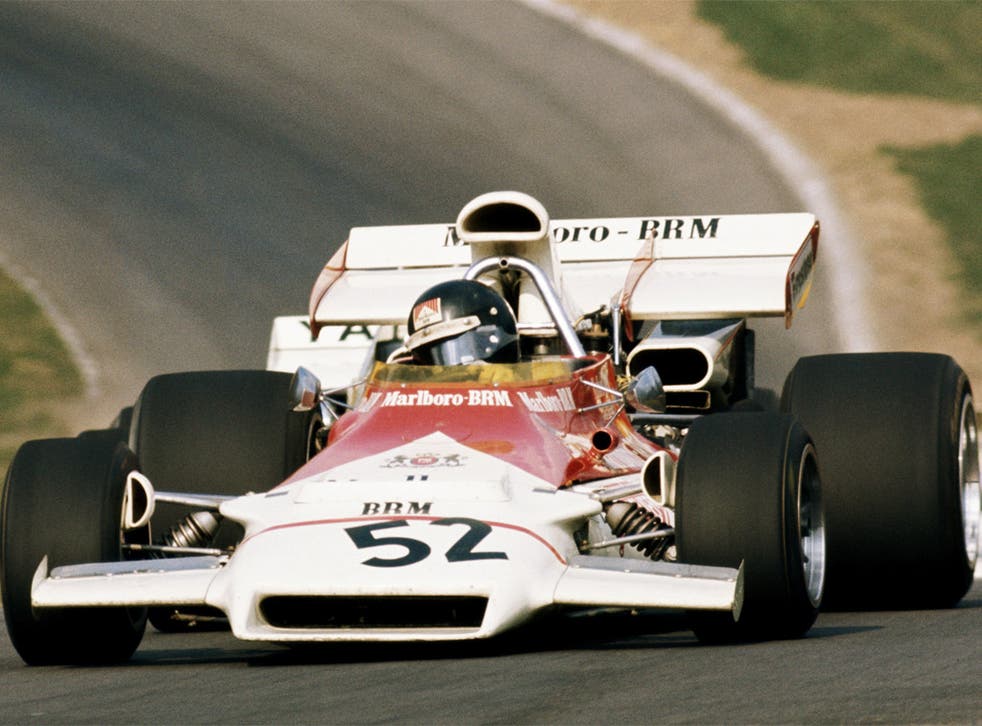 Peter Gethin, a jockey's son, relied on a ploy his father would have been proud of to confirm his dramatic photo-finish victory at Monza in 1971 in what would remain until 2003 the fastest-ever grand prix. As he flashed across the finish line after a superb recovery drive from ninth place, separated by a mere 0.61 seconds from four slipstreaming pursuers after one hour, 18 minutes and 12.6 seconds of cut-and-thrust racing at 150.76mph, Gethin raised his hand from the cockpit.
"I overrevved the engine all the way from the last corner and was pretty sure that I had crossed the line first," heexplained, "but just to make sure Ifigured the Italian organisers would go for the guy with his hand in the air. It was what my father would have done." Gethin need not have worried, for he had indeed got to the finish line a record-setting 0.01sec ahead of Ronnie Peterson, with François Cevert a further 0.08sec behind, 0.09sec in front of Mike Hailwood, and Howden Ganley a further 0.43sec adrift, but it was the sort of smart thinking that made him such a successful racer.
Born in Epsom in Surrey, he eschewed his father Ken's sport, and his own path to stardom began in a Lotus 7. Success in Formula 3, then Formula 2, in 1968, propelled him into the new British Formula 5000 series in 1969, and in 1970 he was called up by McLaren to replace the team's founder Bruce, who had been killed at Goodwood in June just as Gethin was about to test one of his F1 cars. He scored his first world championship point in Canada, finishing sixth.
He joined BRM midway through 1971 as team boss Louis Stanley sought a replacement for his star driver Pedro Rodriguez, who had been killed in a sportscar race at the Norisring in Nuremberg in July. He made his debut for the team in Austria, before winning at Monza. Only hours after that success, he was brought down to earth when the autocratic Stanley instructed him to change a punctured tyre on his limousine as they were leaving the track.
Gethin also scored a notable triumph in the lucrative CanAm sportscarseries in Canada and America, which was for so long dominated by McLaren. Taking over the McLaren M8D driven earlier by Dan Gurney, he was victorious at Road America.
His true metier, however, wasFormula 5000, a category for what were effectively F1 derivatives with 5-litre stock-block American engines. Heso dominated the British races for Church Farm Racing Team in 1969 and again with Sid Taylor Racing in 1970, that the series became known as "Formula Gethin".
The triumph at Monza would be his sole success in the top echelon of motorsport, but it was sufficient to confirm his place in history. Later that season, however, he scored another narrow victory, over the 1972 world champion-to-be Emerson Fittipaldi, in the non-championship John Player "Victory Race" at Brands Hatch. It was intended to be a celebration of Jackie Stewart's world championship success but ended in sadness as Gethin's Yardley BRM team-mate Jo Siffert was killed in a fiery accident.
In 1972 Gethin confirmed his talent with a stylish win for Chevron over Patrick Depailler in a Formula 2 race on the streets of Pau, and in 1973 he carved another unique little piece of history when he won the non-championship Race of Champions in a Chevron B24 – distinguishing himself as the only driver to humble a field of F1 cars with an F5000 machine.
After a one-off appearance for BRM in the Canadian GP that year he won the 1974 Australian-New Zealand Tasman series for F5000 cars in a Chevron, and participated in the British GP at Brands Hatch when Graham Hill chose him to drive for his Embassy Lola team after the regular incumbent Guy Edwards had broken his wrist. He remained in F5000 until in 1976, and following victory for Lola over rising star Gilles Villeneuve in a Can-Am race at Road America in 1977, he switched to driver management, overseeing the career of the promising Italian F2 racer Beppe Gabbiani.
In 1984 he became manager of Ted Toleman's eponymous F1 team, working with Ayrton Senna, who was in his rookie season, then ran his own Peter Gethin Racing team in Formula 3000 in 1986. Later he ran a successful racing school at Goodwood, and was a director of the British Racing Drivers' Club from 2005 to 2008.
A fun-loving, gregarious and hugely popular racer, the forever youthful "Geth" always held true to the motto "carpe diem".
David Tremayne
Peter Kenneth Gethin, racing driver and team manager: born Epsom, Surrey 21 February 1940; married (one son); died 5 December 2011.
21.02.1940
On the day he was born...
Congressman John Lewis was also born. One of the Democrats' most liberal legislators, he was a leader in the Civil Rights Movement in the 1960s
Join our new commenting forum
Join thought-provoking conversations, follow other Independent readers and see their replies