Peter Halliday: Actor best known for the science fiction TV series 'A for Andromeda'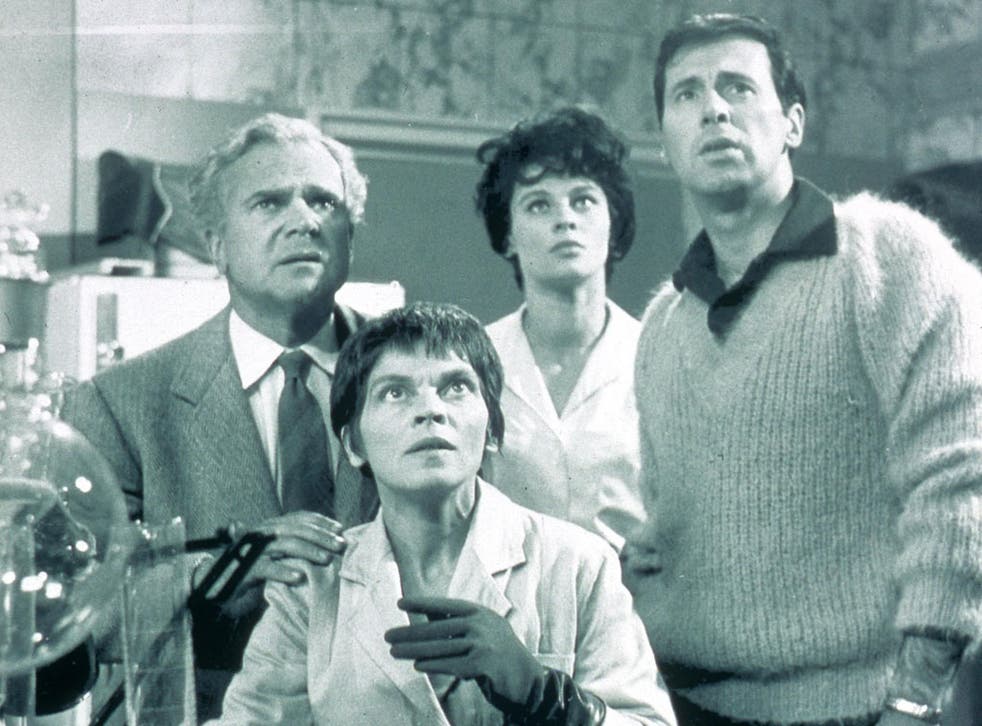 In more than half a century as an actor, Peter Halliday's legacy is a television role he took in his 30s, in one of the small screen's early sci-fi classics, which has retained a cult following. As the young, idealistic scientist Dr John Fleming, he was the star of A for Andromeda (1961), decoding radio signals from a fictional galaxy in outer space and discovering them to be instructions for building a super-computer that can generate human life.
Julie Christie, straight out of drama school, played the brunette lab assistant fatally electrocuted by the resulting computer and reborn as the exquisite blonde replica christened Andromeda – over whom the computer retains a disturbing control. When the aliens in charge of it turn sinister, Fleming persuades her to reject her "masters" and run away with him. "I would be classed as an anti-hero," he reflected, "but I like being cast as nasty people!"
Conceived by Fred Hoyle, a Cambridge University professor of astronomy and experimental philosophy, the serial – set in the futuristic 1970 – was scripted by John Elliot. In a two-channel age, it was "must see" television – adult-orientated science fiction that genuinely shocked many viewers and had them talking about it in their workplaces the following day.
Halliday, who based his portrayal on Hoyle, reprised the role in a sequel, The Andromeda Breakthrough (1962), in which Fleming and Andromeda's personal relationship flourishes, but Christie – by then making films – was replaced by Susan Hampshire because the BBC had refused to pay a £300 option on retaining her services. Despite audiences of up to 10 million, Halliday spent the rest of his career in character roles – remembered particularly by science-fiction fans for those he took in 23 episodes of Doctor Who, alongside four Time Lords over three decades.
Born near Llangollen, Denbighshire, Halliday, the son of an auctioneer and estate agent, was brought up in Welshpool, Powys, from the age of four and attended Oswestry School in Shropshire. Although he then became an apprentice auctioneer with his father, he had no wish to make it his career and failed his exams.
He briefly worked for Rolls-Royce in Nottingham before being called up by the army during the Second World War, serving in Iraq, Palestine and Egypt (1942-47). Still uncertain about his choice of career, he heard another soldier talking about becoming an actor and, thinking of it as a way to continue seeing the world, he successfully auditioned to train at Rada (1947-49).
On graduating, Halliday enjoyed the best possible start by joining the company at the Shakespeare Memorial Theatre, Stratford-upon-Avon (which later became the RSC), when John Gielgud and Anthony Quayle were directing there. He stayed for four years – which included a tour of Australia and New Zealand – and his contemporaries included Richard Burton, Michael Redgrave and Ralph Richardson.
Halliday appeared on the London stage in The Dark is Light Enough (Aldwych Theatre, 1954), the musical Chorus Girls (Theatre Royal, Stratford, 1981), Exclusive (Strand Theatre, 1989) and For Services Rendered (Old Vic Theatre, 1992-93). He took over the role of Roy Jenkins in the John Wells satire Anyone for Denis? (Whitehall Theatre, 1982), in which the politician was cast as butler to Margaret and Denis Thatcher; beforehand, Halliday had shadowed the real-life Jenkins when the politician successfully contested the Glasgow Hillhead by-election for the newly formed Social Democratic Party.
He made his screen debut in the 1954 B-film Fatal Journey, in the Scotland Yard series of crime dramas, and was later seen on the big screen in pictures such as The Battle of the River Plate (1956), Sunday Bloody Sunday (1971) and The Remains of the Day (1993).
But Halliday found more rewarding roles on television – almost 100 in all, in programmes ranging from The Count of Monte Cristo (1956) and Danger Man (1965) to The Sweeney (1975) and occasional sitcoms, including Goodnight Sweetheart (1997). Whereas in his early days he was often cast as police officers, in later years he frequently found himself playing priests.
Halliday even suffered for his art, receiving a bloody lip when Roger Moore mistimed a punch during a fight sequence in The Saint (1966), only to be told by the pleased director that it made the scene look more realistic.
Between 1968 and 1988, he played four different characters in Doctor Who, most memorably wearing a headpiece as Pletrac, leader of a tribunal responsible for controlling a planet's borders, in "Carnival of Monsters" (1973) and a blind vicar conducting a burial in "Remembrance of the Daleks" (1988). He voiced three other characters. His 1956 marriage to the actress Simone Lovell was dissolved.
Anthony Hayward
Peter George Halliday, actor: born Cefn Mawr, Denbighshire 2 June 1924; married 1956 Simone Lovell (marriage dissolved; three sons); died London 18 February 2012.
Join our new commenting forum
Join thought-provoking conversations, follow other Independent readers and see their replies