Princess Lilian of Sweden: Model who waited 30 years to marry the love of her life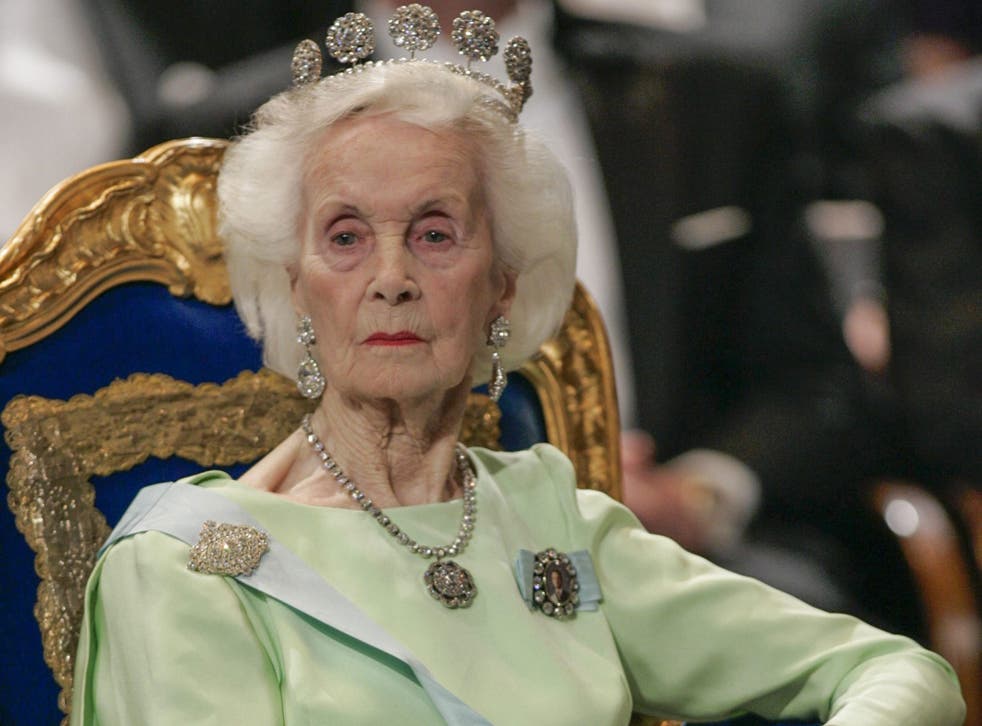 Lilian Davies was a working-class girl who went from the slums of Swansea to the sumptuous palatial splendour of Stockholm. In a real-life Cinderella story the beautiful daughter of a Welsh miner captured the heart of a handsome prince, and then an entire nation, as she became Princess Lilian of Sweden and one of its best-loved royals.
For dynastic reasons the Princess was forced to wait more than three decades before she could marry her long-time love and soulmate, Prince Bertil, the third son of the King of Sweden, Gustaf VI Adolph, following a chance encounter in wartorn London in 1943. The attraction was instant but it would have to endure as Lilian was already married and, in any case, protocol would not permit Bertil to marry a divorced commoner.
The couple's sacrifices and their long and forbidden romance gripped the hearts of Swedes and endeared her to a nation. In a 1995 interview, upon turning 80, she reflected, "If I were to sum up my life, everything has been about my love."
Born in a Swansea tenement in August 1915, Lillian May Davies was the daughter of an ex-miner and soldier, William Davies, and his wife, Gladys Mary Curran. As a young girl she helped her father on his market stall, and worked in a laundry to earn the family money. As a 16-year-old beauty she moved to London to pursue her dream of acting and modelling. At this time, she dropped one of the letters in her name to become Lilian.
Initially working as a maid, Lilian used her meagre wages to buy haute couture. Her stunning looks, along with her poise and elegance, soon led to work, showcasing hats and gloves in advertisements and appearing in high-end fashion magazines including Vogue. She was also offered minor roles in films, where she met the equally handsome bit-part Scottish actor, Ivan Craig. The couple married in September 1940 and shortly afterwards Craig was posted to North Africa with his regiment. After a long separation they were amicably divorced in 1945, her husband having also met someone new while abroad.
During the war Lilian worked in a factory making radios for the Royal Navy and in a hospital for wounded soldiers. Her life changed for ever in 1943 when she met Prince Bertil, who was serving as naval attaché at the Swedish Embassy in London.
The circumstances of their chance encounter remain vague. Some say they met at a cocktail party to mark Lilian's 28th birthday, while another suggestion is that they met amid the smoky glamour of Les Ambassadeurs nightclub; another version places them on the London Underground. Wherever the meeting occurred it was love at first sight; their instant attraction and rapport would withstand the test of time. She later wrote in her memoir, "He was so handsome, my prince. Especially in uniform. So charming and thoughtful. And so funny."
Their romance flourished, although it was kept quiet; she moved into his London flat after her home was damaged in an air raid. The couple were desperate to marry, but in 1947 Bertil's eldest brother and heir to the throne, Crown Prince Gustaf Adolph, died in a plane crash, leaving an infant son, Crown Prince Carl Gustaf, who would one day inherit the throne.
This turn of events left Bertil next in line until his infant nephew came of age. Bertil's two other brothers had already relinquished their places in the line of succession by marrying commoners. Consequently King Gustaf VI Adolph refused to give his blessing to a marriage between Bertil and Lilian, so as not to jeopardise the future of the monarchy and the survival of the Bernadotte dynasty. If Bertil had chosen to shirk his responsibilities and waive his rights to serve as Regent, if required, and marry a commoner, it could have sparked a constitutional crisis.
The couple lived together in Sainte-Maxime in France until 1957, when they moved to Sweden to live discreetly, although their relationship was an open secret in Stockholm society. They were seen together at Stockholm nightspots but on official occasions she remained in the shadows.
Her first public appearance with him was in 1972, at the 90th birthday celebration of King Gustav VI, who had developed a personal liking for her. She became a well-known figure in international society, and she and Bertil were frequently photographed at their villa in the south of France, playing golf and riding around on his motorbike, for magazines such as Point de Vue. She was noted for her practical jokes and her joie de vivre.
The couple remained together until Bertil's death in 1997, having finally been allowed to marry in 1976, following the ascension to the throne in 1973 of King Carl Gustaf. Now aged 64, the groom married 61-year-old Lilian at the Drottningholm Palace Chapel outside Stockholm; they honeymooned in Kenya and at their French villa. Their only regret was that they had not had children together.
Lilian threw herself into her royal duties, including attending the Nobel Prize ceremony from 1976 until 2005, when at 91 she decided she was too old – although that same year she attended a flamenco festival at the House of Dance and a dinner at Nalen. Following the death of Bertil she had continued to undertake royal engagements and to support many of her husband's causes. Inevitably she was asked for the secret of her longevity. She replied, "I think that the work, and particularly the laughter, keeps me somewhat young in mind. I don't do gymnastics or exercise. But I do feel the same wish to help as my husband did."
Embraced by a nation and adored by all generations of the Royal family, Lilian remained supremely stylish. She retired from public life in 2010 due to poor health and had latterly suffered from Alzheimer's.
Martin Childs
HRH Princess Lilian of Sweden: born Swansea 30 August 1915; married 1940 Ivan Craig (divorced 1945; died 1995), 1976 Prince Bertil (died 1997); died Stockholm 10 March 2013.
Join our new commenting forum
Join thought-provoking conversations, follow other Independent readers and see their replies