Richard Briers: Much-loved actor of stage and screen who rose to prominence as a pioneering suburban spirit in The Good Life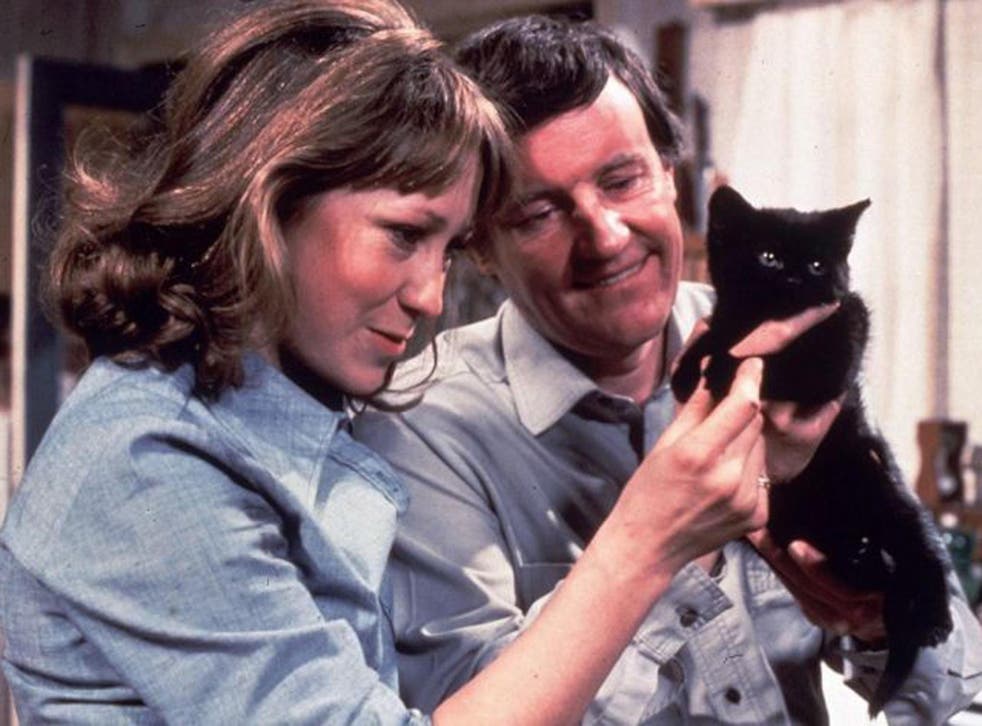 Richard Briers will always be remembered as the affable, charming and ever-optimistic Tom Good in the Seventies BBC sitcom The Good Life. Playing opposite Felicity Kendal as his wife Barbara, they were the couple who tried to become self-sufficient in suburbia, encouraged and supported by their friends and neighbours the Leadbetters (Paul Eddington and Penelope Keith).
An adaptable actor, he was equally at ease in comedy and in Shakespeare, doing voiceover, on stage or on television. But it was comedy that he saw as his "first gift", explaining in a later interview that, "I have played straight drama, which I love, but I eventually miss doing comedy because we are in such miserable times. And I do feel that my purpose in life is to cheer people up."
Briers was born in 1934 in Merton, south London, the son of a mathematician and a concert pianist. "I think the mathematics and the music gave me a gift for rhythm and timing," he later said. He grew up in Raynes Park and attended Rokeby Preparatory School in Kingston, leaving at the age of 16 without any qualifications. After a short period as a junior clerk, he joined the RAF for national service at Northwood.
Although he saw no flying, or indeed any other military action, from his desk job, it was there that he met the actor Brian Murphy, who introduced him to the drama society at Borough Polytechnic Institute (now South Bank University).
Soon bitten by the acting bug, Briers joined the Royal Academy of Dramatic Arts in 1954 and studied there for two years, meeting "...actors such as Peter O'Toole and Albert Finney who, unlike me, were natural talents. But I worked hard and slowly began to get it and by the time I left I'd got pretty good, particularly at comedy."
Briers made his West End debut in Lionel Hale's comedy Gilt and Gingerbread at the Duke of York's theatre in 1959. It was whilst on stage that he was spotted by Frank Muir and Denis Norden, who gave him the role of the student barrister Roger Thursby in Brothers in Law (1962). The following year, he starred with Prunella Scales in the sitcom Marriage Lines, which ran for 45 episodes over the next four years.
In the early Seventies, Briers was the narrator for Roobarb and Custard, one of those delightful 5-minute animated series written for children but much watched by adults, which ran before the evening news.
The writing team of John Esmonde and Bob Larbey had already made their name with Room at the Bottom (1966) and Please Sir! (1968) when they were asked to work on a sitcom specifically with Briers in mind. As Larbey said in a 2010 interview, "James Gilbert, the head of comedy at the BBC, was looking for something for Richard. He's a super actor and he hadn't done a sitcom for some time and they wanted him back, so they asked us if we could think of something for him. So we met him and got on instantly." They were inspired by the idea of a man turning towards middle age. They happened upon the idea, Larbey said, of "A man who's turned 40 who's not happy with things, so what does he do about it? We just tacked on self-sufficiency as a way out."
Commenting on the enduring popularity of The Good Life, Larbey remarked, "I think it just struck a chord, not in terms of making everybody want to be self sufficient, but it just fed that little bit of all of us that wants to opt out, to become independent."
Interviewed last year, Briers said of the programme, which ran from 1975 to 1978, "I actually didn't think the series was going to be successful when I first read the script. I worried that it was all a bit mundane and middle class. But the moment that my character, Tom Good, leaves his job as a draughtsman for a company that makes plastic toys for cereal packets and attempts to live off the land in Surbiton, he becomes much more interesting."
During the mid to late Eighties, it was in the role of Martin Bryce in Ever Decreasing Circles that Briers delighted television audiences. Again written by the duo of Esmonde and Larbey, he played a middle-aged man at the heart of his local community who imagines himself in competition with his neighbour and rival, Paul, played by Peter Egan.
"Martin was his favourite character," said Egan, "because Ever Decreasing Circles dealt with the dark side of suburbia as well as the obsessive. Whilst Tom in The Good Life was ever the optimist, Martin was the obsessive pessimist. Richard thought of himself as a 'Mr Anorak'."
Briers joined Si r Kenneth Branagh's Renaissance Theatre Company in 1987 and featured in nine Shakespeare film productions, including Malvolio in Twelfth Night (1988) and Polonius in Hamlet (1996). Branagh described him as "a national treasure, a great actor and a wonderful man. He was greatly loved and he will be deeply missed."
In Monarch of the Glen (2000), he played Hector MacDonald, the eccentric laird, who is blown up in the tenth episode whilst fishing with dynamite. In a discussion following the demise of his character in 2001, he recalled, "I had to be immersed in the loch and the unit warned me, being the oldest member of the company, that when I got into the loch it would be very cold and I would shiver. A few minutes later, I was told I would spasm and then be calm. I replied that was good news and she replied, 'no, then you die!'"
Briers was awarded OBE in 1989 and a CBE in 2003 for services to drama.
He had been diagnosed with lung disease in 2008, the result of smoking what he estimated as some 500,000 cigarettes during his lifetime. "The ciggies got me," he said. "I stopped ten years ago, but too late. If you do it in your 30s, you're OK, but after 30 it gets you. I was diagnosed five years ago and didn't think it would go quite as badly as it has. It's a bugger, but there it is. I used to love smoking."
His agent, Christopher Farrar, said in tribute, "Richard was a wonderful man, a consummate professional and an absolute joy to work alongside. Following his recent discussion of his battle with emphysema, I know he was incredibly touched by the strength of support expressed by friends and the public. He has a unique and special place in the hearts of so many."
Gregor Sharp, the BBC's executive edi tor of comedy, told The Independent: "For anyone who loves comedy, and British sitcom of the 70s and 80s in particular, Richard Briers will always have a very special place in the heart. He brought not only a formidable technical expertise to all his roles, but underpinning that, an innate warmth which marks out those performers with whom the public forms a special bond. In sitcom he'll be remembered chiefly for the enduring classic The Good Life, but he made every role his own, from the most high profile mainstream lead to the lowliest voiceover job."
Richard Briers, actor: born Merton, London 14 January 1934; married 1957 Ann Davies (two daughters); died London 17 February 2013.
Join our new commenting forum
Join thought-provoking conversations, follow other Independent readers and see their replies