Robin Gibb: Bee Gees singer and songwriter whose work fuelled the disco revolution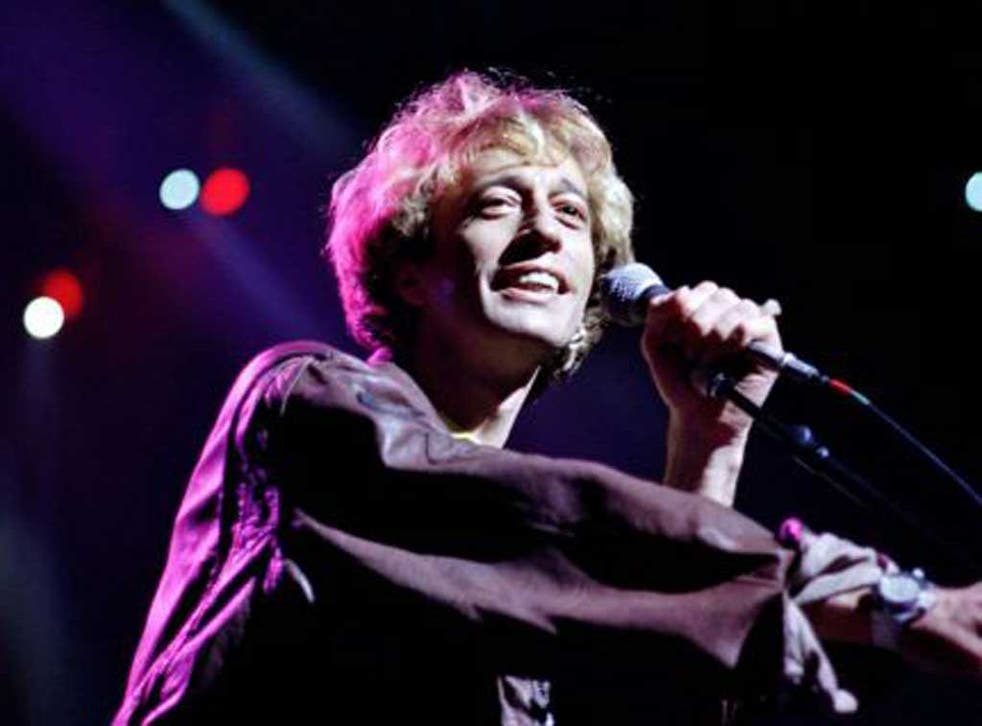 Second only to the Beatles in the annals of popular music, the Bee Gees have sold over 200 million records and scored No 1s as performers and writers across five decades, a feat that is likely to remain unmatched in the digital age. The family group made a masterful transition from Sixties pop balladeers to standard bearers of the Seventies disco phenomenon and soundtracked the lives of several generations of club-goers and radio listeners.
Save for a 15-month period in the late 1960s, Robin Gibb was a constant in the family group alongside his older brother Barry and his twin brother Maurice. He co-wrote and sang lead on many of the Bee Gees' '60s hits, including their international breakthrough, the haunting "New York Mining Disaster 1941", as well as the UK chart-toppers "Massachusetts" and "I've Got To Get A Message To You". His distinctive vibrato gave the baroque psychedelia of "Holiday" and "I Started A Joke" an eerie, ethereal quality which quickly ended the Beatles comparisons that had greeted the group's emergence.
The Bee Gees had intended to pitch some of their early compositions, the yearning "To Love Somebody" and "I've Got To Get A Message To You", to Otis Redding and Percy Sledge respectively, so their inspired reinvention as a blue-eyed soul trio under the aegis of producer Arif Mardin with the Mr. Natural album in 1974 wasn't that surprising a departure. It paid dividends as, following a three-year absence, they returned with the infectious, irresistible grooves of "Nights On Broadway", "Jive Talkin'" and "You Should Be Dancing".
In 1977, their songwriting and recording contributions to the Saturday Night Fever soundtrack helped the film, produced by their manager Robert Stigwood, take more than 100 times its $2.5m budget. The double album sold 40m copies and spawned a further six Bee Gees-penned hit singles, four by the group, "How Deep Is Your Love?", "Stayin' Alive", "Night Fever" and "More Than A Woman", also recorded by Tavares, and "If I Can't Have You" by their RSO labelmate Yvonne Elliman.
In the late '70s they topped the US charts again with "Too Much Heaven", "Tragedy" and "Love You Inside Out", survived the Sgt Pepper's Lonely Hearts Club Band film débâcle and were lampooned for their hairstyles, shiny teeth and tight white suits by Kenny Everett as well as The Hee Bee Gee Bees parody band with their "Meaningless Songs (in Very High Voices)". They also took the brunt of the disco backlash that turned US radio against them.
In 1980, Robin co-wrote and co-produced the transatlantic hit "Hold On To My Love" for the Motown veteran Jimmy Ruffin, inaugurating a decade that would see the brothers triumph as composers across genres. They penned "Guilty" and "Woman In Love" for Barbra Streisand, "Heartbreaker" and "All The Love in The World" for Dionne Warwick, "Islands In The Stream" for Kenny Rodgers and Dolly Parton and "Chain Reaction" for Diana Ross – and eventually scored another No 1 in their own right in 1987 with "You Win Again".
The group's hold on the charts continued after Maurice's death in 2003, as myriad acts – Take That, Boyzone, Wyclef Jean, Faith No More and Steps, to pick five of 6,500 cover versions – revisited their classics. Several generations of fans purchased Number Ones and The Ultimate Bee Gees collections as well as the Mythology box set which also included the material the trio had composed for their younger brother Andy (who died aged 30 in 1988).
The Bee Gee with the highest profile in Europe, Robin enjoyed solo success with "Saved By The Bell" in 1969, the electropop of "Juliet" (1983), co-written and co-produced by Maurice, and "Please" in 2002. In recent years, he campaigned for copyright protection, appeared as a judge on Fame Academy and guested with acts associated with reality TV shows. In 2009 he returned to the top of the charts as backing vocalist alongside Sir Tom Jones on a new version of the Gibbs' "Islands In The Stream" recorded by Ruth Jones and Rob Brydon for Comic Relief.
Born in Douglas in 1949, 35 minutes before Maurice, Robin was the son of Hugh Gibb, a drummer and bandleader, and Barbara Pass, a former dance band vocalist who did her best to keep the children on the straight and narrow (their older sister Lesley was born in 1945, a year before Barry). In 1953, the Gibbs relocated to Manchester. Within a couple of years, Barry, Robin and Maurice began honing the three-part harmonies that would become one of their trademarks. They performed at the intermission in local cinemas, when they weren't making mischief – "I was a bit of a firebug," Robin admitted. The threat of reform school, along with better job prospects for Hugh, proved deciding factors in their parents' decision to emigrate to Australia in 1958.
Barry, Robin and Maurice took to their new surroundings and appeared at speedways and clubs in Queensland. This brought them to the attention of Bill Goode, a racetrack promoter, and his friend Bill Gates, a Sydney disc jockey, who featured them on his radio show in 1960. Soon Barry Gibb & the Bee Gees made their TV debut, singing and goofing around like the Goons. Hugh quit his job as a photographer to manage his sons and helped turn them into all-round entertainers. "We had to perform for grown-ups so our dad would have us do songs by the Mills Brothers," Robin recalled. "But, at the same time, we did contemporary stuff like Roy Orbison songs, with his near-operatic falsettos. I loved to do 'Cryin''."
In 1963 they signed to Leedon Records and over the next three years issued a dozen singles and an album, mostly written by the precocious Barry. After switching to Nat Kipner's Spin label and hooking up with the producer-engineer Ossie Byrne, they scored their first major Australian hit, "Spicks And Specks", in the autumn of 1966, and decided that a move back to Britain was the best way to further their career.
Their father sent copies of their records to London agents including Stigwood, an Australian who managed Cream and had recently engineered a short-lived merger of his operation into Brian Epstein's NEMS. Stigwood liked what he heard, noted Robin's unusual vocal on "I Am The Word", the B-side of "Spicks And Specks", and in February 1967 signed the Bee Gees to a five-year contract. He placed the group with Polydor in Europe and the Atlantic subsidiary Atco in the US and proclaimed them "The Most Significant New Talent Of 1967". He also milked the Beatles connection by sending white label copies of "Mining Disaster" from the NEMS office.
With the addition of drummer Colin Petersen and guitarist Vince Melouney the Bee Gees became a quintet for the next two years, four albums and half a dozen hits, until Robin fell out with his brothers and Stigwood when the Barry-voiced "First Of May" was given A-side status over his own lead, "Lamplight". He left the group in February 1969, just before they issued their most ambitious album, the double set Odessa, inspired by the mutiny on the Potemkin. Robin was not yet 21 and dabbling with drugs, and his parents considered making him a ward of court.
He struggled to follow up "Saved By The Bell", whose No 2 chart placing had matched Barry and Maurice's "Don't Forget To Remember" in summer 1969, and rejoined the Bee Gees a year later. "There were a lot of ego problems at the time ... We were just becoming adults and looking to be free of each other. We needed time apart. If we hadn't been brothers, we would probably never have gotten back together," he later remarked. "We came back as men." However, the creative renewal that in 1971 produced "Lonely Days", the sublime "How Can You Mend A Broken Heart?" and the Trafalgar album – another example of Robin the history buff – proved short-lived and they floundered.
Mardin encouraged the move away from ballads towards more R&B- flavoured uptempo material, helped Barry find his falsetto voice and left the brothers to helm the albums that followed 1975's Main Course. Maurice was battling alcoholism and had taken a back seat while Barry and Robin did the lion's share of the writing but on 1976's Children Of The World, he contributed as much as ever.
The group moved from Criteria Studios in Miami to the Château d'Hérouville in northern France, where they cut several tracks which ended up on Saturday Night Fever. "The songs were actually written before the film was even mentioned to us," Robin said. "Stigwood wanted to call the film Saturday Night. And we already had "Night Fever". We told him we didn't like the title Saturday Night, and he said he didn't want to call the movie just Night Fever. So he thought it over for a while, called us back and said: "OK, let's compromise. Let's call it Saturday Night Fever. Nobody had any clue it was going to be big. "
The Bee Gees appeared in danger of becoming a vehicle for the older Gibb brother by 1979's Spirits Having Flown. Once the possessor of the group's most recognisable voice, Robin only sang lead on one track, "Living Together", but he and Maurice reasserted themselves on Living Eyes, the flop album that marked the end of their 15-year relationship with Stigwood in 1981.
Yet when the Bee Gees returned to the studio to make E.S.P. in 1986, Robin and Barry were at loggerheads once more. Robin had tasted solo life again with three albums – How Old Are You?, Secret Agent and Walls Have Eyes – that had repositioned his pleading voice in a contemporary synthpop setting and sold well across Europe, and repeatedly walked out of the studio. With Maurice acting the peacemaker once more and Mardin back as co-producer, the Gibb brothers resumed their storied career as pop's most enduring trio.
They would hit commercial lows again – the albums One (1989), High Civilization (1991) and Size Isn't Everything (1993) – but also make remarkable returns to form – Still Waters (1997), This Is Where I Came In (2001) – as they entered their fifth decade. In 1997, the Bee Gees were inducted into the Rock and Roll Hall of Fame to the annoyance of some purists who hadn't factored in the joy they had brought hundreds of millions. Robin and his brothers were made CBEs in 2002.
Robin Gibb didn't always make headlines for his musical and charitable endeavours. In October 1997, he followed Barry in walking off the Clive Anderson All Talk chat show on BBC One when the host cracked a series of jokes at their expense. In 2006, he was criticised for letting Tony Blair stay at his Miami villa while he was still Prime Minister. In November 2008, he fathered a child with his housekeeper, who moved out of the 12th century Oxfordshire mansion he shared with second wife. In the last 18 months Gibb had struggled with cancer of the colon and of the liver.
Earlier this year he released The Titanic Requiem, composed with his son Robin-John and recorded by the Royal Philharmonic Orchestra to mark the 100th anniversary of the sinking of the Titanic. In interviews he recalled November 1967, when he and his first wife survived the Hither Green train crash in South London.
"It haunts me to this day. It changed me for ever," he said. "Forty-nine people were killed and many hundreds more were injured, some of them terribly. I don't wish to go around saying that I understand the Titanic tragedy because I lived through Hither Green, but I do think it is easier for me to walk in the shoes of the people who were on the Titanic. I've experienced some of what they experienced and there is some level of empathy. I have seen the terrible fragility of human life. I have felt this more sharply than ever in recent months."
Robin Hugh Gibb, singer, songwriter: born Douglas, Isle Of Man 22 December 1949; CBE 2002; married 1968 Molly Hullis (divorced 1980; one son, one daughter); 1984 Dwina Murphy (one son); one other son; died London 20 May 2012.
Join our new commenting forum
Join thought-provoking conversations, follow other Independent readers and see their replies