Samantha Juste: 'Disc maid' on 'Top of the Pops' who wrote for teenage girls and launched a range of fashion and jewellery
Thursday 20 February 2014 00:00
comments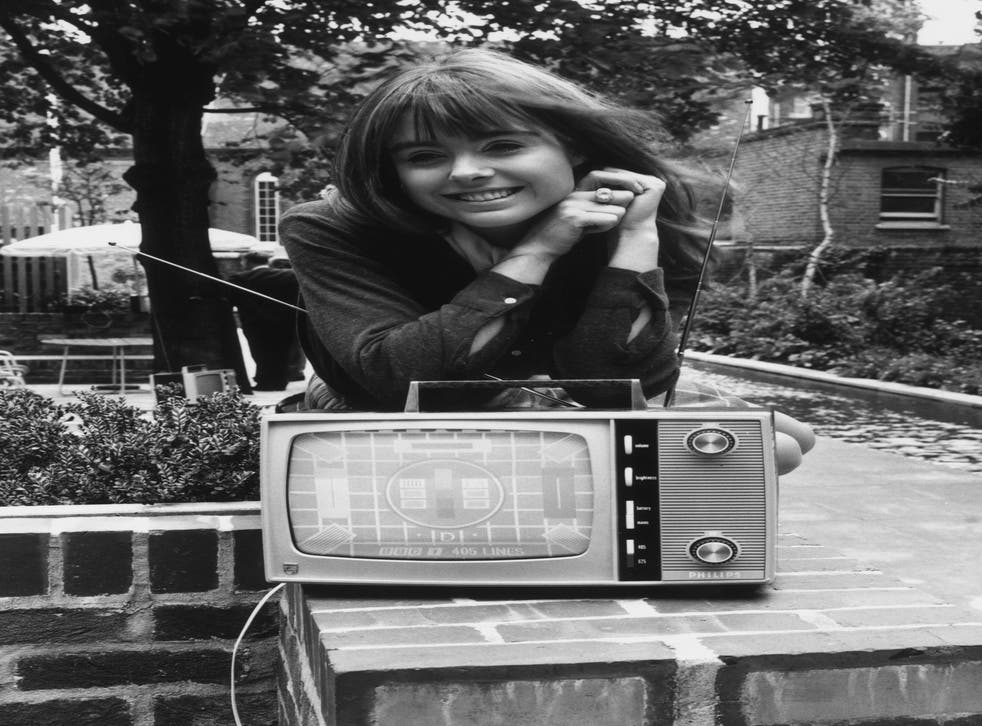 Tall, long-haired and beautiful, Samantha Juste was one of the faces of the swinging Sixties through her appearances on the television show Top of the Pops, a fleeting attempt at a singing career, and her subsequent marriage to Micky Dolenz of the Monkees in 1968.
"I was the TOTP disc maid. That was how my contract described me," Juste told Ian Gittins, the author of Top of the Pops: Mishaps, Miming and Music. For four years, Juste was employed to sit next to presenters Alan Freeman, David Jacobs and Pete Murray, put singles on a turntable and drop the needle on the record before acts such as the Hollies, the Searchers or the Swinging Blue Jeans mimed to their latest hit, but her poise and presence made her a favourite with viewers, co-hosts and performers, as she smiled, danced and flirted with the live audience.
Dolenz was certainly smitten with Juste when he and fellow Monkee Mike Nesmith appeared on the programme in February 1967 to accept a silver disc for the chart-topping "I'm a Believer". He enthused about "her unbelievably gorgeous legs" and "that haughty sophistication that only the British can do so well", and they soon began dating.
Their relationship attracted headlines such as "Samantha Traps Monkee" and "Pop's Girl Goes Ape" and partly inspired the Dolenz composition "Randy Scouse Git", which also made lateral references to the Beatles. The song title came from a recurrent phrase in the BBC sitcom Till Death Us Do Part but was considered too fruity for a group with a teenage following; renamed Alternate Title, it reached No 2 in the UK singles charts in the summer of 1967.
The Transatlantic storybook romance between the TOTP disc-spinner and the cheeky drummer and vocalist with the Monkees blossomed and they married in July 1968, after the manufactured group's television series was cancelled and the four completed Head, the ill-received, stream-of-consciousness movie that did for their career until the mid-80s.
The couple had a daughter, Ami, in 1969, but divorced in 1975. "I just didn't want to turn into someone who was bitter," Juste said of the lifestyle that took its toll on the relationship as Dolenz partied with John Lennon, Ringo Starr, Harry Nilsson and Alice Cooper at their Hollywood home and recording studio.
Born Sandra Slater in Manchester in 1944, she studied textile and dress design at Rochdale college of art and became a teenage model under the name Samantha Juste. By 1964, she was working for Cecil Korer, the assistant producer to TOTP creator Johnnie Stewart.
First broadcast from a converted church in Rusholme, Manchester, in January 1964, TOTP was the BBC playing catch-up with ITV whose own London-based pop programme Ready Steady Go!, launched five months earlier, had made a star of its main presenter Cathy McGowan. Typically, the then less-enlightened BBC relied for TOTP on an all-male line-up with the easy-on-the-eye Juste taking over from the first "disc girl", Denise Sampey.
Throughout the Seventies, the female dance troupes Pan's People and Legs & Co featured heavily on TOTP , but the show didn't feature a female host until the end of 1982 when the disc jockey Janice Long was added to the presenting line-up.
Despite her peripheral and decorative role, Juste caught the imagination of television viewers and became a celebrity. She was photographed with Jenny and Pattie Boyd, Twiggy, and Chrissie Shrimpton, and in 1965 she appeared in Richard Lester's swinging London comedy The Knack ... and How to Get It.
TOTP 's move to London in 1966 enabled her to make the most of the opportunities that came her way, and she was able to develop her own range of ready-to-wear and ready-to-sew Samantha Fashions. At the end of 1966, she recorded the wistful ''No One Needs My Love Today'', and performed the single on TOTP , but despite heavy promotion on the pirate station Radio London, it failed to chart.
Juste wrote a beauty column in 16 magazine and was also a regular in another teen publication, Fabulous 208. Following her divorce from Dolenz, she started another fashion business in California and later taught design in Ireland.In recent years, she launched an online jewellery business in partnership with her daughter. She suffered a stroke and died in California.
PIERRE PERRONE
Sandra Slater (Samantha Juste), model and fashion designer: born Manchester 31 May 1944; married 1968 George Michael 'Micky' Dolenz (marriage dissolved 1975; one daughter); died Los Angeles 5 February 2014.
Join our new commenting forum
Join thought-provoking conversations, follow other Independent readers and see their replies