Sir Fergus Montgomery: Right-wing MP who served as Thatcher's PPS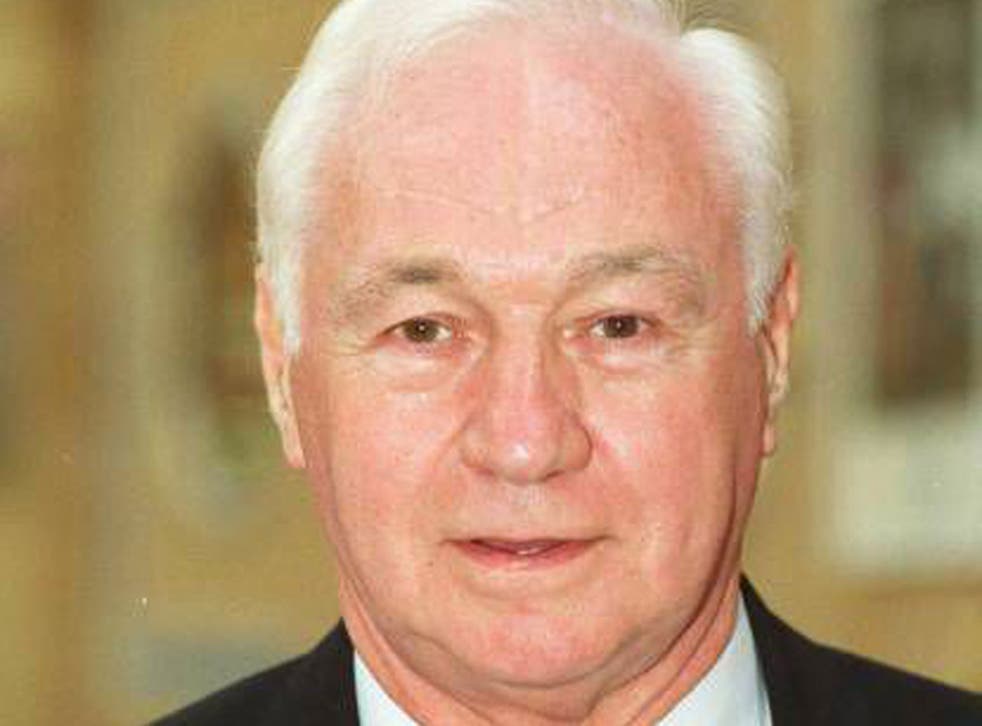 Sir Fergus Montgomery, the former Conservative MP, was Margaret Thatcher's Parliamentary Private Secretary (1973-74) when she was Education Secretary and again (1975-76) when she was leader of the party in opposition. Thereafter he regularly invoked and traded on his relatively short time as Thatcher's aide.
Montgomery was a distinctive type of Tory. The party he joined at Westminster was overwhelmingly a party of toffs, public school– and Oxbridge–educated, and plutocratic, particularly in the ranks of the leadership. Nearly a third (93) of Tory MPs elected in 1959 had been to Eton or Harrow. Montgomery had none of this background but never seemed abashed. He was born in Hebburn, Co Durham in 1927 to a shopkeeper father and nurse mother; both were of Irish extraction. He attended the local Hebburn Methodist Elementary school and then Jarrow Grammar. He completed his national service in the Navy before gaining a teaching certificate at Bede College, Durham.
He would make today's Conservative modernisers shudder, expressing authoritarian right-wing views on many of the social and lifestyle issues of the day. During the 1970 General Election he praised Enoch Powell for raising (!) the issue of race, a stance that did not endear him to the party leader, Ted Heath. He opposed Commonwealth immigration, abortion and sanctions against the independent Rhodesia regime under Ian Smith, and demanded that the Moors murderers should never be released from prison (the mother of one of the murdered children was a constituent), and was broadly supportive of apartheid South Africa. As a supporter of the police it was a surprise when he was one of a handful of Tory MPs who voted against their government's plans to allow plain clothes policemen to entrap homosexuals.
Montgomery had joined the Conservatives in 1945 and combined schoolteaching with work as a local Conservative councillor. He became national chairman of the Young Conservatives in 1957, a time when the organisation had over two million members. The background helped him to be selected for, and win, Newcastle East in 1959, the first Conservative to win the seat. But with a majority of only 98 he lost the seat in the 1964 election which returned Labour to power.
He was a much-travelled MP, representing two further constituencies. In 1967 he moved to the Midlands in search of a winnable seat and won Brierley Hill at a by-election in 1967. He lost it when it had been reorganised as West Dudley in the election of February 1974. He was then fortunate to succeed the former Tory Chancellor Tony Barber in Altrincham and Sale, which he won in October 1974. It was one of the safest Tory seats in the north-west, and in Hale and Bowdon (where he lived) it included two of the five highest-status small towns in England. When he returned to the Commons he was one of those who pressed Margaret Thatcher to stand against Ted Heath for the leadership. His attempt to organise her leadership campaign made little progress until Airey Neave took over.
With his sturdy physique, white hair, red face and Geordie accent he was a readily recognisable figure. In his House of Commons interventions he came across as "Mr Angry", but in private he was charming and sociable and enjoyed the company of theatre and showbusiness people, and in his 70s he was singing on stage at Tory conference revues. He opposed the attempts of the Inland Revenue to abolish the self-employed status of status of actors and actresses.
In 1995 he announced his intention to stand down at the next general election and did so in 1997, aged 70. When he retired he was one of only three Conservatives remaining from the 1959 Conservative intake; he had been an MP for 36 years, 27 of them on the government benches, and a doughty spokesman for his constituency. But he never held even the humblest ministerial post, despite his association with Thatcher. Colleagues and commentators judged his career to be a disappointment. Was it lack of ability, as some claimed, or was there something else that had held him back and why had he resigned so abruptly as the leader's PPS in 1976?
Sir Fergus claimed in 1996 that he had been forced to resign 20 years earlier because of revelations that he had been a friend of John Vassall, who had been arrested and imprisoned in a sex-and-spies case in 1962, a case that made headlines at the time. Vassall was a clerk in the British Embassy in Moscow and a homosexual who had been entrapped by the Soviets in a sex scandal and was blackmailed into passing secrets. At the time homosexual behaviour was illegal in Britain. Soon afterwards a government minister, John Profumo, was forced to resign in another sex and (apparent) spy scandal. Harold Macmillan's government never fully recovered.
Following his resignation as her PPS, Thatcher remained a good friend and he loyally supported her. In 1977 he was arrested and found guilty of stealing two books from an Army & Navy Store but was acquitted on appeal, the grounds being that he had been affected by taking an excessive amount of prescribed medication to help him slim; again the party leader was a prominent supporter. In Parliament he served on various Conservative and House of Commons committees and was an energetic spokesman for his constituency and Trafford. He was knighted in 1985.
He acted as an adviser for various companies and was President of the National Association of Bookmakers. In retirement he was President of the Campaign Against Age Discrimination and lectured frequently on his time as Thatcher's PPS. In 1971, having been an MP for some years, he married Joyce Riddle, a teacher and Greater Manchester Conservative councillor. There were no children.
Dennis Kavanagh
William Fergus Montgomery, teacher and politician: born Hebburn, Co Durham 25 November 1927; MP for Newcastle upon Tyne East 1959–64, Brierley Hill 196-74, Altrincham and Sale 1974–97; PPS to Secretary of State for Education and Science 1973–74, to Leader of the Opposition, 1975–76; Kt 1985; married 1971 Joyce Riddle; died 19 March 2013.
Join our new commenting forum
Join thought-provoking conversations, follow other Independent readers and see their replies