Squadron Leader Ulric Cross: Pilot who went on to become a judge and diplomat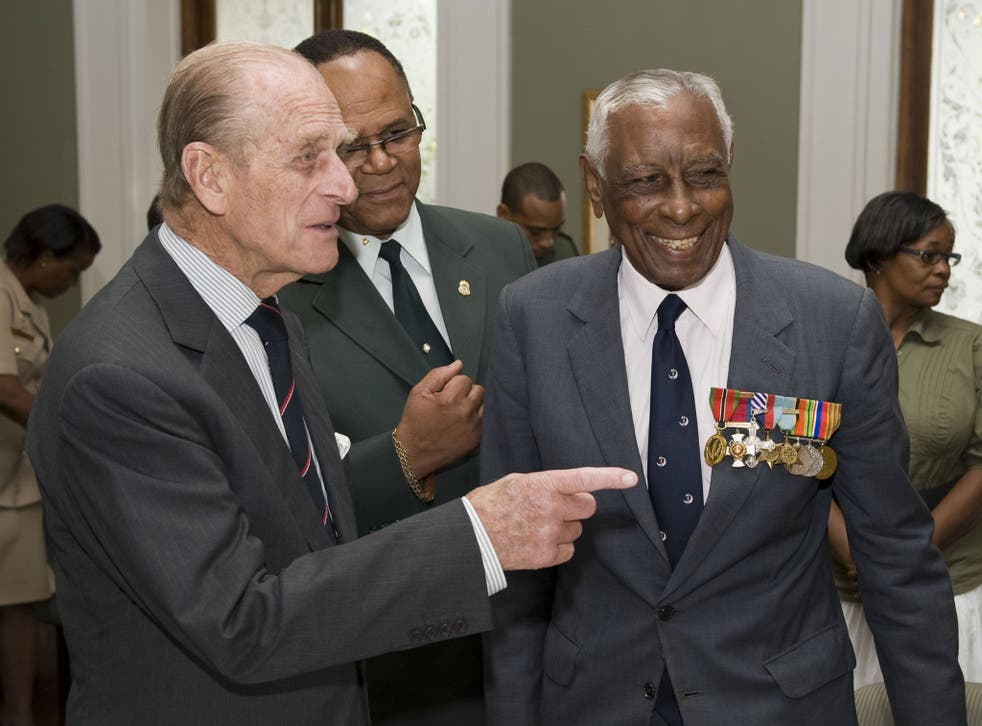 In 1990, when Ulric Cross was interviewed in BBC television's discussion programme Hear-Say, he explained that he joined the Royal Air Force in 1941 because he was "young, adventurous and idealistic." He said his recruitment enabled him to escape his homeland, Trinidad, where he hated "the frustrations and the stultifying nature of colonial society". He also said that in addition to defeating Hitler, for him "the whole idea of being a member of the RAF was romantic."
He was born Philip Louis Ulric Cross in Port of Spain, Trinidad in 1917 to Reginald and Maud Cross. At the age of 11 he qualified for free secondary education. At 14 he wrote his name as "Flight Lieutenant Cross DFC" in the flyleaves of two of his school books: Kennedy's Latin Primer and Shakespeare's As You Like It. He explained in Hear-Say: "To me that was the height of anybody's ambition, to be a Flight Lieutenant in the Royal Air Force and to get the DFC. Most of my friends thought I was mad!"
Cross volunteered for the RAF after he witnessed the defeat of the British at Dunkirk in 1940, and saw that the Nazis were continuing to gain power across Europe. At the start of the war many black colonials who volunteered for the RAF were turned away, but after the Battle of Britain in 1940 the RAF realised they had to change and move with the times. In 1941, with 250 other Trinidadians, Ulric crossed the Atlantic Ocean to start his training at RAF Cranwell at Sleaford in Lincolnshire. Of the 250, 52 were killed in action. In spite of flying on 80 bombing missions to Germany and occupied France, Ulric survived and he has been described as the highest ranking and one of the most distinguished West Indian airmen in the Second World War.
During his training Cross learnt such skills as wireless operation, meteorology, bomb aiming, navigation and Morse code. After he graduated as a pilot officer he was assigned to Bomber Command. He served as a navigator in the 139 (Jamaica) Squadron. Cross was the only West Indian in the squadron, but he said it was very cosmopolitan and included Polish, Indians, English, Welsh, Scottish, Scandinavians and Dutch.
When the RAF realised that 80 per cent of their bombs missed their targets, they established a Pathfinder Force to guide the bombers. Cross joined them and in 1999 he told Sean Douglas of the Trinidad Express: "We dropped flares over the target and bombers coming after us would then bomb our flares...I did 80 operational flights over Germany, including 21 to Berlin... When the flak starts coming at you and you are 'coned' in a searchlight you feel fear. But your job is to get to the target on time and that is what you are preoccupied with."
After enemy flak destroyed one of his plane's two engines, Cross was almost killed when the plane crash-landed. "We flew home over the whole of Germany on one engine at just 7,000 feet at a reduced speed," he said.
In 1943 Cross made an appearance in the short propaganda film West Indies Calling. This was produced by the Ministry of Information to show how West Indians in Britain were involved in the war effort. In 1945 the London-based League of Coloured Peoples noted in one of their newsletters that the recent awards to Ulric of the Distinguished Flying Cross in June 1944 and the Distinguished Service Order in November 1944 was "a joy to every West Indian heart." They also informed their readers that Cross had been appointed the first liaison officer for West Indians in the RAF.
After the war Cross studied law at Middle Temple, London and was called to the Bar in 1949. He later became a Talks Producer with BBC radio from 1953-57. After Ghana became independent in 1956 he went there to work in the Attorney General's Office (1958-1960) and then to West Cameroon (1960-1966) as Senior Crown Counsel and Attorney General. In 1967 he became a High Court judge in Tanzania, a post he then took up in Trinidad in 1971. Cross served as High Commissioner for Trinidad and Tobago at the Court of St James's from 1990-1993.
Cross was interviewed about his RAF service in BBC Radio 2's The Forgotten Volunteers (2000) and Steven Hatton's acclaimed film Into the Wind (2009). A documentary by Frances-Anne Solomon, inspired by his life, is currently in production. In 2011 Cross received the Order of the Republic of Trinidad and Tobago, the nation's highest award.
Reflecting on his experiences of wartime Britain for Mike Phillips and Trevor Phillips in their book and BBC TV documentary Windrush (1998), Cross said: "the strange thing is that when you're really young you feel immortal. That may well be a defence mechanism, but you do feel immortal, and you knew that obviously the possibility existed, that every time you got up in an aeroplane and flew over Germany you wouldn't come back. But the young feel they will live forever...And I felt I was doing the right thing in trying to stop Hitler...for myself, this was a tremendous adventure and I was doing it for the right reasons."
In retirement he had been living with his daughter Nicola in Port of Spain.
Stephen Bourne
Philip Louis Ulric Cross (Ulric Cross), airman, judge and diplomat: born Port of Spain, Trinidad 1 May 1917; DFC, DSO 1944; married Ann (two daughters, one son); died Port of Spain 4 October 2013.
Join our new commenting forum
Join thought-provoking conversations, follow other Independent readers and see their replies