Tanya Schmoller: Penguin Books devotee who was PA to its co-founder Allen Lane and later a historian of graphic art
She set out to create a complete set of every book that bore the famous Penguin logo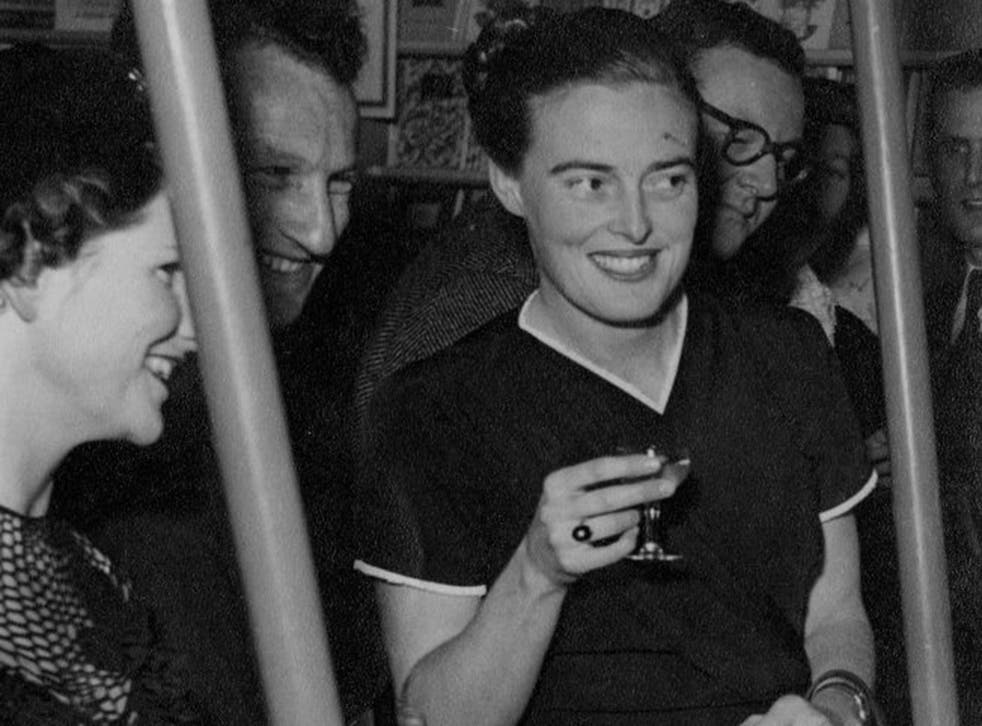 Any visitor to Allen Lane at Penguin Books any time after 1945 was likely to meet his personal assistant, a tall, dark handsome woman, with a trace of an indefinable accent. This was Tanya Kent, whom Lane had met in Uruguay when visiting Montevideo bookshops in 1944.
Struck by her knowledge of the Pelican list, he asked her what she planned to do. "Go to the LSE," she said. "I'll offer you a job, and you can go to evening classes," he replied, and she accepted on the spot. A circuitous journey took her by air to Halifax, and thence by sea to Southampton, arriving on 27 September 1945.
The Penguin offices were in Harmondsworth, where she started on £6 a week. She lived nearby with the Lane family at Silverbeck. She was as ready to work on Lane's farm as to write letters for him, working 8-6 at the office and often on into the evening. Lane came to value her judgement on books, people and any project that came his way.
She never asserted herself, but her opinions were firm and crisply expressed. She became a reader (especially of Spanish books), and an editor in her own right. She met the authors of Pelican books, among them Karl Popper, her teacher at the LSE. She also did evening classes at the London School of Printing.
In 1949, Hans Schmoller came to Penguin to succeed the legendary Jan Tschichold as chief designer, and Tanya and he were married the next year. She had already become second mother to his small daughter (his first wife had died in 1948), who was now joined by a son, Sebastian.
In between bringing them up, Tanya kept her connection with Penguin, in 1958 resuming work to take charge of Lane's correspondence. This was a formidable task during the furore over the Lady Chatterley's Lover trial in 1960, from which Penguin emerged victorious. She continued to work closely with Lane until his death in 1970.
Tanya and Hans had come to Penguin from distant places. He was an exile from Germany who ended up running the French Protestant Mission Press in Basutoland; she had travelled from Uruguay, where she was born in 1918. Her mother, who was English, had arrived in Uruguay to live near her sister, who was married to a quarry-company engineer; and her father was a Russian exile who had studied at Heidelberg University and worked in the local store at Conchillas, across the River Plate from Buenos Aires. The owner of the store paid for Tanya's education at the British School in Montevideo, where she was a star pupil.
She left school at 17 to help her parents financially, working first in Buenos Aires, and then for the Uruguayan railways, whose manager doubled as an MI5 representative; her work included steaming open letters addressed to suspicious persons, and even forging a passport.
A protest against the forced expulsion of two Jewish children from her former school brought her close to the British Council representative, who offered her a job. In this role, it fell to her to guide Lane, who was exploring the South American market – and who made her the offer that changed her life.
Tanya continued to work for Penguin, sharing Hans's passion for decorated papers (the patterned designs used as wrappers and endpapers for books), past and present – his own gift for them evident in many Penguin covers. They were much involved in the Complete Pelican Shakespeare (1969-72), Hans its designer, Tanya reading all the proofs. She retired in 1975.
The couple lived at Steading, a house on the Thames, which gradually filled with Penguins. This pursuit became a quest to create a complete set of every book that bore the Penguin name and famous logo. This they very nearly achieved – and in 1979 they gave the collection to the LSE, a fitting end to an association begun 40 years previously.
In 1985, the Fifty Penguin Years exhibition opened at the Royal Festival Hall, and soon after, on 25 September that year, Hans died.
Tanya then began a third career, as a collector and historian of decorated paper. In 1988 she moved to Sheffield, where her son lived, and found a welcome interest in decorated papers at Manchester Metropolitan University, to which she gave the Schmoller collection. She travelled by train to continue work on it until 2008, when the University gave her an honorary degree on her 90th birthday, an event celebrated in an exhibition, To Brighten Things Up, the same year.
This was not all. She was deeply involved in local affairs, especially the Labour Party. She studied at the Open University, graduating BSc in 1999 and BA in 2003, by then aged 85.
She wrote articles on decorated paper in Matrix and others on the paper and book trade in the north of England, and in 2008 a memoir, Penguin Days. She was a vigorous grandmother and great-grandmother, and kept in touch with a wide circle of friends, including many all over the world who shared her interest in decorated paper. By them, and by all those who come to use the Schmoller collection, she will always be remembered.
NICOLAS BARKER
Tanya Schmoller, Penguin editor and collector of decorated paper: born Conchillas, Uruguay 3 March 1918; married 1950 Hans Schmoller (one step-daughter and one son); died Sheffield 14 January 2016.
Join our new commenting forum
Join thought-provoking conversations, follow other Independent readers and see their replies