Terry Clawson: Rugby league hard man who won the 1972 World Cup
He enjoyed the reputation of being hard to handle, and he liked to get his retaliation in first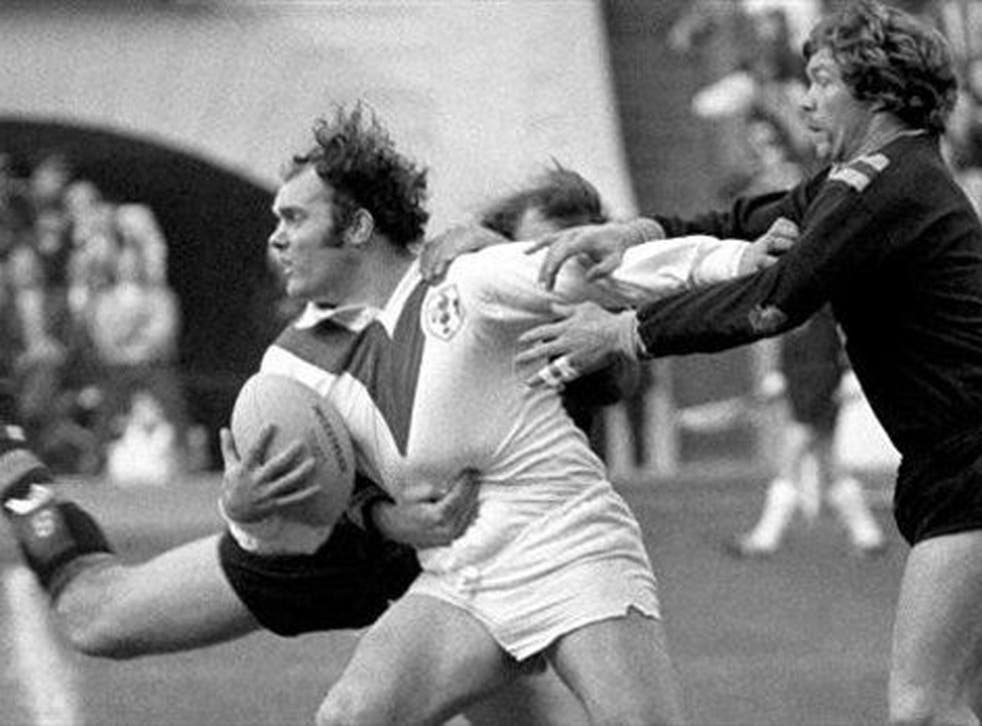 Terry Clawson played professional rugby league with great distinction in four different decades, from the 1950s to the start of the 1980s. He also played for eight different English clubs, some of them more than once, but his finest hour undoubtedly came while representing Great Britain in the 1972 World Cup.
Clawson's was a style of player now virtually extinct in the modern game. Not only was he a skilful ball-handling prop forward or second-rower, but also an accomplished kicker, both for goal and in general play, and an unapologetic rough-house. It was a range of talents that made him an essential component in the side that won the World Cup and which, lest we forget in this World Cup year, was the last British team to do so.
Terry Clawson was a young prodigy in the tough world of '50s forward play. He was born in Normanton and largely brought up in Castleford, but it was Featherstone Rovers who won the race to sign him. In fact his early experience of Cas when they tried to recruit him made his home-town club one of the few in Yorkshire he was never interested in playing for.
He made his debut at the age of 17 and was a regular in the first team from then on. In 1959, when he was still a teenager, he played in the team that won the Yorkshire Cup, Featherstone's first peacetime trophy, and was also in their side that beat the touring Australians.
That Yorkshire Cup should have been the first of many trophies, but it never quite worked out that way. Clawson, for all his clever timing on the pitch, had the unhappy knack of being at the right club at the wrong time. His travels were also complicated by his "day job" as a fitter at power stations. He called his autobiography – written out in longhand, without as much as a finger raised by a ghost-writer – All the Wrong Moves. His reputation for being hard to handle contributed to that and he was not one to stick around if a team did not want to do things his way.
That way often consisted of getting his retaliation in first. Not only did you need eyes in the back of your head, he wrote: "As Aristotle once remarked, you need eyes up your arse when you play at Oldham."
His peripatetic career was almost over before it had properly started, however, when he was diagnosed with tuberculosis, which, he was told, could have killed him. He spent months in a sanatorium and such was his determination to get back into the game that he returned better than ever.
The first of his many transfers was to the then recently reformed Bradford Northern, with whom he won the Yorkshire Cup in 1965. From there it was to Hull Kingston Rovers and Leeds. While at Headingley he played in the Challenge Cup final for the only time, blaming himself for missing the goals that could have given Leeds victory over St Helens in 1972. A week later, they won the Championship final against the same opponents.
Although firmly into the veteran category by this stage, Clawson was an obvious candidate for that year's World Cup. Not to the player himself, however, who had heard and believed the rumour on the circuit that he would not be picked, however well he had been playing, so much trouble had he caused on and off the field when winning his two caps against France two years earlier.
When Mick Harrison withdrew through injury, though, Clawson was called up as a late replacement. It proved an inspired choice. He played a big part in the 27-21 win over Australia in Perpignan, landing six goals and leading the battle up front. He kicked two goals and had another strong game as France were defeated 13-4 in Grenoble.
He was rested for the easy win over New Zealand but automatically recalled for the final against Australia in Lyon. Thanks to the arcane rules of the tournament, Great Britain only needed a draw to win the trophy, and that was what they got, Clawson converting tries by Clive Sullivan and Mike Stephenson. He also played in the Ashes series in England in 1973 and on the tour to Australia and New Zealand the following year.
That was the end of his international career, but not by any means of his activity at club level. He had moved to Oldham – his one Lancashire club – in 1973 and from there to York, Bradford (again), back to Featherstone for a second stint, Wakefield, Huddersfield and, finally, Hull. He was over 40 when he made his last appearance for them. He also spent three summers playing – later player-coaching – at South Newcastle in Australia, where he was inducted in 2000 into their Team of the Century.
Terry Clawson, rugby league footballer and coach: born Normanton, West Yorkshire 9 April 1940; married Jean (two sons); died Pontefract, West Yorkshire 2 September 2013.
Join our new commenting forum
Join thought-provoking conversations, follow other Independent readers and see their replies