Tony Scott: British director of slick, frenetic action thrillers
In Top Gun, Scott made one of the defining films of the era: thrilling, dynamic and very efficient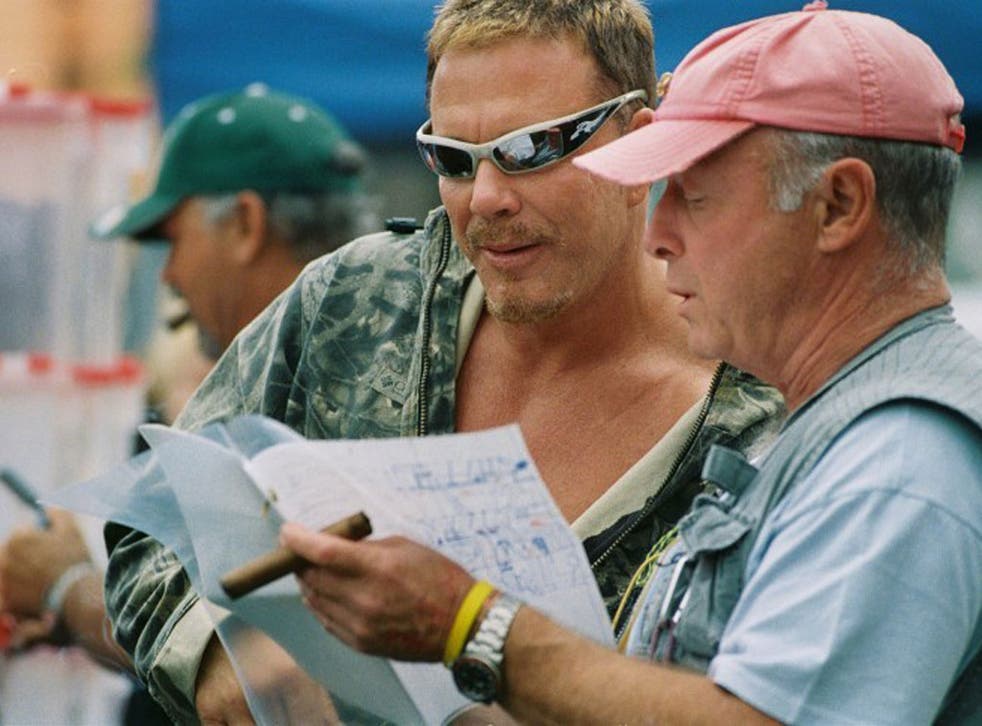 Film director Tony Scott, seven years younger than his brother Ridley, was often seen as favouring style over content, but he delivered a solid series of box-office hits, including Top Gun, Beverly Hills Cop II and Crimson Tide, repeatedly working with stars such as Tom Cruise and Denzel Washington.
But, though Hollywood can lurch between adulating style and bowing before profit, Scott somehow managed to fall between the two stools when it came to Oscar nominations. Meanwhile, the two brothers developed high-end TV dramas, including The Good Wife, and bought Shepperton Studios.
Tony Scott, the youngest of three boys, was born in North Shields; but though the industrial landscape informed Ridley's films, including Bladerunner and Alien, Scott preferred a glossier take.
Scott initially wanted to be a painter and studied at the Royal College of Art. At 16 he starred in Ridley's debut short, Boy and Bicycle (1965), which was funded by the British Film Institute. The association continued: Scott served as cinematographer on a couple of Ridley's films before his own directorial debut – also BFI funded – Loving Memory (1969). A largely wordless meditation on memory and guilt, it could hardly be more different than the films for which he later became famous.
Ridley set up Ridley Scott Associates to make adverts and attracted a large and wealthy client base; meanwhile, his brother's interest in film resurfaced. As he preferred documentary he considered working for the BBC, but Ridley dissuaded him, promising that if he joined RSA he would have a Ferrari within a year. A sucker for cars, Scott took up the offer and Ridley was as good as his word; and over the next few years he directed hundreds of commercials.
The 1980s saw a British "new wave" of directors, including the Scotts, Hugh Hudson, Alan Parker and Adrian Lyne, sometimes with accompanying producers, including David Puttnam – all of them coming up through advertising. Hollywood hoped that they would be more malleable than the increasingly independently minded "New Hollywood" directors – and that they could wrest control back from the smaller production companies. But the Brits were also admired for their fearsome efficiency and resourcefulness, developed on innumerable adverts. Scott was one of those who brought stylishness comparable to the French Cinéma du Look of Beineix, Besson and Carax.
Following Ridley to Hollywood, Scott sought an appropriate project and was eventually offered a modern vampire movie starring David Bowie, Catherine Deneuve and Susan Sarandon. In some ways The Hunger (1982) is a perfect Tony Scott film: glossily stylish with the lesbianism pre-echoing the macho concerns of his later work. But commercially and critically it was a disaster – and Scott recalled that after its release, "I couldn't get arrested in Hollywood". In the years since, it has become a cult favourite.
With his cinema career stalled, Scott returned to advertising and music videos. One of these, in which a Saab car races a Saab fighter jet, caught the attention of Don Simpson and Jerry Bruckheimer, the kings of high-concept cinema. They had a project about a fighter pilot – inevitably nicknamed Maverick – and his coming of age. Top Gun (1986) is one of the quintessential films of the era: thrilling, efficient, dynamic and Darwinian in its celebration of the victor. But it ramped up the machismo to such a ludicrous degree that Quentin Tarantino took a cameo in Sleep with Me (1994) to parse it as a gay love story.
Top Gun was an enormous financial success, triumphantly setting up Scott as first choice for such projects. Next up, he took on Simpson and Bruckheimer's comedy Beverly Hills Cop II – another hit, regardless of the mixed critical reception. It was part of an emerging pattern of hugely popular films that were seen critically as leading Hollywood's increasingly innutritious diet.
Revenge was not so successful – but Scott got back with Simpson and Bruckheimer for Days of Thunder (1990), about US motor racing. The team was joined by Tom Cruise (taking no chances, they filled the poster with his name and face). Again, it was a huge success, but critics were inured to the style and it was often dismissed as "Top Gun on Wheels". It also started Cruise's occasional habit of marrying his co-stars – in this case, Nicole Kidman.
Scott's next star was Bruce Willis, who was coming off the disastrous Hudson Hawk; but the odd-couple detective-and-football-player action-thriller The Last Boy Scout (1991) was not an immediate rehabilitation.
True Romance (1993) was one of Quentin Tarantino's pre-Reservoir Dogs scripts, but he sold it and lost the chance to direct. Scott brought a breeziness to his usual dynamism, helped by the sharp script and the amoral charm of Badlands-inspired Christian Slater and Patricia Arquette as a young couple on the lam. Tarantino initially objected to various changes, but later came to accept that Scott's changes suited his directing style.
True Romance just about broke even and Scott returned to Simpson and Bruckheimer and established stars (Denzel Washington and Gene Hackman) for Crimson Tide (1995), a claustrophobic Cold War submarine drama. While it may not have encouraged much debate about the use of nuclear weapons, it was popular and generally well-received critically.
In 1995, the Scotts bought Shepperton Studios (Ridley had shot Alien there), and began a programme of improvements; but at the same time they started the LA-based Scott Free Productions. Through this, they moved into television, but Tony tended to still produce through other companies.
The Fan (1996) was an unusual move into more psychological territory, following a deranged baseball fan (Robert De Niro updating Travis Bickle and Rupert Pupkin). Perhaps being an atypical Scott project played against it; it was not a success at the box-office. However, that was corrected by the conspiracy thriller Enemy of the State (1996), which has all the visceral energy of a typical Scott production.
Spy Game (2001) lured Robert Redford into one of his increasingly rare film appearances, opposite Brad Pitt – though it has more of a feeling of efficiency than passion, a quality that also marked the Mexican kidnap drama Man on Fire (2004).
Scott was an avid thrill-seeker, revelling in fast cars and motorbikes and enjoying rock-climbing – though directing a film was "the most scary, dangerous thing you can do in your life". Domino (2005), telling of how Laurence Harvey's daughter became a bounty hunter, is easily Scott's most frenetic film: the restlessly prowling camera and hyperactive editing that are typical of his work are pushed to the absolute limit. He described it as like "mainlining on adrenalin".
Scott's last three films all starred Denzel Washington: as a time-travelling FBI agent (Déjà Vu, 2006); a New York subway dispatcher (the Walter Matthau role in 2009's remake of The Taking of Pelham 1-2-3); and the engineer aboard a runaway train (Unstoppable, 2010). But perhaps Scott was spreading himself too thinly: they all felt, slightly, like retreads.
Meanwhile, the brothers were moving increasingly into TV, producing the FBI procedural series Numb3rs (2005-2010) and, from 2009 onwards, the legal drama The Good Wife.
Certainly, there was no feeling that he would be hanging up his trademark faded red baseball cap any time soon; as well as a slew of projects in pre- and post-production, there were rumours of a Top Gun sequel.
Anthony David Scott, film director and producer: born North Shields 21 June 1944; married three times (two sons); died San Pedro, California 19 August 2012.
Join our new commenting forum
Join thought-provoking conversations, follow other Independent readers and see their replies