Tony Sheridan: Singer and guitarist who was a catalyst in the early career of The Beatles
When he went to Hamburg he found that the wild and crazy lifestyle suited him perfectly
Spencer Leigh
Monday 18 February 2013 01:01 Comments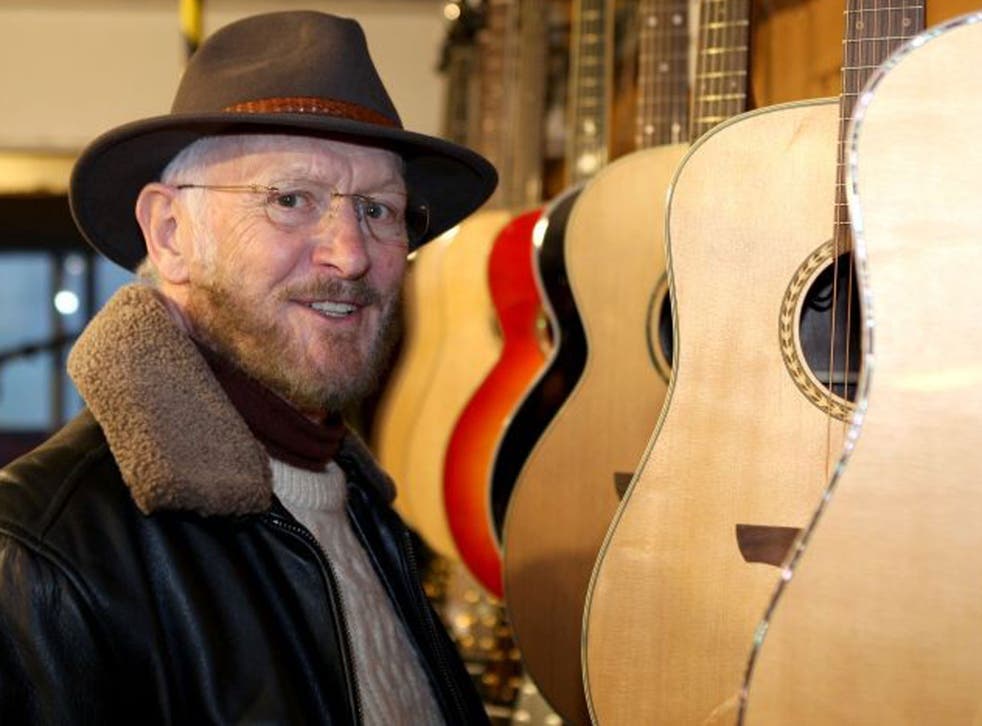 Tony Sheridan was a catalyst in the Beatles' development, recording "My Bonnie" with them in Hamburg in 1961, and he was an exceptional, if erratic, performer in his own right. His one time manager and record producer, Paul Murphy said, "Sheridan was absolutely breathtaking on stage. If anyone should have made it, it was him but he had a self-destruct button. Whenever he saw success, he messed it up."
Anthony Esmond Sheridan McGinnity was born in Norwich in May 1940. His Liverpool/Irish father, Alphonsus, left his mother, a nurse, and they lived outside Norwich in Thorpe St Andrew. Tony was a bright student, a good swimmer and a cross country runner. He played violin in the school orchestra and sang with his mother in Gilbert and Sullivan productions. He told me, "It was a very good training to be in The Mikado when you're 11, but I got so frustrated doing all this shit for six or seven years that as soon as I heard Lonnie Donegan, I wanted a guitar – and freedom!"
When he was 16, Sheridan passed several O-levels and obtained the top grade in Art. He studied commercial art, but not for long. In February 1957 he saw Lonnie Donegan in Norwich and decided to perform skiffle and rock'n'roll himself. As he put it, "I wanted to get into the sexual side of music."
After Sheridan's group the Saints won £15, they decided that they might be good enough for London. By day, Sheridan worked in a brewery, shifting beer crates, and he played the Two I's and other coffee bars at night. He worked in Vince Eager and the Vagabonds and Vince Taylor and the Playboys, who recorded for Parlophone in 1958. The bass player Licorice Locking recalls, "We did 'Right Behind You Baby' on the first take. I was expecting just one 12-bar solo from Tony Sheridan but he took two and the second one was awe-inspiring. It lifted the track off the ground."
The TV producer Jack Good signed Sheridan for Oh Boy! and he was the first British artist to be signed by the Top Rank label, but nothing came of it because he didn't receive an advance. Still, Sheridan was enjoying a bohemian lifestyle with attractive girls everywhere. He moved in with Hazel Byng, a dancer at the Windmill. They married in May 1959 after Hazel became pregnant, and their son was born in October.
Very few American rock'n'rollers had come to the UK and Sheridan was on tour with Gene Vincent and Eddie Cochran early in 1960. He commented, "Eddie Cochran was real and I was a copy. He was a very good guitarist and he was into all sorts of things, which influenced his music. He might suddenly do something differently, and that is when innovation can happen."
In May 1960, a strip-club owner from St Pauli in Hamburg, Bruno Koschmider, came looking for a British rock group for the Kaiserkeller on Grosse Freiheit. When Tony Sheridan went there as part of the Jets he found that the wild and crazy lifestyle suited him fine. The wilder he became, the more the audiences responded, but Sheridan's philosophy wasn't for everyone: "If you play 'Blue Suede Shoes' 2,000 times, you have got to find ways to do it differently – you put in sevenths and ninths and elevenths. That is what Hamburg can do for you – you become something else, but I believe that the only way to play is spontaneously. All those guys who plan their shows are not being creative. Of course I had bad nights, but there were nights when I turned myself on and also turned everybody else on."
The Jets moved to the Top Ten and the chief waiter, Horst Fascher, became a close friend. "The first British group I saw was Tony Sheridan and the Jets and it was such a surprise to see rock'n'roll live on stage," he said. "There was sweat all over him, he looked like he had just come of the swimming baths. We liked him very much."
Meanwhile, Koschmider was having success with the Beatles and soon they were breaking their contract by performing with Sheridan. He was the first musician they had met who had a reputation, and they saw how he could pace himself to play for hours on end. Both John Lennon and Gerry Marsden copied Sheridan's defiant stage stance: facing the audience straight on, legs astride, guitar high on the chest. Gerry Marsden admits, "I did get a lot of ideas about singing and presentation from Tony Sheridan. His rhythm playing was great, he could drive like mad, and he also wore leather pants and cowboy boots."
Sheridan often performed a rock arrangement of "You'll Never Walk Alone" from Carousel. He said, "I would play it two or three times a night, and Gerry copied my version. He even sounded like me, so it's me that Liverpool Football Club should be thanking."
Many musicians recall Sheridan playing "What'd I Say" for up to an hour and then jamming with other musicians. He recalled, "Well, it was probably a sort of sickness, I was obsessed. It wasn't sex and drugs and rock'n'roll – it was rock'n'roll, rock'n'roll, rock'n'roll, with beer and drugs and sex coming after that. Most of the musicians in the Star-Club were fanatics. We didn't even want to sleep. Why sleep when you can play?"
The first session by Sheridan and the Beatles for Polydor Records took place in June 1961 and the producer, Bert Kaempfert, wanted rocked-up folk songs. Sheridan recalled, "We had about 15 whiskeys the night before and we had agreed on 'My Bonnie' and 'When The Saints Go Marching In'. We went to bed at 5am and got up at 8am to be taken to the studio to make the record. We took some uppers and the guitar solo was all right. I didn't feel too good about making the German charts. I would rather it had been with a good song."
The Beatles passed the German single to the DJ Bob Wooler, who played it at the Cavern in Liverpool. In October 1961, a teenage fan, Raymond Jones, went into Brian Epstein's record store, NEMS, and requested "My Bonnie". Brian Epstein promised to order it. As a result, he saw the Beatles one lunchtime and became their manager.
Sheridan continued to record for Polydor and he had German Top 10 singles with "Let's Slop" and "Skinny Minnie". Polydor released an album Let's Do The Madison, Twist, Locomotion, Slop, Hully Gully, Monkey and Sheridan broke his contract by recording for Philips as Dan Sherry. With the Beatles' commercial success, "My Bonnie" was released in both Britain and America and made the charts.
In November 1963, the Star-Club and the Top Ten decided to sort out their rivalry by a fight to the finish by their chosen representatives. Sheridan, then with the Star-Club, was charged with inciting a riot by calling out "Kill the pig!" He told the court, "Of course I did not want him to kill Walter. I was just screaming with excitement just as I would scream at a football game or a boxing match." He was released with a caution.
In 1967, Sheridan and his manager, Fascher, went to Vietnam to entertain the troops. Often he was playing with just his guitar for accompaniment, and as a result, he became self-sufficient, a competent one-man troubadour. Sheridan returned to Germany in 1969. He was made an honorary captain by the US Army.
In 1975 Sheridan's old associate, Paul Murphy, found the money for Sheridan to record a live concert with the Royal Liverpool Philharmonic Orchestra. It went well but Sheridan's bad behaviour meant that a BBC special was dropped and the album was never released. He had better luck in 1978 when an album, Worlds Apart, was recorded with Elvis Presley's former backing musicians.
Sheridan was permanently dogged by his link to the Beatles and most of his later bookings were centred on Beatle festivals, where he sometimes performed with his son, Tony Jr. In 2002, Sheridan recorded an album of new material, Vagabond, produced by the Hamburg musician and historian, Ulf Kruger. Sheridan found happiness with his third wife, Anna Sievers, and settled in a farm house in the north of Germany. He was devastated when she died of cancer in 2011.
Anthony Esmond Sheridan McGinnity (Tony Sheridan), singer and guitarist: born Norwich 21 May 1940; married three times (Hazel Byng, Rosi Heitmann, Anna Sievers); died 16 February 2013.
Register for free to continue reading
Registration is a free and easy way to support our truly independent journalism
By registering, you will also enjoy limited access to Premium articles, exclusive newsletters, commenting, and virtual events with our leading journalists
Already have an account? sign in
Join our new commenting forum
Join thought-provoking conversations, follow other Independent readers and see their replies