Wilhelm Brasse: A photographer in Auschwitz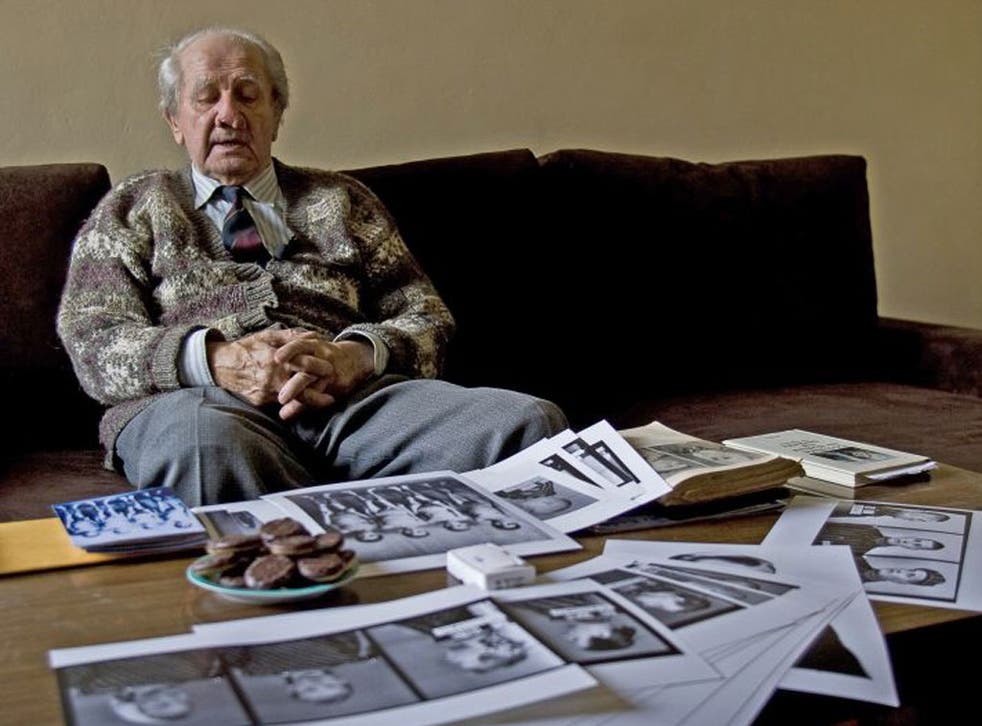 Wilhelm Brasse was compelled to take mug shots of the prisoners in Auschwitz, the Nazi extermination camp. "I tried to calm them,' he later confided. He made studio portraits of the SS guards, too, and became popular with them, with a reputation for being able to put his subjects at ease. He told one officer to "sit comfortably, relax and think about your fatherland" before taking his picture. Brasse's photographic skills certainly saved his life.
He was born in 1917 to an Austrian father and Polish mother, in Saybusch, part of Austria which became Polish after the First World War. He was fortunate enough to learn photography at his aunt's studio in Katowice (Kattowitz), formerly the capital of the Prussian province of Silesia in imperial Germany, and a prosperous cosmopolitan city, inhabited mainly by Germans, Silesians, Jews and Poles. As part of the Versailles Treaty settlement the city became part of Poland.
After the German invasion of Poland in September 1939 the Nazis "Germanised" Katowice, ready for it to become part of the Third Reich. Because of his Austrian father, who had fought for Poland against Soviet Russia in 1919, Brasse was regarded as German, but he refused the "honour" and was imprisoned for four months. On release, he and others attempted to cross the frontier to Hungary, to reach France and join the regrouping Polish forces. But they were intercepted and sent in August 1940 to the former Polish barracks of Auschwitz, which had become a punishment camp for Poles. He was admitted as prisoner 3444. Only weeks before, Rudolf Höss had taken over as camp commandant, remaining until 1943.
Once his photographic skills were revealed, Brasse was ordered to take identity photographs of the prisoners, and estimated that he took between 40,000 to 50,000 from 1940 to 1945. In August 1941, Karl Fritzsch conducted experiments with poison gas on Russian prisoners. As the camp's character changed, so did Brasse's tasks. He photographed the guards, the prisoners at work and medical experiments, including the subjects of Dr Josef Mengele's experiments, many of them children. Many of those who photographs he took died soon after.
Later, other skilled prisoners were assigned to the work. From December 1943, Arthur Liebehenschel took over command from Höss, who returned to the camp in May 1944. By January 1945, the Red Army was approaching and the end was in sight for Nazi Germany. The order came to evacuate Auschwitz and surrounding camps. The SS attempted to destroy everything, and Brasse was ordered to destroy his negatives, but managed to save about 39,000.
Then thousands of frail prisoners were force marched westwards from the camps. Brasse was lucky; he was in better shape, as he had been granted more food and clothing than his comrades. With 60,000 fellow prisoners, he started the trek westwards. Many died on the way.
He was then held at the notorious camp, Mauthausen, in Austria, and survived until it was liberated by US troops in May 1945. Its commandant, Franz Ziereis, was shot while trying to escape. Rudolf Franz Ferdinand Höss, was tried, found guilty and hanged in 1947; Fritzsch disappeared; Mengele escaped to South America. Arthur Liebehenschel was executed in January 1948 after his conviction for war crimes by a Polish court.
Brasse returned to Poland and tried to resume his old career in photography, but was too haunted by his experiences. "Those poor Jewish children were always before my eyes," he recalled in 2009. "There are things you can never forget." He eventually set up a modestly prosperous sausage-casing business.
Some of Brasse's pictures are on display in the Auschwitz-Birkenau State Museum and at Yad Vashem, the Holocaust Martyrs' and Heroes' Remembrance Authority, Israel's official memorial to the Jewish victims of the Holocaust. Brasse's photographs inspired an award-winning book of poetry and art, Painting Czesława Kwoka (2007), with verse by Theresa Edwards and artwork by Lori Schreiner.
David Childs
Wilhelm Brasse, photographer and businessman: born, Saybusch (Zywiec), Austria 3 December 1917; married (two children); died, Zywiec, Poland 23 October 2012.
Join our new commenting forum
Join thought-provoking conversations, follow other Independent readers and see their replies