Yevgeny Primakov: Wily Soviet spy chief who began as a journalist but went on to serve as Russia's Foreign Minister and Prime Minister
With owlish, half-hooded eyes, Primakov came across as a man of secrets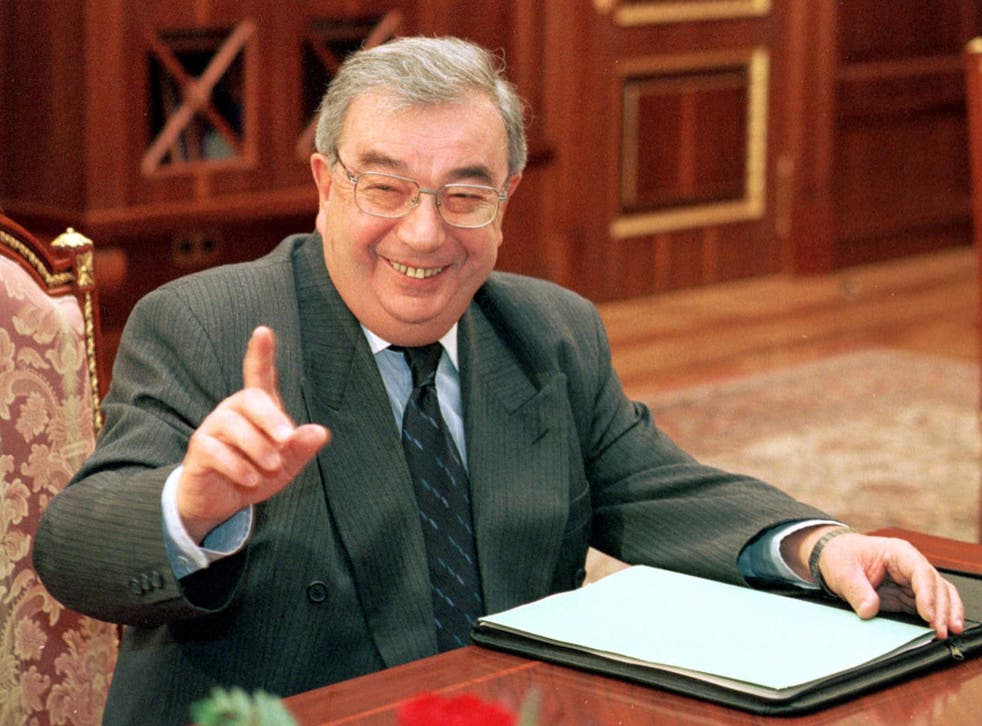 In the chaotic history of Russia between the later Gorbachev years and the election in 2000 of Vladimir Putin, there was at least one constant. As backstage adviser and diplomatic troubleshooter, and then later as spy chief, foreign minister and briefly prime minister, Yevgeny Primakov bestowed a dash of illusionary stability to that troubled period.
Jowly and slowly spoken, with a sly smile and owlish, half-hooded eyes, Primakov came across as a man of secrets. "Wily" was almost a default adjective to describe him. Yet to his countrymen he was a reassuring figure, especially in comparison to the erratic and impulsive Boris Yeltsin, the president he mainly served, and for one brief moment seemed most likely to succeed.
Yevgeny Maximovich Primakov was born in Soviet Ukraine in 1929 to a Russian father and a Jewish mother. The former, a victim of Stalin's purges, he barely knew. With his mother, a doctor, he moved to Tbilisi, Georgia, where he grew up.
After graduating in 1953 from the Moscow Institute of Oriental studies, he worked in radio before becoming a journalist with the Communist party newspaper Pravda. Fluent in Arabic, he became the paper's Middle East specialist and correspondent in Cairo – a post that in Soviet times inevitably involved some work for the KGB. There he built relationships with many Arab leaders, and until his death Primakov was considered his country's chief expert on Middle East affairs.
In 1970 he left Pravda, to hold a variety of senior think tank posts for almost two decades. Not until 1989 did he embark on a political career when, at the height of Mikhail Gorbachev's perestroika, he was chosen by the president to head one of the two chambers of the Soviet parliament.
Primakov never belonged to Gorbachev's innermost circle of reformist advisers, but his Middle Eastern expertise saw him sent to Iraq in the run-up to the first Gulf War, in a vain attempt to persuade Saddam Hussein to pull his forces from Kuwait. Although Primakov was by all accounts the foreign official whom Saddam most trusted, the attempt failed.
Seven months later, in August 1991, came the unsuccessful putsch by hardliners against Gorbachev. Primakov opposed the attempt, and his reward was appointment as first deputy chairman of the KGB, whose previous head, Vladimir Kryuchkov, had been a ringleader of the plot. That job lasted only a few months, until the Soviet Union itself disappeared on Christmas day 1991. But Yeltsin, Russia's new leader, kept him on as chairman of the SVR, the revamped Foreign Intelligence Service.
Primakov held the post until 1996, when he was named foreign minister. The new job lasted two years, during which he earned much international respect, as a canny defender of his country's interests, despite the weak hand at his disposal. Then came the economic crisis of 1998, in which Russia defaulted on $40bn of debt and devalued the ruble.
The visibly fading and deeply unpopular Yeltsin named Primakov as prime minister, and the few months he held the job marked the apogee of his political career. With his grandfatherly demeanour and measured style, he radiated the impression of a safe pair of hands, Swiftly, he became the country's most popular politician.
Many would argue that was why Yeltsin sacked him after just eight months, in May 1999, seven months before Yeltsin's own term expired. Primakov was replaced by Vladimir Putin, the former KGB officer who was by then Yeltsin's preferred successor.
That summer Primakov signalled his plans to run for president by agreeing to lead a powerful electoral coalition opposed to the Kremlin, and for a while he was clear favourite. But he was undermined by a barrage of criticism from Russian television, controlled by allies of Putin, and suggestions that, having turned 70, he was in poor health. That December, Primakov pulled out of the contest.
But his old skills were still in demand. In 2003, as another Gulf war loomed, Putin despatched him to Baghdad in an attempt to persuade Saddam to resign and hand over his suspected WMD arsenal to the United Nations. Just as in 1991, his efforts failed.
In hindsight, had Primakov won the presidency, the outcome might not have been very different from Russia under Putin. He was more conciliatory perhaps, arguing that Moscow could not burn all its bridges with the West. But he was acutely sensitive to Russia's global decline, and was a strong proponent of a multipolar world, to counter the might of the US. He proved that last point most dramatically in 1999, when over the mid-Atlantic en route to Washington he got word that Nato had begun bombing targets in Yugoslavia to drive Serbian forces out of Kosovo – whereupon he ordered the plane to turn around and return to Moscow. The manoeuvre became known as "Primakov's Loop".
In the end, however, the secret world may have been closest to his heart. His favourite Western writer was John Le Carré, whom he met during a visit to London in the mid-1990s. "So who do you identify with in my work?" the novelist and one-time spy asked the old KGB and SVR man. "[George] Smiley, of course!" Primakov replied. Whatever else, he looked the part.
Yevgeny Maximovich Primakov, politician: born Kiev, Ukraine 29 October 1929; Deputy Chairman, KGB 1991; head of Russian Foreign Intelligence Service 1991-1996; Foreign Minister 1996-1998; Prime Minister 1998-1999; twice married twice (one daughter, and one son deceased; died Moscow 26 June 2015.
Join our new commenting forum
Join thought-provoking conversations, follow other Independent readers and see their replies