Ammar Al Shahbander: Baghdad head of the Institute of War and Peace Reporting who inspired many to follow his hopeful visions for Iraq
He helped keep alive the flame of hope and possibility for countless Iraqis, especially young people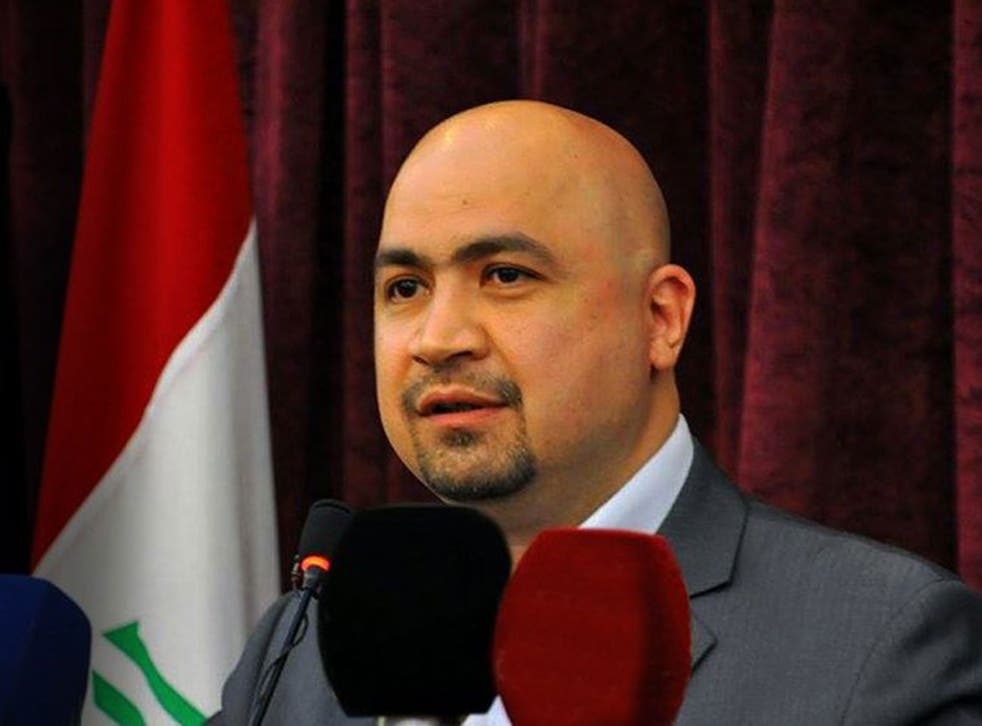 Hope is a scarce commodity in Iraq. It was further diminished when Ammar Al Shahbander, Baghdad Chief of Mission for the Institute for War & Peace Reporting, and one of the country's few dreamers, fell victim to one more act of senseless violence. After attending a concert by an Eagles cover band he had eaten with friends at a nearby restaurant and was walking down the street when he was killed instantly by a car bomb blast. Sixteen other people died, and another IWPR colleague was injured.
Born in Baghdad in 1973, Al Shahbander left the country with his father, an opposition politician in Saddam Hussein's era. They fled first to Iran, then Syria and finally Sweden.
By 2002 he was a sociology student at London Westminster University and fluent in four languages. He and his friends shared a dream. With the US invasion the following year, they foresaw a new Iraq, united by a common democratic vision and not splintered by religion, ethnicity or corruption.
Some months after the fall of Saddam, my colleague Duncan Furey and I met Al Shahbander in the lobby of the Palestine Hotel in Baghdad. We were on a recce to establish a team for the London-based IWPR, which strengthens local media and civil society groups in countries in crisis and transition.
In a white T-shirt and jeans, Ammar looked very much a kid, with a confident and inviting smile. As we sipped tea in the lobby and discussed how bewildered we were by Iraqi society, we marvelled at his ability to work a room. He knew everyone, and everyone knew him. We knew we should hire him immediately.
Having already established the Baghdad office of the Iraq Foundation, he joined IWPR and built up a team that peaked at 150 local staff, with a ground-breaking television programme on human rights, a weekly women's radio show, an advertising agency run by women, media output encouraging people to vote, and countless training and mentoring activities for Iraqi reporters and civil society groups. He had an impact on an entire generation of journalists in the country.
As Iraq sank into a decade of terrible internecine conflict. Ammar endured through it all, constantly travelling across the country. Many international NGOs withdrew to the Kurdish region but Al Shahbander, with his talented and dedicated team, persevered, managing complex projects, meeting officials, civic leaders and editors, writing endless reports and proposals, always offering information and advice. Throughout, he retained his positive demeanour, warm manner and that winning, sometimes mischievous smile.
He was also developing a formidable expertise and intellect. Ministers and ambassadors, journalists and academics, all had huge respect for him, and his briefings were always informative and inspiring. His insights into Iraq's challenges and opportunities were fascinating.
In one instance, acting US Ambassador Robert Ford spent several hours with Al Shahbander and a number of trainees, who told him about IWPR's work in Iraq and gave him their unfiltered insights from the streets (ones US officials rarely hear first-hand). As they departed, Ford remarked to his State Department colleague Vitessa Del Prete, "Best day in Iraq, ever." Ammar had that effect on people.
The vision of quick progress under Ahmed Chalabi never materialised. The violence never abated and the deaths mounted. Three reporters involved with IWPR died, including Sahar al-Haidari, assassinated in Mosul for writing prophetically about the risks of Islamic extremism there.
We came to love Al Shahbander. In truth, there were times he also drove us nuts. Deadlines were not his thing. He might disappear for days, only to re-emerge to say he had been caught out by a sandstorm or a worn-out satphone battery. Yet his judgement, of people, of politics and of Iraq, was always unerring, and he never let you down in the end.
He was tempted to run for political office, which would have been an obvious progression. But after much soul-searching, he declined. Jumping into formal politics would only have limited his ability to contribute, and would definitely have constrained his free spirit.
Despite his growing family, he was determined to stay in Iraq. This was not easy, especially for his wife, Angela. They tried relocating to Baghdad, but it did not work, so he travelled back and forth from London regularly.
Al Shahbander believed passionately in working at grassroots level to make social and political change happen from the ground up. With his background in sociology, he was constantly thinking about how Iraq could be knitted together, how different groups could work across dividing lines, and above all how women and youth could be encouraged to participate.
He helped keep alive the flame of hope and possibility for countless Iraqis, especially young people. Most recently, he was seized by the plight of the Yezidi minority suffering at the hands of Isis, and he worked to mobilise Iraqi and international support. We urged him to be careful, and he had a closetful of flak jackets and other safety equipment. His father, living back in Baghdad, and his wife, begged him to limit his movements. But Ammar was smart and incredibly well-connected, and knew how to handle himself. .
His funeral, and the official mourning in Baghdad, attracted enormous support from politicians, religious figures, journalists and activists. Hundreds attended, including the former Prime Minister Nouri al-Maliki. There was broad coverage in the Iraqi media which he did so much to help build. "Brother", "hero" and "patriot", he was called, "the pure soul of Iraq".
"When I said I lost Ammar," one of his close Iraqi colleagues wrote to me, "I mean I lost myself." His wife Angela said, "Ammar was very special. But in Iraq, no one's life is special." Yet in the worst of environments, Ammar gave hope. Is it just possible that his passing may inspire those he touched to recommit to his dream?
Ammar Al Shahbander, activist: born Baghdad 1973; married Angela (four children); died Baghdad 2 May 2015.
Join our new commenting forum
Join thought-provoking conversations, follow other Independent readers and see their replies