Andrew Kerr, writer and festival organiser: The man who helped make Glastonbury Festival a stunning success
Glastonbury Festival's Michael Eavis said in tribute: 'He brought a new green conviction to Worthy Farm, raising environmental and ecological concerns to a national level of debate for the very first time'
Marcus Williamson
Wednesday 08 October 2014 19:20 Comments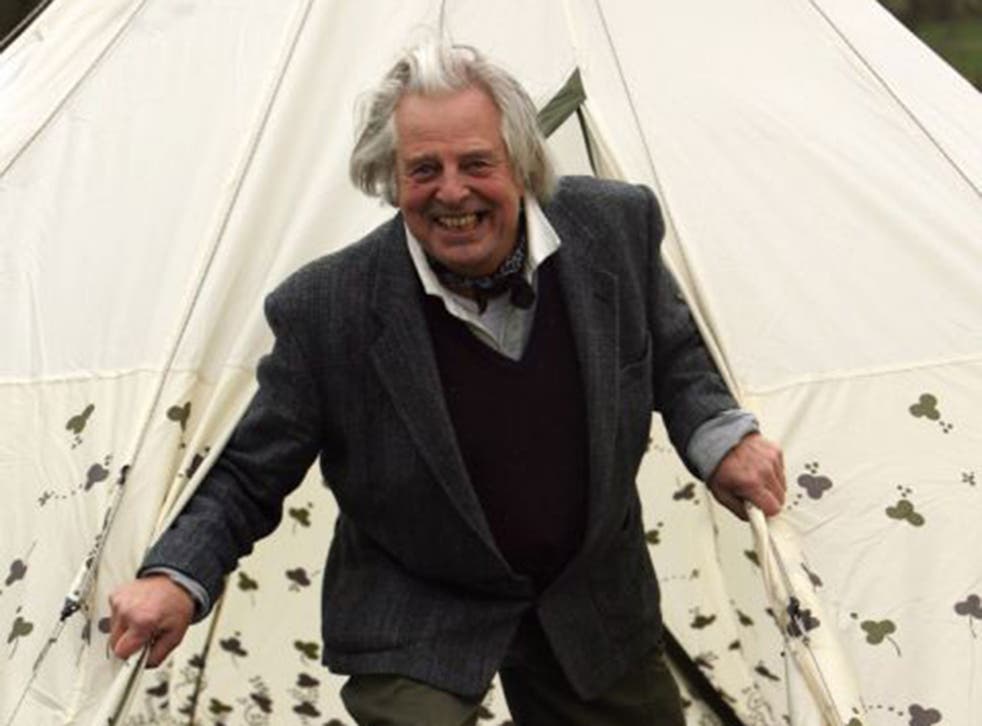 At Midsummer in 1971 a group of 12,000 people gathered on fields at Pilton in Somerset for the Glastonbury Fair, watching musical acts that included David Bowie, Arthur Brown and Hawkwind.
It was not the first music festival on the site - its owners, Michael and Jean Eavis, had hosted an event at Worthy Farm the previous year. But Andrew Kerr had joined the team since, bringing his mix of boundless energy, spirituality and wonder to the organisation of the forerunner to the Glastonbury Festival.
"There seemed to be a need for a truly free festival", he later explained. "All the others had some profit motive behind them - some for worthy causes, some for greed, none for love."
Eavis recalled: "Andrew came to me in 1970 with ideas to run a free festival, and with the help of Arabella Churchill and others he raised the necessary funds." Kerr had met Churchill (Independent obituary 31 December 2007) while working as an aide to her father, Randolph Spencer Churchill. "Kerr had a job on his hands trying to make the project happen," said Eavis, but he emphasised how "Churchill and Kerr were in crusading mode, the eco-warriors of their day. Their energy meant the festival was a success, with 12,000 people turning up for five days of music, dance, poetry, theatre and entertainment..." A film, Glastonbury Fayre, directed by Nicolas Roeg and Peter Neal, remains as a permanent reminder of those heady times.
Kerr was an enthusiastic follower of the antiquarian John Michell, whose book The View Over Atlantis had become a cult bestseller. Adopting Michell's ideas, Kerr incorporated the concepts of sacred geometry into the creation of the Pyramid Stage, which went on to become such a lauded and central feature of the Glastonbury Festival.
The stage was conceived by Kerr and the designer Bill Harkin as a one-10th scale replica of the Great Pyramid at Giza. Harkin told me, "I had a dream about standing at the back of a stage and seeing two beams of light forming a pyramid and took that as a message. Andrew gave me John Michell's number and we spent some hours discussing it..."
The stage location was chosen at what Kerr believed would be exactly the right spot, over a spring which he had found by dowsing, connected to the Stonehenge-Glastonbury ley line. The timing of the event, at Midsummer, was Kerr's inspiration, aligning the festival to the pagan calendar. "What we were trying to do," he explained, "was to stimulate the Earth's nervous system with joy, appreciation and happiness so that our Mother planet would respond by breeding a happier, more balanced race of men, animals and plants."
Andrew Kerr was born in 1933, the youngest of five children of Commander Mark Kerr and his wife Mary. He grew up in Oxfordshire and Devon, to where he was evacuated during the war and where his family established a farm. He was educated at Radley College and did his National Service in the Navy as a stores assistant. From 1958 to 1968 he worked as an assistant to Randolph Spencer Churchill, who was writing the biography of his father, Winston. It was there that he first met Annabel Churchill.
The next impromptu festival at Worthy Farm took place in 1978 and it wasn't until the early 1980s that Glastonbury became a yearly event, with occasional "fallow" years to let the farmland recover. Kerr continued to manage the Glastonbury Festival site until the mid-'80s, when the organisation was handed over to outsiders. After spending time at Scoraig, a Scottish crofting community, he returned to Pilton a decade ago.
In 2011, 40 years on from the first festival, Glastonbury hosted a "Spirit of '71" stage including performers from the era, with Kerr as its organiser. Arthur Brown, who performed both times, said, "It was smaller and it was free, and the atmosphere was a little different: lots of people walking around naked...".
The same year Kerr published a memoir, Intolerably Hip, which tells the story of the early Glastonbury, with other anecdotes from his eclectic career. One reviewer wrote, "After a while ... something unexpected happens: Kerr's rambling style becomes quite endearing, as if we're just listening in on whatever happens to be passing through his head."
Eavis said in tribute: "He brought a new green conviction to Worthy Farm, raising environmental and ecological concerns to a national level of debate for the very first time. His charisma and charm dissolved any opposition to the Festival and the Glastonbury we know now owes so much to his vision."
Tickets for next year's Festival, which will play host to around 175,000 people, went on sale this week and sold out in 26 minutes. It is a testament to Andrew Kerr and the original team that the festival is still such a success and that it has remained largely true to its founders' beliefs.
Andrew Kerr, writer and festival organiser: born 29 November 1933; partner to Lytte Piggott (one son, one daughter); died Yeovil 5 October 2014.
Register for free to continue reading
Registration is a free and easy way to support our truly independent journalism
By registering, you will also enjoy limited access to Premium articles, exclusive newsletters, commenting, and virtual events with our leading journalists
Already have an account? sign in
Join our new commenting forum
Join thought-provoking conversations, follow other Independent readers and see their replies