Bill Cosby: Actor appears in court over aggravated sexual assault charge
The 78-year-old has always denied the charges against him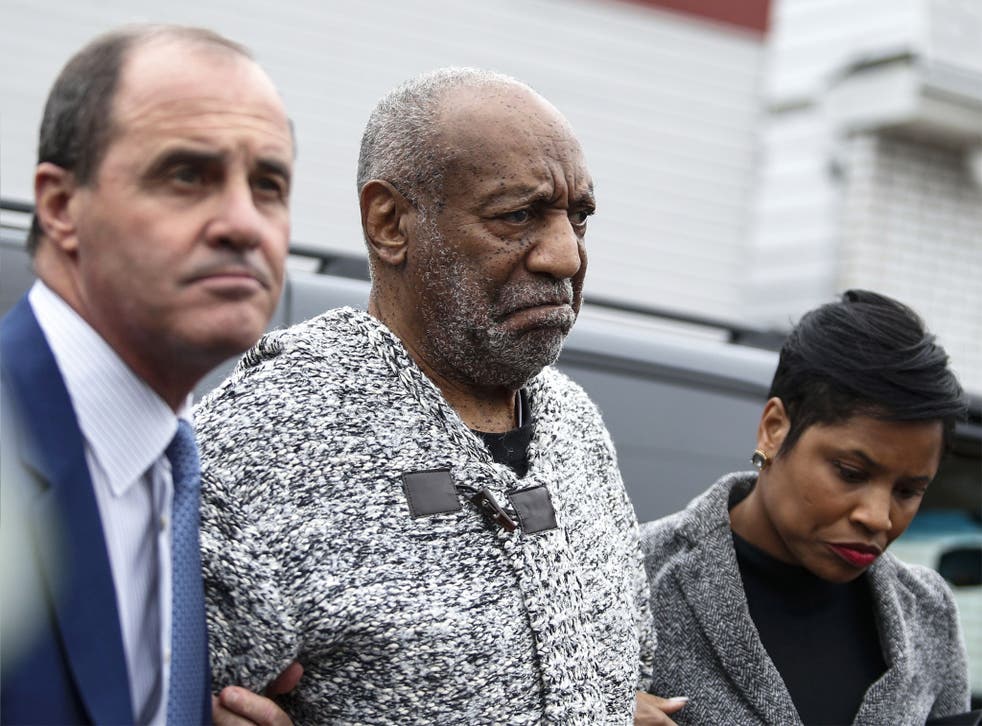 Bill Cosby, one of America's best-known actors and comedians, has appeared before a judge after being charged with aggravated sexual assault relating to an incident said to have taken place more than a decade ago.
After months in which pressure on the actor grew to a seeming crescendo, Montgomery County prosecutors said on Wednesday morning they were charging the actor over an incident alleged to have happened in 2004. It is the first criminal case against Mr Cosby over his conduct with women, which has received new scrutiny in the past year, with anywhere up to 50 women levelling accusations. The 78-year-old comedian previously said under oath that he had consensual sexual contact with the woman, and denied any such allegations of assault.
Just hours after the charged were announced, the actor appeared at a court house at Elkins Park, Pennsylvania, where he was brought before a judge for a hearing that lasted six or seven minutes. Guided by his lawyers, he walked slowly into the building, using a cane and wearing a gray tweed hoodie sweater.
Prosecutor Kevin Steele said at a press conference on Wednesday morning, that the case related to a former Temple University employee, a senior official with the women's basketball team who told police the comedian drugged and violated her at his home near Philadelphia in 2004.
If convicted he faces up to 10 years behind bars and a $25,000 fine. The woman, identified in legal documents as Andrea Constand, has previously agreed for her name to be used in media reports.
Mr Steele said she had turned down two previous sexual advances the actor had made towards her. However, on a night in early 2004, he gave her pills and encouraged her to drink wine, said the prosecutor. "She had considered him a mentor," he said.

The affidavit filed on Wednesday claimed the comedian had given the young woman wine and drugs before indecently assaulting her as she lay incapacitated.
"The victim told investigators that she did not consent to any of these acts and was unable to speak or move during the assault," says the document. "She described her position as frozen and paralysed."
Bill Cosby: Career in pictures

Show all 20
At his court appearance, Mr Cosby's bail was set at $1m and he was due to be fingerprinted at a police station near the Elkins Park courtroom. He did not have to enter a plea, and his next court hearing was set for January 14. He agreed not to have contact with the woman he is accused of assaulting.
Reports said that Judge Elizabeth McHugh ordered Mr Cosby to surrender his passport. When the judge completed the hearing she said "good luck to you, sir". He replied: "Thank you".
A previous prosecutor had declined to charge Mr Cosby in 2005 after Ms Constand first reported the accusations. The Associated Press said that prosecutors reopened the case over the summer as testimony was unsealed in a related civil lawsuit against Mr Cosby and as dozens of other women came forward with similar accusations that made a mockery of his image as the wise and understanding Dr Cliff Huxtable from TV's The Cosby Show.
Obama comments on Bill Cosby rape allegations
Many of those alleged assaults date back decades, and the statute of limitations for bringing charges has expired in nearly every case. But Pennsylvania law gives prosecutors up to 12 years for some sex crimes, with the clock running out on this case in January.

The former university employee settled a civil lawsuit against Mr Cosby in 2006 on confidential terms. After the charges were announced on Wednesday, Ms Constand's lawyer, Dolores Troiani issued a statement, expressing her confidence in the prosecutors.
"On behalf of our client, Andrea Constand, we wish to express our appreciation to the Montgomery County District Attorney's Office, the County Detectives and the Cheltenham Police Department for the consideration and courtesy they have shown Andrea during this difficult time," it said.