Bowe Bergdahl: Who is controversial US soldier in Serial podcast held captive by the Taliban in Afghanistan?
The American soldier has given his first media interview since being released last year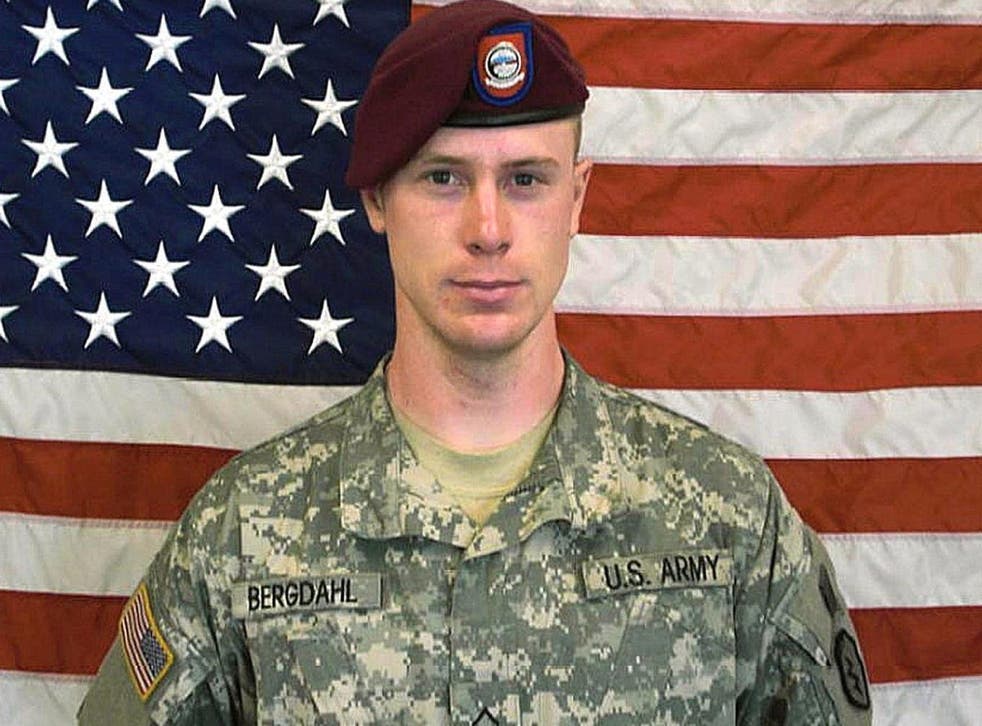 Bowe Bergdahl, the American soldier held captive by the Talban for five years after being kidnapped in Afghanistan, has given his first interview on his ordeal since being released.
The 29-year-old, who could still face a court-martial for allegedly deserting his post before being captured, is the subject of the second series of the American podcast Serial.
His return to the US was initially greeted with jubilation in May last year but the price – a prisoner swap with five Taliban members – generated controversy as questions surrounding his capture arose.
So who is Bowe Bergdahl?
Born in 1986 in Sun Valley, Idaho, Bergdahl was home-schooled by his devout Calvinist parents with his sister, but later received a General Educational Development certificate.
He attempted to join the French Foreign Legion and later the US Coast Guard in 2006 but was discharged within a month. Two years afterwards, he enlisted in the US Army.
After training at Fort Benning in Georgia, he was assigned to the 501st Infantry Regiment, 4th Brigade Combat Team, 25th Infantry Division.
The Alaska-based unit was deployed to Afghanistan in 2009 and posted to Mest-Malak on counter-insurgency operations in the ongoing war against the Taliban.
What happened in Afghanistan?
On 25 June that year, one of the members of his battalion was killed by a roadside bomb and two days later, he sent an email to his parents claiming the American army was the "biggest joke the world has to laugh at", criticising his senior officers and their behaviour towards local civilians.
On 30 June, five months after his deployment, Bergdahl disappeared.
Why did he leave?
Bergdahl left without authorisation and stands accused of desertion and misbehaviour before the enemy by the military.
But he told Serial that he ran away from his base caring only some vacuum-packed chicken, a knife, a compass and water, to prompt a "Dustwun" - "duty status-whereabouts unknown" – that would trigger a manhunt exposing issues he saw with the Army.
Bergdahl claims he was heading for a larger base, hoping to draw attention to the problems he believe his unit faced and prove his own worth as a soldier.
Comparing himself to a fictional action hero, he said: "Doing what I did is me saying that I am like, I dunno, Jason Bourne.
"I had this fantastic idea that I was going to prove to the world that I was the real thing.
"You know, that I could be what it is that all those guys out there that go to the movies and watch those movies, they all want to be that, but I wanted to prove that I was that."
But he became lost in the desert and was taken prisoner by a group of militants riding motorcycles and brandishing AK-47s.
What happened after that?
US officials believe he was taken over the border to Pakistan and imprisoned by the Taliban-allied Haqqani network.
Terrorist chatter was picked up indicating an American soldier had been captured within hours of Bergdahl's disappearance and in July the group released a propaganda video showing him alive.
He talked of missing his family and was forced to tell American people to lobby the government to end the US intervention in Afghanistan.
Bergdahl spoke to Serial about the effect of torture and isolation on his mental health, saying: "There was times when I would wake up and it's just so dark and it's so dark. Like, I would wake up not even remembering what I was…to the point where you just want to scream and you can't like, I can't scream. I can't risk that.
"So it's like you're standing there screaming in your mind in this room."
How was he released?
After years of campaigning by his parents and supporters, the Obama administration negotiated a prisoner swap in 2014, sparking the release of five Taliban members.
Bergdahl handed over near Khost, close to the the Afghan-Pakistan border, on the evening of 31 May.
A US special forces team flew in by helicopter and briefly met some 18 Taliban on the ground.
The exchange, captured on video, shows Bergdahl – promoted to sergeant in absentia - sitting in a pick-up truck before being walked to the helicopter.
Once in the helicopter, he wrote the letters "SF?" (special forces) on a paper plate and reportedly broke down when the men responded: "Yes, we've been looking for you for a long time."
What happened when Bergdahl came home?
Initial jubilation became heavily criticised as details of the prisoner swap emerged, with some Republicans accusing the government of putting more Americans at risk by freeing Taliban members.
Criticism also turned to Bergdahl himself as the circumstances of his capture were analysed, with critics labelling a traitor and deserter, calling for him to be punished.
In March this year, he was charged with desertion and misbehaviour before the enemy.
Where is he now?
Bergdahl, 29, is currently stationed as a clerk at Fort Sam Houston in Texas while he awaits a decision on whether he will have to stand trial at a court-martial.
He faces a sentence of up to life in prison if convicted.
His story continues to be politically divisive on the US, with the Serial podcast coming on the same day Republican politicans accused President Obama of using Guantanamo inmates for the prisoner swap as part of his plan to close the prison.
Bergdahl's lawyer, Eugene Fidell, said the podcast offered Americans a chance to "judge the matter calmly and in its proper light."
Jeffrey Addicott, a retired Army Judge Advocate and former legal adviser to the US Special Forces, was less forgiving.
"Bowe Bergdahl left his post of duty in a combat zone, he left his post of duty and put down his rifle," he said. "The rest of it is irrelevant."
Join our new commenting forum
Join thought-provoking conversations, follow other Independent readers and see their replies