Victoria Beckham becomes an unlikely Vogue gardener while David strips off: Brand Beckham's evolution continues
They might not dream of using wedding thrones now, but the Beckhams still manage to keep the world talking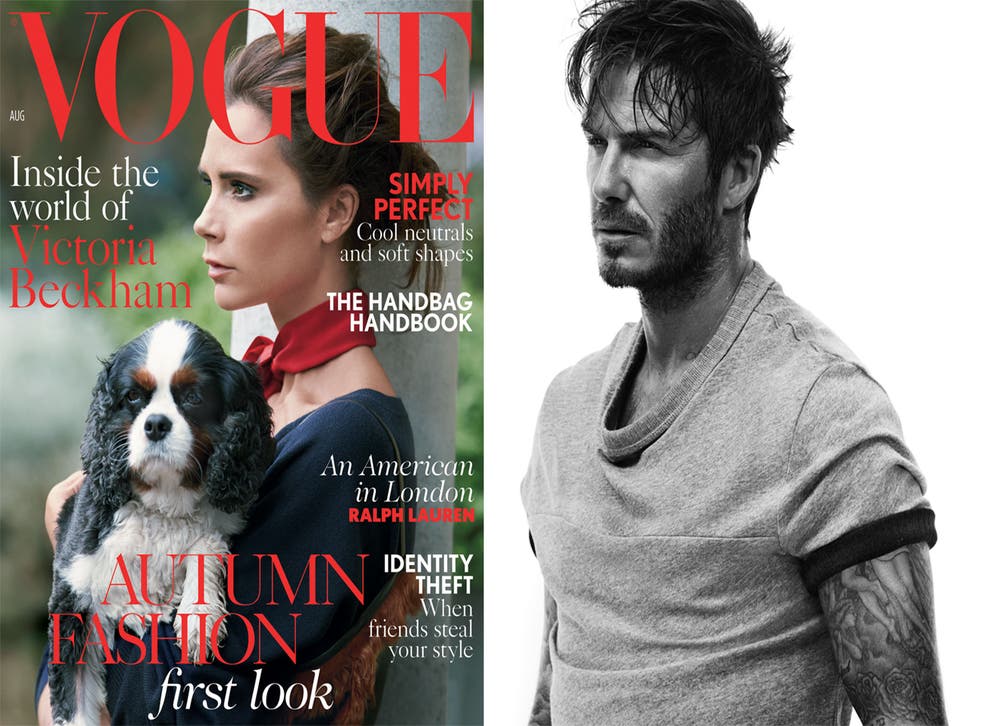 Two strong sets of images from the Beckham family today – here we have David Beckham posing in underwear for the umpteenth time for H&M (not that anyone seems to mind much) and then Victoria Beckham who has swapped her signature fitted dresses for wellies and a dog for her new British Vogue double cover.
In the Vogue version of gardening, Beckham is seen pensively staring into the distance holding Digby the dog (who belongs to the magazine's fashion director Lucinda Chambers) in a new lady of the manor guise, photographed by Patrick Demarchelier. The full shoot features in the publication's August issue, on sale on Monday 7 July.
In another shot, looking like a pre-Raphaelite pruner, she sits with freshly-cut roses in an oversized jumper, wellies that understandably show no signs of usage and, naturally, a scarecrow-style hat.
No, it's not what we'd all wear for a spot of weeding, but this is Vogue – they don't deal with realism, nor do they claim to.
Setting a very different tone, David Beckham appears in his H&M underwear again, dripping in a liquid that probably isn't sweat. His message is obvious, although as unlikely as Victoria the gardener: 'Buy my new high street 'loungewear' and you too will look just as I, with my mighty muscles and undisputed mojo.'
The retired footballer probably dislikes posing like Derek Zoolander as much as Victoria is averse to horticulture, but their ability to keep their profile high and well-liked over such a long period of time is impressive.
Brand Beckham's style in pictures

Show all 22
The couple are fast approaching their 15th wedding anniversary on 4 July; yes, it's been nearly 15 years since they both sat on matching red velvet thrones, she wearing a twinkling tiara and he with bleached floppy hair.
"I wouldn't be where I am without David," Beckham told British Vogue. "He gives me the security and encouragement to do what I do. I do the same for him."
While Kim and Kanye West, one of the only couples in the world to have garnered the same amount of showbiz headlines, are yet to both reach a status where they are both seen as talented individuals in their own right; the Beckhams have succeeded and they have done so together, respectively repackaging themselves time and time again with a hearty amount of self-awareness and humour.
She managed to go from Spice Girl footballer's wife to cracking the fashion industry – one of the most exclusive and elite arenas there is – which, on the whole, values talent over money. David has left football to become a charity ambassador and all-round self-deprecating good guy who most people would be happy to go for a pint with.
Importantly though, they have evolved together – Brand Beckham to the end.
Join our new commenting forum
Join thought-provoking conversations, follow other Independent readers and see their replies