Carol Robinson: The Award-winning academic is working hard to dispel the notion that science is just for boys
Oxford university's first female professor of chemistry is the European recipient of the prestigious L'Oréal-Unesco award for Women in Science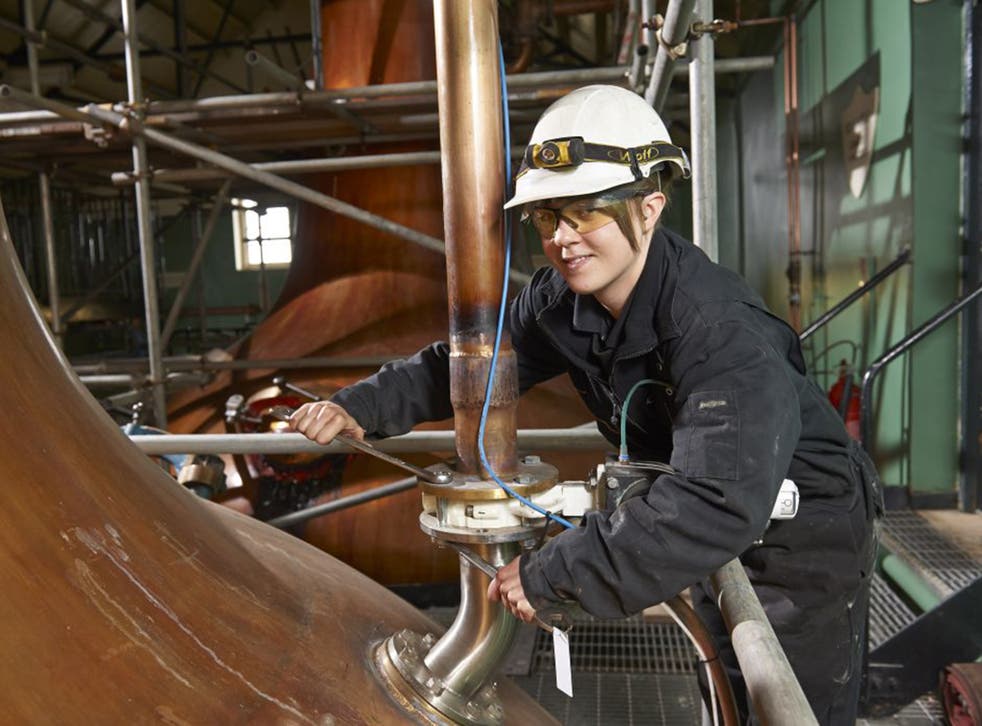 The first female professor of chemistry at Oxford university has called for more women to train as scientists, as the Government steps up its campaign to get more girls and young women interested in jobs traditionally taken by men.
Professor Dame Carol Robinson, a world leader in mass spectrometry, made her appeal after she was awarded a prestigious L'Oréal-Unesco award for Women in Science.
She was the European recipient of the $100,000 (£66,000) annual award given to those who have made great advances in science; it is designed to support female scientists and encourage more women into the profession.
Professor Robinson, 58, who was appointed Dame in 2013, said she has not yet decided where the grant money will go, but that she would "try to do something imaginative and a bit different" to encourage women scientists.
"I'm delighted to win this award which, of course, is for my research group and all the people who have worked for me," she said.
"It is fantastic for them and I hope they feel equally proud – we are planning a big party."
Six who went against the grain

Show all 6
Her award came as the Government launched its #notjustforboys initiative to highlight the contributions of female role models in fields such as construction, engineering, technology, science and sport. The Independent on Sunday spoke to six women at different stages of the career ladder about their experience in male-dominated industries (see box).
Esther McVey, the Employment minister, said: "International Women's Day provides the perfect opportunity to highlight the stories and journeys of so many women, and to celebrate their achievements. In the UK, women have been staging a quiet revolution – we're in work in record numbers, the gender pay gap is at the lowest ever and has virtually been eliminated for women in full-time work under 40, and we're making inroads into the top professions.
"I want young girls to be inspired by this, to see successful role models working in a broad range of jobs and industries, and to know that we are breaking down barriers and dispelling myths. There should no longer be any no-go careers zones for women."
However, campaigners say the statistics on women in science remain depressingly low.
Only 30 per cent of the world's researchers are female, according to Unesco's Institute for Statistics, while only 10 per cent hold top academic positions in their chosen field.
"I thought it would be better for my daughter's generation, but it really hasn't changed a great deal," Professor Robinson said. "It is still the case that there are too few women in senior positions."
The academic believes the reason is partly a lack of confidence among girls. Qualified women feel they are not good enough, she says, while men put themselves forward "before they have the criteria".
"I think maybe some women are scared to take the plunge as you do have to come up with something a bit different to everybody else and a lot of women don't have the confidence to think 'this is a great idea'."
This is why mentoring and networking through programmes like L'Oréal Unesco are so important. Professor Robinson says she "would not be anywhere without her mentors" and throughout her career she has taken women on away days "to try and get to the bottom" of why they were not putting themselves forward for higher positions.
One woman told her that "confidence tablets" would make a difference; another told her "quite openly" how "when they came into the entrance hall it was full of male pictures and they thought: 'How do I feel that I fit in here?'"
Professor Robinson thinks women bring something different into science, and are more collaborative than men. "They build teams and are very inclusive and caring," she said adding that although men also mentor, women do it a lot more.
"A lot of men are very competitive: they feel that to get ahead they have really got to push their team very hard all the time," she said.
"I have never found that to be fantastically successful. I have always thought that you work well if you are given some freedom and you are allowed to work the hours that best suit you."
Six who went against the grain
1. Abbie Hutty, 27
Senior structures engineer, ExoMars Rover Project, Airbus Defence and Space
It was when I read about Beagle 2, the 2003 British-led Mars mission, that I thought, "If a mission to Mars is engineering, then engineering sounds pretty cool". Everyone was convinced I was going to be a mechanic. People don't meet engineers in day-to-day life, so, when it comes to careers advice, parents and teachers struggle to know what they do. We need to be more visible and challenge misconceptions.
2. Jordan Conti, 23
Modern apprentice at Diageo, doing technical and maintenance work at distilleries
My experience through the Modern Apprenticeship programme has been excellent. I enjoy working with my hands, that's why I wanted to be skilled in the engineering side of the business, and the programme has given me the opportunity to learn these skills. Being female has no bearing on the role – as long as you show that you want to learn and do the job well, that's all that matters.
3. Donna-Maria Cullen, 51
Executive director, Tottenham Hotspur Football Club
I have never considered being female in business as extraordinary. I have worked in football for more than 20 years and I strongly believe that perceived barriers within the game no longer exist as they may [once] have done. The only boundaries that exist are the ones we set ourselves or allow others to set for us. We are delighted to support #NotJustForBoys to underline the need to look beyond the obvious and the stereotypical.
4. Polly Priday, 32
Construction engineer, Mace
I love the fact that I can have a design described to me in the conceptual stages, only to be walking through the finished structure later down the line. Being a woman in a male-dominated industry is always going to have its challenges, but I have found that, by being myself and working hard, I have been able to achieve anything I set my mind to. I wouldn't trade in my hard hat for anything.
5. Joanne Dowdall, 24
Female tech graduate, O2 Lab innovation team
I've wanted to work in technology since I was at school – I love how it can have such a positive impact in everyday lives. The Lab works like a start-up – brainstorming ideas and testing them with real people, before deciding whether to turn them into commercial products. It's a fast-paced, exciting environment. At the moment, I'm testing innovations to help customers with visual, hearing, motor or cognitive impairments.
6. Emma Burrows, 27
Software engineer, Google
I was really concerned when I started university that everyone around me had been coding for years, whereas I was only just getting started. But computer science is so much more than just writing a couple of games or apps as a kid. Working at Google has been the best outcome I can imagine from my tentative first months at university – not only is it exciting and challenging, but what I build helps users around the world.
Join our new commenting forum
Join thought-provoking conversations, follow other Independent readers and see their replies