Celebrity Big Brother 2014: Audley Harrison meets Kellie Maloney: 'Was Kellie really the best you could come up with?'
'F***ing hell, Frank!' he said as soon as he clapped eyes on Kellie, saying moments later: 'So, do I call you Kellie?'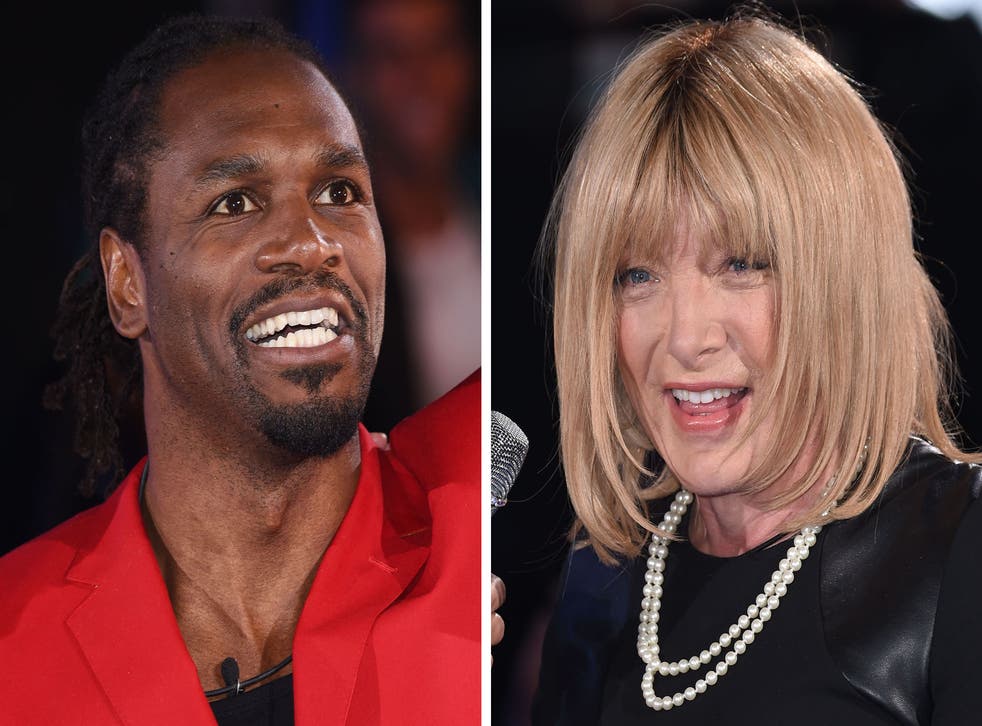 There were numerous eyebrow raising moments as the second Celebrity Big Brother class of 2014 gingerly made their way across the platform, engaged in banal conversation with Davina Mark 2 Emma Willis and imprisoned themselves in an attention-starved house for two weeks.
It quickly – and shockingly – became apparent that The Only Way Is Essex stalwart Lauren Goodger was the most recognised face of the line-up, while Googlebox star George Gilbey, who'd never attended a film premiere, let alone a baying Big Brother crowd, was easily the most popular.
It took production teams all of two seconds to send up White Dee of Benefit Street's background by setting her the task of pretending to be royalty to a number of unsuspecting trans-Atlantic arrivals who were unfamiliar with the term 'poverty porn'. Including actor Gary Busey – star of Point Break and The Gingerdead Man and now the most awkward pre-CBB interview ever broadcast.
But it was the moment Audley Harrison – the Olympic gold medal-winning boxer – met Kellie Maloney for the first time that produced the biggest gasps of all.
Celebrity Big Brother 2014: Meet the contestants

Show all 14
Before a story published in the Sunday Mirror last week, Kellie Maloney was known as Frank Maloney, the legendary boxing promoter credited with managing the career of world heavyweight champion Lennox Lewis, among others. She made the incredibly brave decision, given the macho sports world she had made her name in, to come out as a transgender woman and reveal that she was in the process of transitioning from a man to a woman.
"As a woman, I'm enjoying being myself. I have a great family around me who are supporting me," she said during her montage as she made her way into the house.
"I would describe Kellie as a baby really, I'm coming to terms with a whole new lifestyle; how to dress, how to wear make-up.
"I may be having a gender modification but I'm not having a brain transplant. I hope there's no backstabbing, no bitchiness. I don't want Frank Maloney the boxing promoter coming out to play."
A few contestants later, and it was Harrison's turn to enter the house.
"I'm an alpha male so if there's alpha males in there we're going to clash but hopefully we can have some harmony," he said on his way in. "I think it's going to be very important as a group to set some ground rules."
It was the first time the boxer had met Frank as Kellie as Kellie. And his reaction was predictably entertaining.
"F***ing hell, Frank!" he said as soon as he clapped eyes on Kellie, saying moments later: "So, do I call you Kellie?"
Maloney snapped back, "Only if you want to get paid for your next fight!"
Harrison laughed, before saying: "So you must have been thinking about this for a long time, right? You must have been thinking about it… Was Kellie really the best you could come up with?"
Taken aback, Maloney laughed, before replying with a diplomatic: "Well, I'm dyslexic. And Kellie was the easiest to spell."
Maloney, who received a heroine's welcome from the crowds outside, is one of the highest earners of the house, and is thought to have been paid £400,000 for her appearance in the show.
She will also be forced to spend time with Stephanie Pratt of The Hills and Made In Chelsea fame, Edele Lynch from Nineties girlband Bewitched and Kelly Brook's fiancé David McIntosh. Yes, the same man who crashed a van full of dead badgers during the controversial cull earlier this year.
Register for free to continue reading
Registration is a free and easy way to support our truly independent journalism
By registering, you will also enjoy limited access to Premium articles, exclusive newsletters, commenting, and virtual events with our leading journalists
Already have an account? sign in
Register for free to continue reading
Registration is a free and easy way to support our truly independent journalism
By registering, you will also enjoy limited access to Premium articles, exclusive newsletters, commenting, and virtual events with our leading journalists
Already have an account? sign in
Join our new commenting forum
Join thought-provoking conversations, follow other Independent readers and see their replies