David Cameron claims he's related to Kim Kardashian: 'Did you know I'm 13th cousins?'
According to genealogy website Geni.com, the link between the pair comes via mutual ancestor Sir William Spencer, who was born in 1555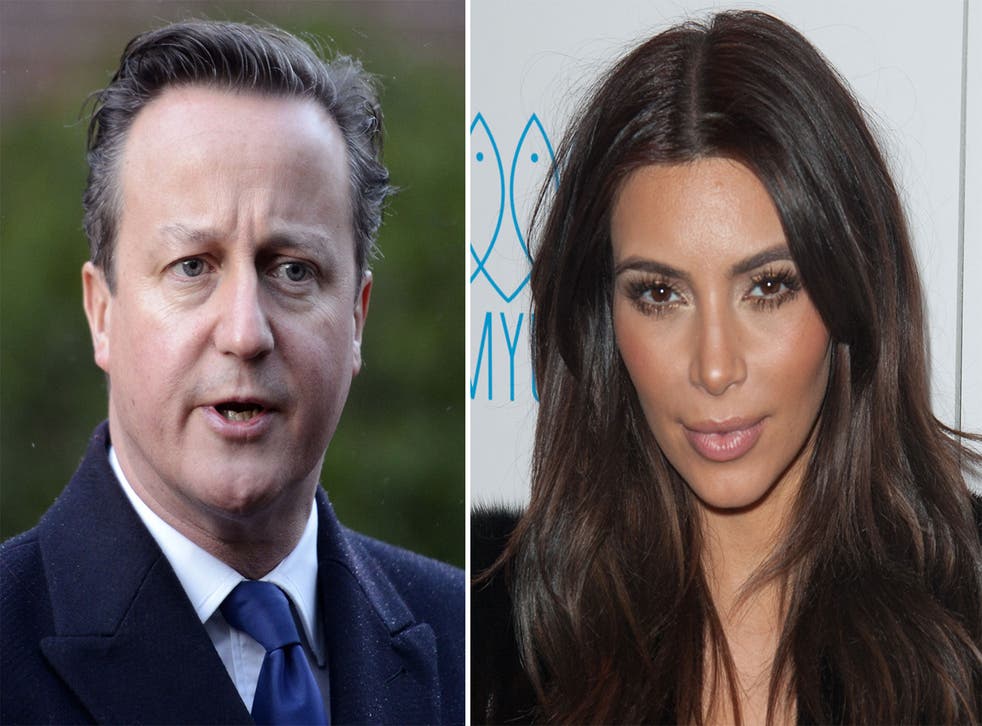 Forget falling foul of the acerbic wit of Jeremy Paxman or the considered but probing technique of Andrew Marr, it was the grilling David Cameron faced from Heat that could well end up being the most revealing.
During his interview with the gossip magazine, the Prime Minister made the extraordinary claim that he is related to Kim Kardashian-West – the reality TV star and business mogul who shot to fame on the back of a sex tape.
Asked whether he watched Keeping Up With The Kardashians – the docu-soap about the family's lives – Cameron said: "No, but I'm related to them.
"Did you know I'm 13th cousins with them?"
According to genealogy website Geni.com, the link between the pair comes via mutual ancestor Sir William Spencer, who was born in 1555. Is it a premature April Fool's joke, we wonder? Or the oddest vote canvassing attempt in British political history?
Cameron also couldn't resist mentioning his natural habitat, his kitchen, which he admits is sometimes frequented by "a small, furry" and frightening intruder ("No, not William Hague…" Heat are quick to point out).
"I'm not very keen on rats," the PM said on the subject of phobias. "We had one in our kitchen once, it came in through the cat flap, it was horrible, and I kind of found it in the middle of the night."
Election 2015: Focus groups make unflattering comparisons

Show all 4
Asked how he responded to the enemy invasion, he said: "Well I'd like to say I stripped down to the waist and wrestled it and threw it out there but I didn't. It was disappearing through a hole it had found in the skirting board."
Then came the all too telling story about the baby crocodile and the cameras.
"I actually had to hold a baby crocodile the other day, I didn't like that. There was a camera on so I had to go, 'Oh this is lovely', but I was really worried I was squeezing it so tightly that actually I was going to kill it, because the guy said to me, 'If this bites you, you know, you will draw blood' and I said 'Oh really?!'
"The crocodile survived but I didn't think 'How lovely, I've squeezed a crocodile today', I thought 'Right, OK, thank God today's over!'"
Join our new commenting forum
Join thought-provoking conversations, follow other Independent readers and see their replies