Debbie Purdy: Right-to-die campaigner's last article calls for more legal protection for those who assist suicide
Exclusive: Shortly before her death last week, Debbie Purdy wrote this article to explain why the legislation that she won does not go far enough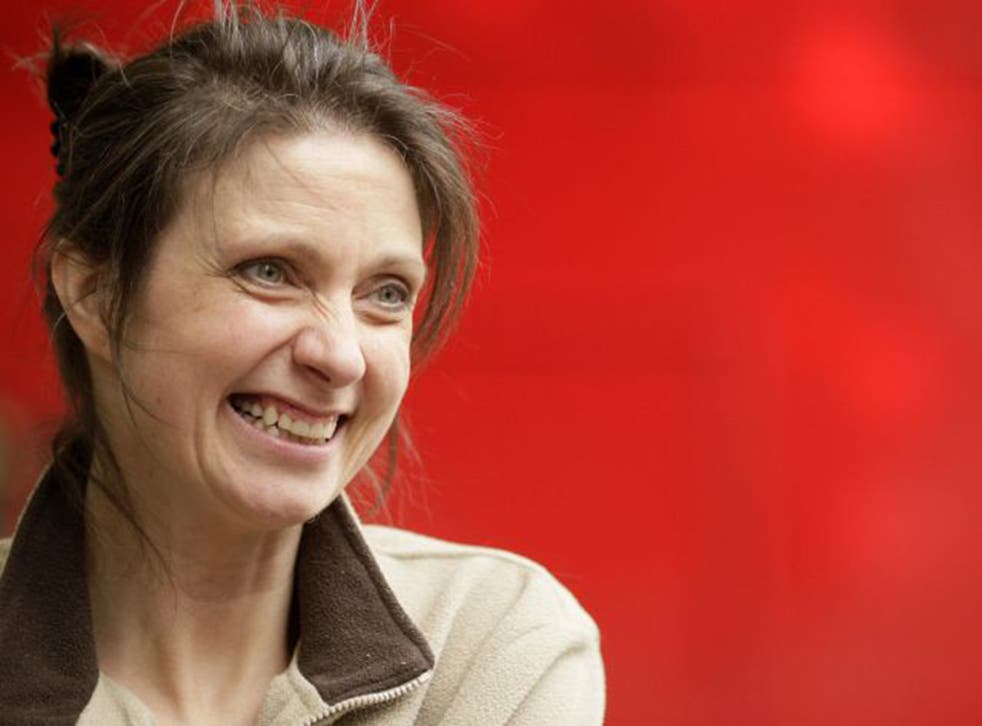 I was diagnosed with multiple sclerosis in March 1995. It felt a little like a life sentence but I am blessed to have the support and help of family, friends and the state, in terms of emotional support, money and medical attention.
In 2009 the House of Lords gave me permission to get support to end my life, should living become unbearable. As strange as it may sound, permission to get help to die felt like permission to live, to enjoy life as much and for as long as I could. The few years since that historic moment, have been truly wonderful; time to spend with my husband, meals with friends, and trips around Britain, even abroad (well, it was a plane that took me to Belfast), none of which would have happened without the House of Lords and Keir Starmer (then Director of Public Prosecutions) giving me permission to ask for help when, and if, I needed it. I would have ended my life by myself in 2009, rather than allow my husband, Omar, to face legal problems later.
The guidelines were great as far as they went, but they were not embodied in law, rightly so; only the House of Commons can do that. But it seems our elected representatives would rather risk our lives than their jobs and have consistently refused to consider legislation that would help make many deaths more tolerable. Lawyers should not be responsible for, or allowed to, make the rules by which we live.
By 2012 my ability to get into my wheelchair by myself had gone, getting out of bed, even with my hoist, was becoming impossible. Social services decided to stop me spending the money they gave me for "social inclusion", on physiotherapists to help keep me mobile. I was unable to maintain any independence and living my life had become virtually impossible.
My arms began to be a serious problem, I couldn't move properly so I didn't sleep in bed; I didn't want to ask for help if I decided to go to bed at 3am or get up at a strange time. Although my neighbours and family were great, I value my independence, and asking for help when people are with you is not so difficult. Asking someone to make a special journey to help can be. My husband was unable to live with me for a while, so I spent several weeks sleeping in my wheelchair. As a result, I caused myself enormous problems creating bedsores. If I could have opened a packet of tablets or if I had the money to go to Switzerland or Belgium to be helped to die legally I would have gone.
I love my husband, I love my friends, and I didn't want to die, but life was unbearable and the positives did not balance out the negatives.
My GP was incredibly supportive. She tried everything to make my condition acceptable to me and when that failed she contacted a wonderful doctor based at a nearby hospice to see if he could help with "other life options". My GP does not agree with me on assisted dying, but she is open to any discussion that may help me cope with my condition; I believe that is all you can, or should, ask of a doctor.
The hospice doctor visited me at home. For months, we discussed medication, my social life, and physical aids. We didn't find anything that made me want to stay alive; I was losing the ability to move my hands, but, thank God, I wasn't losing the ability to speak. (Although I can think of many people, including my husband, who would disagree.) The hospice doctor arranged for me to see a psychiatrist because he was concerned at my degenerating physical condition, and the situation with Omar, who was not able to live with me for financial reasons, was making me depressed. He also arranged for me to spend a few weeks in a Marie Curie Hospice to try different medications and see if anything would improve my life. Omar was not ignored during this period; the medical professionals who tried to help me find a way of living with my disease also tried to help Omar live with me and my disease (not so easy). During this time, had I been able to take an overdose, and been sure of the result, or been able to borrow the money to go to Switzerland, I would have done so. I would not have been able to fully explore the option of living that health and social services provided Omar and I.
The experience I went through reinforced my conviction that we need to change the law and allow assisted dying when life is unbearable, but we really need to explore all possibilities to see if we can make life acceptable.
The legal journey that somebody must go through to access an assisted death should be different for somebody who is terminally ill than for somebody whose condition is incurable. When somebody is terminally ill, and they probably have less than six months to live, we should make sure they do not have to suffer in the final months, but rather, if living becomes too unbearable they can access help to die with dignity when appropriate for them.
If somebody is not terminally ill, but is incurable (like Tony Nicklinson, Dan James or myself), we should not make them live that unbearable life for 20 years or more, but rather ensure they are able to explore all the alternatives society can offer to make their life more bearable. If at the end of a serious, thorough and comprehensive attempt to improve their life we have still not made living acceptable to them, we need to allow assistance to die.
When Tony Nicklinson's case began, I had enormous sympathy; he had the same legal team I had and I knew their commitment to human life. During a BBC radio phone-in I took part in about assisted dying, one lady said she supported Tony's case because she did not think she would be able to end her own life, and so would want doctors to do it for her. This made my blood run cold; if she could not make the final decision, then she didn't need to end her life. If a person is able to communicate they want to die, it is possible for them to make the final act. If they can use their eyes to control a computer, or drinking, or something else, they clearly can communicate their desire to end their life – nobody else can make that decision.
So, I believe we need to introduce a law allowing assisted dying, but it must be secure. The law must insist on at least two doctors confirming diagnosis, and that family and/or friends have been talked to where possible, to make sure they have the opportunity to offer whatever support the dying person needs, and are able to access the support they will need when a loved one dies. But in the end, it must be the choice of the person whose life will end, to decide at which point.
Where the patient is suffering unbearably from an incurable condition, the law must allow for assisted dying, but only where other possibilities have been exhausted. This process should take a minimum of a year, but should depend on how long a patient has been ill – the shorter the illness, the longer they need, with the help of psychiatrists, family, friends and doctors to consider ways of living their new life and discovering ways of dealing with new challenges.
At the Marie Curie Hospice, the staff have been brilliant, they would not help me to refuse food or drink, but they did not try and persuade me to take nutrition. They provided me with care and support, making sure my choices were respected. I was not allowed to take drugs that would result in lack of conscious decision-making, so I had the choice to change my mind at any time. I made it very difficult for people whose lives are dedicated to improving the quality of dying patients' lives and deaths. I reiterate, the hospice staff were not prepared (and should not be expected) to help me die, just to care for me while I made a very long, drawn-out decision to die, constantly making sure I had the ability to change my mind at any time. The thing I am most grateful for is the support the staff could give Omar.
Up until the very last minute Omar still wanted me to change my mind. When he first came home from Cuba he would fill the room with fruit, and anything I had ever expressed pleasure at eating, I think Omar found it difficult to imagine the pain and difficulty I was having. He would often come to the hospice, I would be in tears, and he would think maybe it was something he had or had not done. It is terrible to break the heart of someone you love, and I hope that understanding how much I love Omar shows how much I could not live with the symptoms of my condition.
I did consider borrowing the money to go to a foreign clinic, like Dignitas, and I was even offered help with the money by a truly wonderful man. But I was aware of a problem that Omar felt more strongly than I. Omar is black. Even though the guidelines made it clear he should not be prosecuted, he still doubts the courts would not prosecute him. He said he would find it difficult to face investigation without me.
I believe the guidelines were clear, but I have not had to live with racism. In the end, I decided if I found it too difficult to stop eating and drinking, it was probably a sign for me not to go through with my decision. But do not underestimate how much pain I put myself through, or how difficult it was to cope with a body, which was healthy (other than MS) and desperate to live. Three times I became semi-conscious and ran temperatures. Omar and the doctors thought I was going to die, but my body kept going against my will. This final hurdle added to my conviction that we need to change the law. I do not think deciding to end your life should be easy, but it should not cause so much pain and difficulty to you or those who love you, illness is painful and degrading enough, we don't need finding a solution to be as unbearable and undignified as this.
Lord Falconer's Assisted Dying Bill only covers terminally ill people within six months of the end of their life. That would exclude me, the late Tony Nicklinson, Sir Terry Pratchett and others. I am worried that it could be relatively easy to work around the law if you are wealthy, educated or determined, but that there will be no proper, serious solution for people like me. The Bill must be passed, but it is simply not good enough as it is. The people directly affected by the need for a better Act will keep dying badly. We have the magnificent opportunity of creating a law that is fit for purpose in the 21st century, and must be reassessed over the next 10 years. The law hasn't changed in my lifetime. I just hope others will succeed where I have ultimately failed, and that Britain will see an appropriate assisted dying law soon, so that no one else has to work as hard as I have to have some choice and control over the way I die.
Join our new commenting forum
Join thought-provoking conversations, follow other Independent readers and see their replies