Denis Healey: Remembering the 'best leader the Labour Party never had'
Andy McSmith remembers the day he saw Denis Healey in his Goon Show mode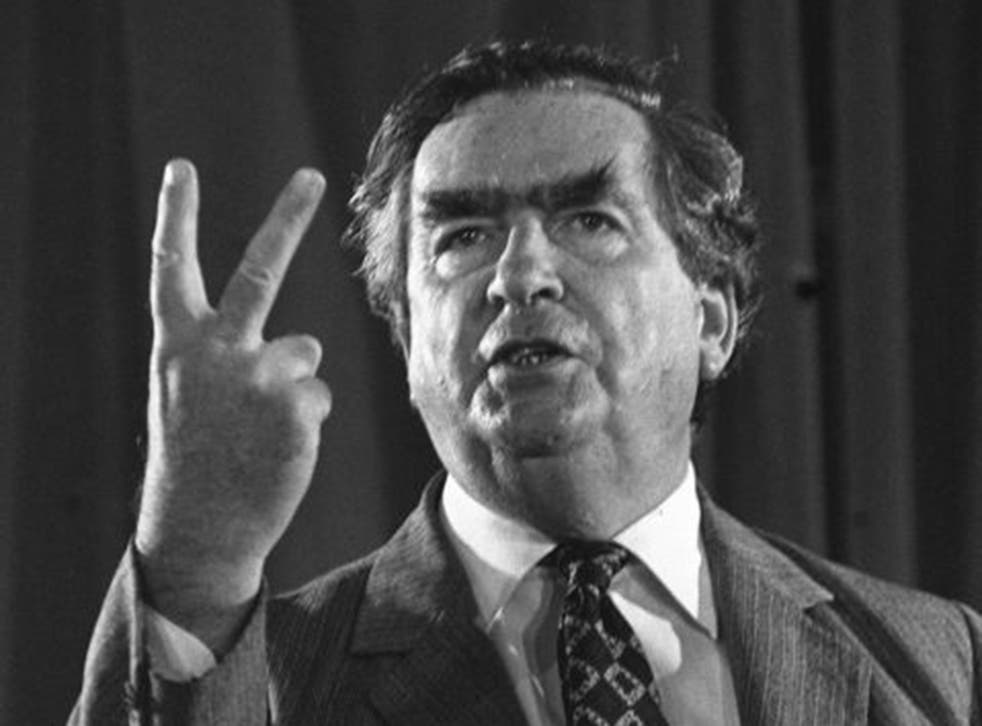 I once saw Denis Healey lose his temper. It was not a pretty sight.
He had flown in from a trip abroad when he was Labour's shadow Foreign Secretary. The trip had not gone well. He arrived in Heathrow late in the day, soldiered through an impromptu press conference, and drove off in an impossibly small mini car, with me in the passenger seat. Unfortunately, when we reached the car-park exit, he could not find his ticket. That did it.
Never have I heard a politician produce so many obscenities in so few words and at such a volume.
But then the ticket turned up inside some pocket. As we drove away, he chuckled to himself and announced: "I'm a bad-tempered old Denis."
That temper did not break out often, but when it did, the effect could be spectacular. In the last week of the 1987 election, Healey took exception to being questioned by Anne Diamond on TV-am about his wife Edna's decision to pay for private-health treatment, and stormed out, giving the right-wing tabloids a field day.
It is arguable that his sharp tongue cost him the Labour leadership in 1980, which he lost to Michael Foot by just 10 votes in the last leadership contest in which the only voters were Labour MPs. There were MPs who might have voted for Healey if they had not been nursing wounded feelings over things he said.
Healey combined a first-rate intellect with the temperament of a political bruiser. He could be brutal towards political rivals, but it was foreign to his nature to blame staff if something went wrong. When I dealt with him, as a party press officer, he had a gift for putting people at their ease, and a clownish sense of humour. I was once with him when he rang home, putting on a silly voice borrowed from the old radio comedy, The Goon Show. "Hello," he said, "is that Edna Healey at all?" She was not taken in.
Once, in Greenwich, he was in a room full of elderly, working-class ladies who had come in to help stuff envelopes for the cause. Chatting away to them, he casually brought up his war record, remarking: "I had a terrible time getting back from Anzio."
One old thing replied: "Oh, I know what you mean, Denis. It took me two buses to get here from Eltham."
Healey's down-to-earth manner was not born of modesty but of supreme self-confidence. It was a political cliché of the 1980s that he was "the best leader the Labour Party never had". It was a view with which he heartily concurred.
There was one by-election in which the Labour candidate had supported Tony Benn in his campaign to remove Healey from the deputy leadership in 1981, but was now hurriedly repositioning himself in the centre. I was with Healey as we walked into a hotel room where the candidate was being briefed by Neil Kinnock and several of the leader's advisers. The candidate jumped to his feet and said: "Denis, I'm sorry I voted for Tony."
"Oh don't worry about that," Healey replied, and pointed at Neil Kinnock. "He did something much worse – he voted for Michael Foot."
There was, as they say, no answer to that.
Join our new commenting forum
Join thought-provoking conversations, follow other Independent readers and see their replies