Denis O'Brien: 'Rottweiler' grits his teeth for another fight
The billionaire, said to be Ireland's richest man, is a firm believer in having the right to a good name. Now he is likely to need all his powers once more to keep his reputation intact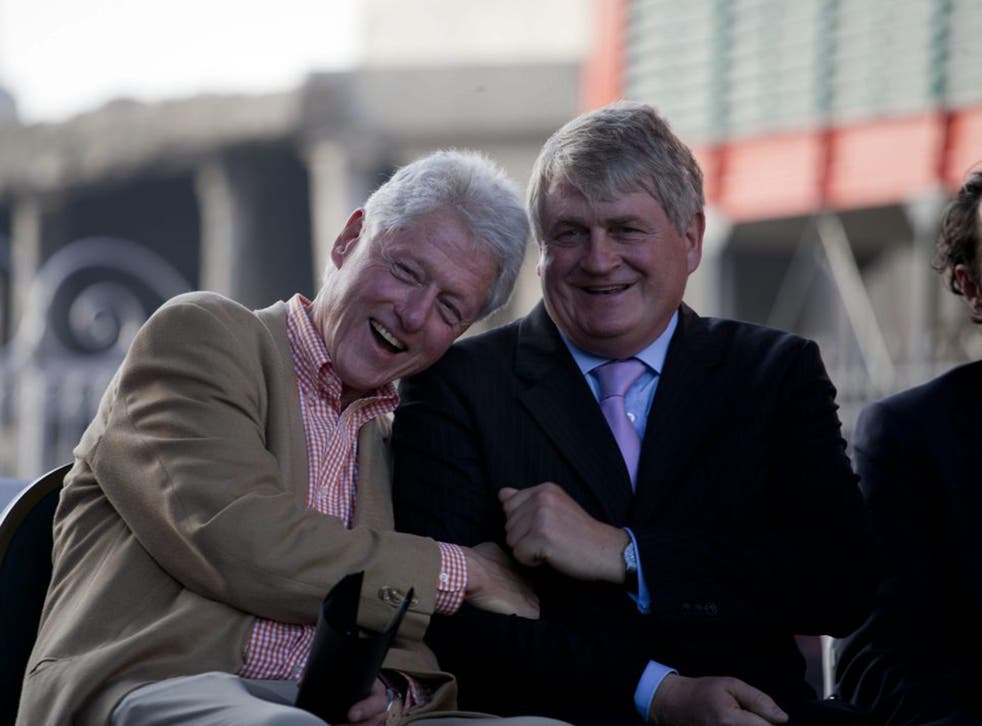 When Denis O'Brien, the Irish media billionaire, owned a stake in this newspaper, he came in to the architecturally esteemed building we inhabit in London to meet then-editor in chief, Simon Kelner.
Most first-time visitors to Northcliffe House look up at the vast, six-storey, glass- roofed atrium, past the waterfall, tropical plants and, at the time, feng shui garden, and gawp, impressed.
But not Mr O'Brien. He merely took one look and said: "That's a f***ing waste of space, isn't it?"
By all accounts, this was typical of a man some have described as a "Rottweiler" with a ferocious instinct and drive for making money.
This drive has led him to become Ireland's reputed richest native, while also getting himself into numerous high-profile lawsuits. During one such – a successful libel action he took against the Irish Daily Mail – he declared: "I think everybody... has the right to their good name."
The past few weeks have seen him go to unprecedented lengths further to preserve that good name in the media. Last month, he successfully obtained an injunction preventing Irish TV channel RTE from running a news report into loans he had taken out with the former Anglo Irish Bank, being run down under the new name of the Irish Bank Resolution Corporation.
The story was potentially juicy because, under IBRC, the Anglo Irish Bank loans were effectively owned by Irish taxpayers following the bailouts in the financial crisis.
Quite how juicy these alleged banking arrangements were subsequently became clearer when, frustrated by the injunction, the independent politician Catherine Murphy used parliamentary privilege to make apparently similar claims in the Dáil. She raised allegations that Mr O'Brien had obtained loans totalling as much as €500m at a rate of little more than 1 per cent from the former IBRC when he allegedly would ordinarily have been been charged more like 7.5 per cent.
Why, the question was, should a billionaire be borrowing at such an uncommercially low rate from a taxpayer-owned institution?
The enraged Irish media was again banned from repeating the allegations under the terms of the RTE TV channel's injunction. In a globalised media world, these orders were quickly circumnavigated by Irish citizens who simply watched the speech online from the parliamentary website or read foreign news reports which quoted it extensively. But it has caused serious soul-searching about the Irish democratic process.
Mr O'Brien then wrote a lengthy open letter saying Ms Murphy's claims about his private banking relationships were "erroneous and untruthful", repeatedly attacking her for using what he described as his "stolen" private banking details. However, Ms Murphy and many commentators have countered that, while his banking details may be private, the bank itself was public, meaning there was a clear public interest.
This Wednesday, following sustained pressure from Ms Murphy, the government announced it would launch a new, formal investigation into numerous Anglo Irish Bank transactions. These are expected to include Mr O'Brien's purchase of a construction company called Siteserv from the bank. An O'Brien investment vehicle in the Isle of Man called Millington bought Siteserv for €45m from the bank after Anglo Irish wrote off more than €105m. Ms Murphy has claimed that a rival bidder called Altrad had proposed a higher offer that, according to an Altrad executive might have reached "well beyond €60m".
The inquiry will be the second into the Siteserv deal after Ms Murphy condemned the first – started in April – as being "conflicted from the word go". This was because KPMG had been hired to conduct the first review despite them being directly involved in the original sale. She also pointed out that KPMG acts as auditor for O'Brien controlled companies Topaz Energy, Communicorp, Independent News and Media and the Beacon Hospital.
Mr O'Brien has said of the Siteserv deal "we have nothing to hide and would welcome an early review". He made those comments in his open letter earlier in the week, in which he also surprised many commentators by referring to a previous controversy in which his reputation received a serious drubbing.
This was the so-called Moriarty Tribunal into his successful bid for a mobile phone licence in the 1990s.
At the time, it was the biggest ever state asset sale. The Moriarty Tribunal found in 2011 that it was "beyond doubt" Mr O'Brien's successful bid was helped by Ireland's energy and communications minister at the time – Michael Lowry – giving "substantive information of significant value and assistance" to the tycoon. The Tribunal also found Mr O'Brien made two payments to Lowry totalling IR£500,000. Both men strenuously denied the findings.
As the new investigation into IBRC's activities gets under way, it seems likely Mr O'Brien will once again be forced into a bitter fight for his reputation.
Denis O'Brien: Media influence
He may no longer have an investment in this newspaper, since Independent News & Media offloaded it to Evgeny Lebedev. But in Ireland, he's the biggest media player in town. That's one reason why his succesful injunction recently has caused so much consternation in the country.
His media interests began in 1989 when he formed Communicorp to launch radio stations there and across Europe. It now pretty much owns the entire non-state radio world in Ireland, consolidating that position with the takeover of Today FM from UK media group Emap in 2008.
When put together with his status as the biggest shareholder in the country's biggest newspaper owner, INM, publisher of The Irish Independent, that gives him a serious dominance of Ireland's's media landscape.
Indeed, concerns about his control of the sector were there before he seized control of INM from the O'Reilly family in 2012 after a boardroom battle.
He says he has no editorial influence over any papers or radio shows in which he owns stakes.
Join our new commenting forum
Join thought-provoking conversations, follow other Independent readers and see their replies