Donald Trump's campaign co-chair tells Michelle Obama to go to Africa and live with a gorilla
Developer Carl Paladino has defended his latest controversial comments 
Andrew Buncombe
Friday 23 December 2016 20:15 Comments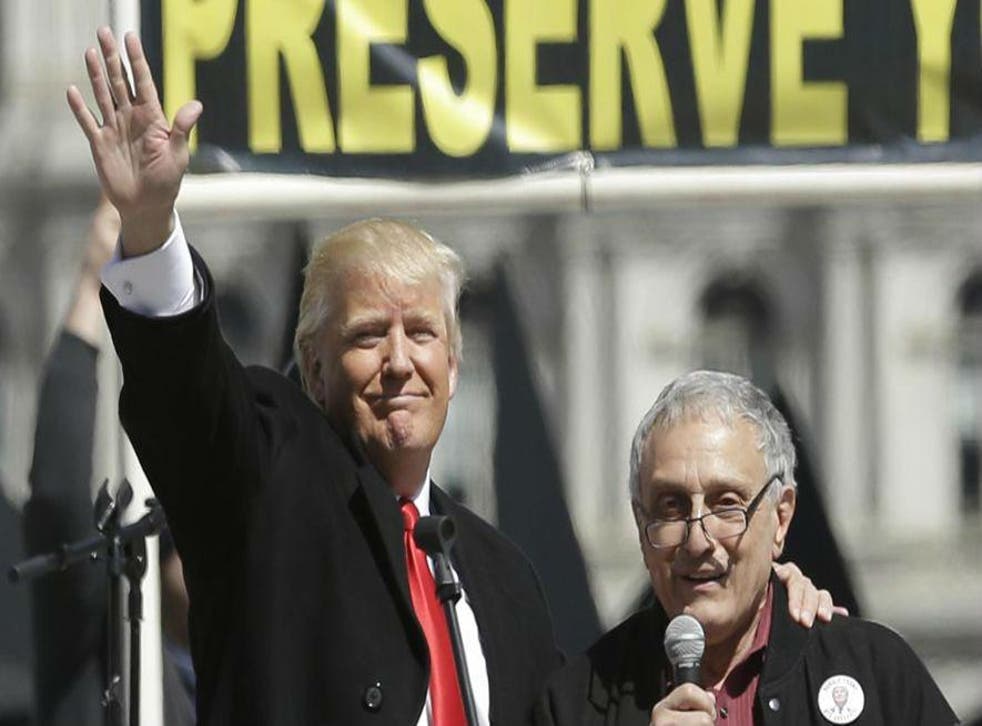 A New York developer and leading supporter of Donald Trump, is at the centre of outcry after he said he hoped Barack Obama died of mad cow disease that the First Lady moved to Africa and lived in a cave with gorillas.
Carl Paladino, the co-chairman of Mr Trump's New York campaign, defended his comments that appeared in a free weekly newspaper published in Buffalo. Artvoice asked several leading figures from the city for their hopes for 2017.
"Obama catches mad cow disease after being caught having relations with a Hereford (cow). He dies before his trial and is buried in a cow pasture next to Valerie Jarrett," said Mr Paladino, who failed in an attempt to become New York governor.
He added that he would like to see Ms Obama "return to being a male and let loose in the outback of Zimbabwe where she lives comfortably in a cave with Maxie, the gorilla".
There was rapid and widespread criticism of the comments.
Donald Trump says 'let it be an arms race' after nuclear expansion tweet
Erie County Executive Mark Poloncarz said the remarks were "incredulous".
"If they were made by him there can be no room in our civil discourse for such hate and anger," he said.
This is not the first time Mr Paladino has been at the centre of controversy. During his 2010 run for governor, which he lost to current Governor .Andrew Cuomo, emails that he had forwarded presenting Ms Obama as a prostitute, were leaked. On Friday, Mr Cuomo was among those to accuse Mr Paladino of racism.
Earlier this year, Mr Paladino said that Mr Trump supporters were people frustrated with government and who "want the raccoons out of the basement". He defended that comment amidst claims it was racist.
M Paladino, a Buffalo developer who is chairman of the Ellicott Development Co, has reportedly been among those visitors to Trump Tower in New York, apparently in search of a position with the incoming administration.
The Times Union newspaper said that on Friday afternoon, Mr Paladino defended his comments in a lengthy statement.
"Michelle hated America before her husband won. She then enjoyed all the attention, the multi -million dollar vacations, the huge staff and other benefits," he said. "Then when Hillary lost, she and Barack realised that without Hillary, there was no one to protect the little, if any, legacy he had. That's when Michelle came out and said there is no hope for America. Good, let her leave and go someplace she will be happy."
Register for free to continue reading
Registration is a free and easy way to support our truly independent journalism
By registering, you will also enjoy limited access to Premium articles, exclusive newsletters, commenting, and virtual events with our leading journalists
Already have an account? sign in
Join our new commenting forum
Join thought-provoking conversations, follow other Independent readers and see their replies