The Independent's journalism is supported by our readers. When you purchase through links on our site, we may earn commission.
Donald Trump's ghost-writer says he 'put lipstick on a pig' to make tycoon look good
Tony  Schwartz spent 18 months interviewing and shadowing the tycoon
Andrew Buncombe
New York
Tuesday 19 July 2016 14:46 Comments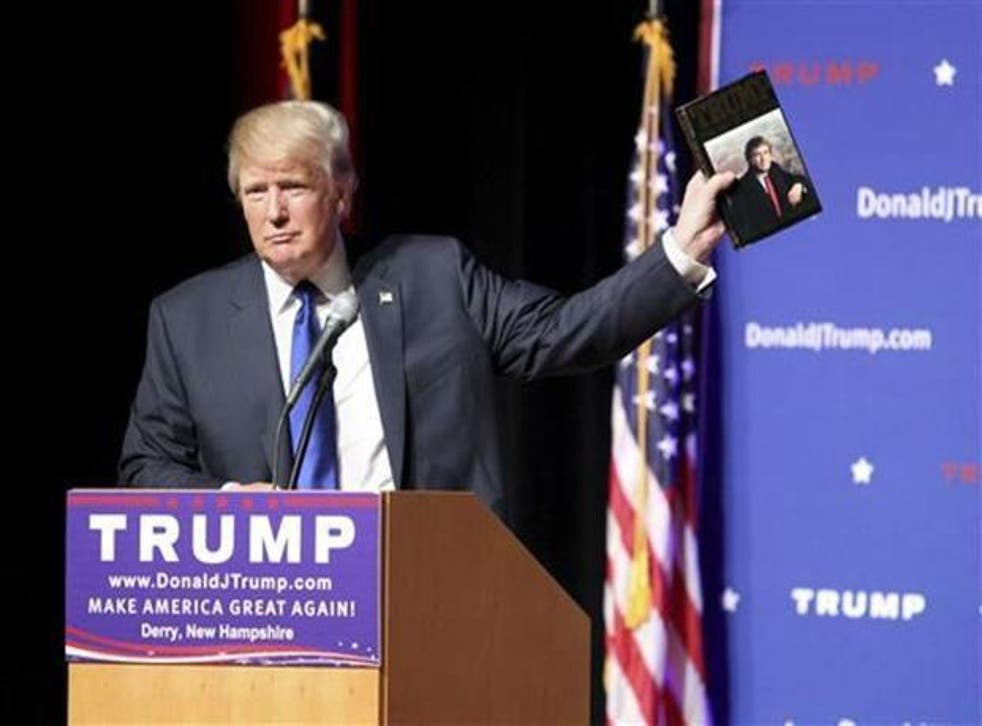 The job of a celebrity's ghost-writer is a delicate task which requires the muting of one's own inner voice to allow that of the star to emerge. Donald Trump employed one to help pen The Art of the Deal, his best-selling biography that he has touted during his campaign as evidence of his skills as a negotiator.
But the man who helped write his 1987 tome does not remember the collaboration fondly. Indeed, Tony Schwartz, who spent 18 months in the 1980s interviewing and shadowing Mr Trump, has claimed the glowing portrait is in reality a work of fiction and that he "put lipstick on a pig".
"I feel a deep sense of remorse that I contributed to presenting Trump in a way that brought him wider attention and made him more appealing than he is," Mr Schwartz told The New Yorker.
"I genuinely believe that if Trump wins and gets the nuclear codes, there is an excellent possibility it will lead to the end of civilisation."
Mr Trump has routinely cited the book as an insight in his working methods and his ability to take tough decisions. The tycoon used the biography, for which he paid Mr Schwartz half of his $500,000 advance to help complete, to secure a subsequent reality television show, The Apprentice. The book sold more than one million copies and spent 48 weeks on the New York Times best-seller list.
10 of the scariest things Donald Trump has ever said
Mr Schwartz, a former magazine writer who said he worked on the book because he needed the money, said that he painted a positive portrait of Mr Trump as he believed it would help the book sell better. If he could go back and do it again, he said it would be titled The Sociopath.
He said that Mr Trump had no ability to focus on any single topic for more than a short time and that he wondered how he would manage in the pressurised environment of the White House situation room.
People who will flee America if Donald Trump wins

Show all 8
He also said he did not believe Mr Trump was an honest broker and that he had turned down an offer to write a follow up.
"Lying is second nature to him," Mr Schwartz said. "More than anyone else I have ever met, Trump has the ability to convince himself that whatever he is saying at any given moment is true, or sort of true, or at least ought to be true."
Mr Schwartz, who shared credit as a co-author with Mr Trump, said he wrote the book largely by himself, with minor editing by the tycoon. In an interview with the magazine, Mr Trump acknowledged Mr Schwartz as his co-author but insisted he wrote his own memoir.
"He owes a lot to me. I helped him when he didn't have two cents in his pocket. It's great disloyalty," Mr Trump said.
"I guess he thinks it's good for him - but he'll find out it's not good for him."
Mr Schwartz, who lives in New York where he now heads a consulting firm, did not immediately respond to inquiries about what he was speaking out about his former collaborator.
However, he told The New Yorker that he had been inspired to act because he believed he had sold out on his former career as a journalist and that he would not be able to forgive himself if Mr Trump made it to the White House.
"Trump only takes two positions. Either you're a scummy loser, liar, whatever, or you're the greatest," he said. "I became the greatest. He wanted to be seen as a tough guy, and he loved being on the cover."
Register for free to continue reading
Registration is a free and easy way to support our truly independent journalism
By registering, you will also enjoy limited access to Premium articles, exclusive newsletters, commenting, and virtual events with our leading journalists
Already have an account? sign in
Join our new commenting forum
Join thought-provoking conversations, follow other Independent readers and see their replies